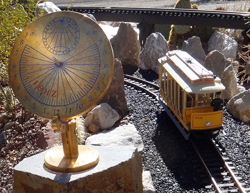 [photo courtesy of John Carmichael]
In 2002, the North American Sundial Society recognized John Carmichael with the Sawyer Dialing Prize as an eminent artisan who creates a wide variety of sundials, principally in stone and glass. In recognition, John received a small brass equatorial sundial made by the renowned British artisan Tony Moss. But for nearly a decade the sundial remained on John's workbench never seeing the full light of day.
Recently Mr. Carmichael completed a 24:1-scale model railroad in his back yard (http://www.flickr.com/photos/jlcarmichael/sets/72157632430552837/with/8348506244/). Now his Sawyer Dialing Prize sundial finally sits in the Arizona sun as a miniature "Monumental Sundial" at the Trolley Station. At the 24:1 scale, the 3-inch dial assumes the proportion of a large 6-foot equatorial sundial. You can see John Carmichael's dials at http://www.sundialsculptures.com/.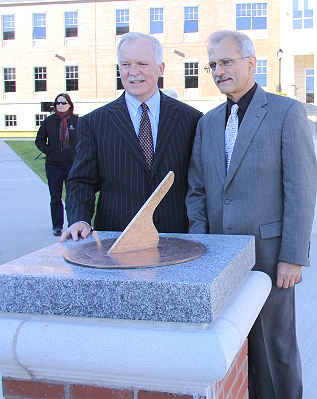 [Photo courtesy of Holland College]
In 2009 Holland College on Prince Edward Island began a major $17M renovation and expansion program, including a large open-space quadrangle. Vice President Michael O'Grady was commissioned Tony Moss of Lindisfarne Sundials [now retired] to make a replica sundial Captain Samuel Holland had given to Dartmouth College, New Hampshire in 1773. Tony undertook the work to create a copy of the dial, redeclinating it to the new site in Charlottetown in Prince Edward Island with the proviso that he "might replace the original ... chapter ring scrolls with some of my own design." Tony further commented, "I think the engraver was indulging an apprentice with the less-critical parts of the job..."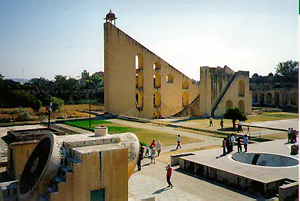 Sudhanshu Mishra reports in Mail-Online-India that the World Heritage Site at Jaipur, the Jantar Mantar astronomical observatory is in severe decline because of neglect.
Maharaja Sawai Jai Singh, also known as Singh II, directed several the building of a astronomical observatories at Ujjain, Varanasi, Jaipur, Mathura, and Deli. From his research, Jai Singh II concluded that accuracy of observation could only be obtained with large, stationary instruments. The giant Jaipur observatory consisting of 16 different instruments took 15 years to build and was completed in 1734.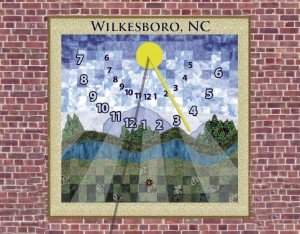 [photoCourtesy of the Wilkes Journal-Patriot]
Some sundial artisans and their work are instantly recognizable. Back in 2010 on the wall of the Yancey Times Journal building in Burnsville, North Carolina, astronomer Bob Hampton and artist Martin Weaver created the Quilt Block Sundial, an 8x8 foot vertical dial colorfully painted by volunteers from the Quilt Trails of North Carolina.