Details

Hits: 4130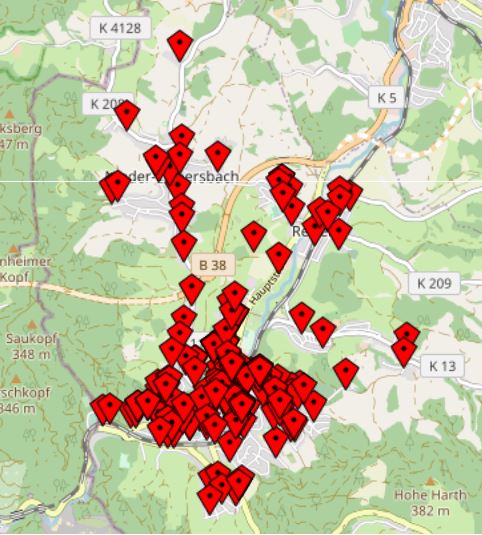 Seattle, WA wants to call itself the sundial capital of the world, but it runs a pale second to Birkenau, Germany. This small village in the south of Germany with about 10,000 inhabitants holds the record as the village with the highest density of sundials in the world. (https://www.sonnenuhren-birkenau.de/service-269/news/news-details/world-record-for-the-village-of-sundials.html). You can find sundials everywhere: on homes, in gardens, on the walls of public buildings, and there is even a Sundial Park with 28 dials by Vinzenz Philippi a sundialist from the Saarland region and 5 other dials from other dialists.
The Birkenau Sundial Society offers tours of the village sundials in German or English. If you venture out on your own there are four sundial trails with each dial clearly labeled.The majority of the dials are vertical and easily visible from the street. The second most polular dial is the Equatorial.
For only 2€ you can get the Birkenau sundial cube, a decorated cardboard box with a horizontal sundial on top. https://www.sonnenuhren-birkenau.de/service/kontakt.html The dial's gnomon is a pencil set for Birenau's latitude and longitude (40.5 deg N, 8.7 deg W).
The Birkenau Sundial Society promotes and preserves the historical sundials in Birkenau, constructs new sundials and documents all of them. https://www.sonnenuhren-birkenau.de/sundials-in-birkenau.html
Details

Hits: 5368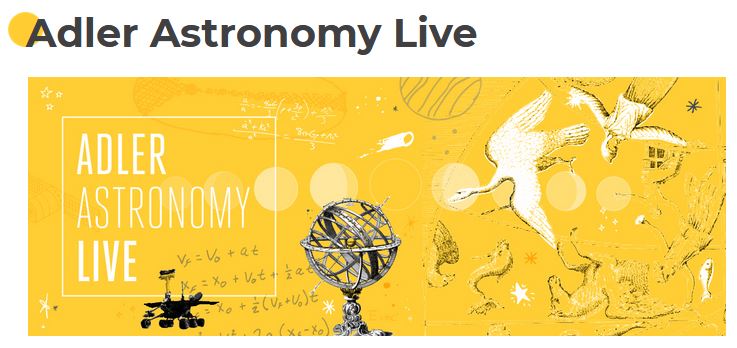 Every Thursday at noon central time the Adler Planetarium presnts "Adler Astronomy Live" with a variety of interesting topics and speakers.
On Thrsday Oct 8th, 2020 the series presents Dr. Sara Schechner on the topic of Time, Culture, and Social Change. As the Adler website states:
"The Adler Planetarium has the best and most comprehensive collection of sundials in North America. Sundials played a central role in shaping people's sense of time, and show how the latter has been influenced by their culture, politics, religion, labor, society, and geography throughout the ages. Join us for a conversation with Dr. Sara J. Schechner, author of Time of Our Lives: Sundials of the Adler Planetarium, on some of the most spectacular sundials in the Adler's collections and their stories. Set a reminder on YouTube"
Dr. Schechner is an engaging speaker with a wealth of experience in historical instruments and has a passion for sundials. Adler has recently published the beautifully illustrated book Time of Our Lives: Sundials of the Adler Planetarium. The North American Sundial Society helped underwrite the production of this book, nearly a decade in the making.
To hear the presentation live or in recording after the event, go directly the Adler's YouTube channel to find the presentation at: https://www.youtube.com/adlerplanetarium
Details

Hits: 9920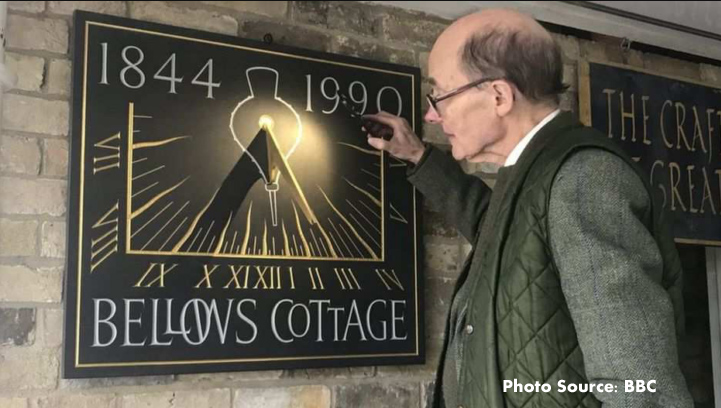 It's rare that a sundialist casts a shadow on UK education, but that's exactly what Dr. Frank King did the other day in a BBC interview (https://www.bbc.co.uk/news/uk-england-cambridgeshire-47133011). Dr. King, a Fellow in Computer Science at Churchill College, has long been intrigued with time remarking to the BBC in an interview, "Anything from atomic clocks to the most ancient of sundials I can tell you about." He is Keeper of the Clock, responsible for Cambridge University's official timepiece on Great St. Mary's Church. But the number of people interested in sundials is on the wane. As president of the British Sundial Society,(a group like the North American Sundial Society who all truly enjoy time systems and the anciernt and beautiful art of designing sundials) Dr. King notes with sadness that the number of people who "really understand" the science behind sundials "are few and far between..... There seems to be no teaching of spherical triangles, and very little teaching of solid geometry. How many school leavers have heard of Euclid?"
Some could argue that who needs sundials in this age of digital watches, GPS navigation, and fit-bit monitors? The UK Register reports that "[Dr.] King would likely be deeply saddened to know, then, that there are people of adult age out there incapable of reading analogue clocks." But for those interested in promoting STEM in schools and getting students excited in something beyond designing a video game, the study of sundials offers a wonderful perspective. As stated by the BBC, "Dr. King strongly believes the sundial - 'the perfect collaboration of science and art' - has a place in the digital age. But he is concerned that the skills needed to create them may dwindle, and believes education could play a greater role."
The development of an aethetically pleasing sundial involves using digital computer aided design tools that sometimes significantly altering classic designs. Sundials requires artisan skill and craft for the selection of materials, casting, engraving and even 3D printing of dials. A sense of artistic proportion is needed to create pleasing embellishments that still remain true to the underlying mathematics that convey acurate time. Artist, sculpture, craftsman, geometer, mathematician, computer programmer, engraver and metal worker are but a few of the talents encompassing the talents of a dialist.
Read more at:
https://www.theregister.co.uk/2019/02/18/sundials_dying_out_and_millennials_are_to_blame/
https://www.telegraph.co.uk/news/2019/02/17/sundials-risk-dying-young-people-arent-interested-cambridge/
Details

Hits: 8574
Amid the rain and cloudy skies, on Saturday October 1st, 2016, a ribbon-cutting ceremony officially opened the Roll-Top Observatory at Observatory Park, Turner Farm in Great Falls, VA. Tim Hackman, Dranesville District representative of the Fairfax County Park Authority (FCPA) Board, introduced all those who made the Roll-Top observatory possible through public-community-and-private funding. Initiated in 2007 in collaboration with the Analemma Society, the million-dollar facility was funded in part by the 2008 and 2012 Park Bonds, telecommunications funds, Mastenbrook grant money and a donation provided by Jean and Rick Edelman through the Fairfax County Park Foundation.
Ground breaking for Roll-Top began in 2014 and over the next two years the Roll-Top Observatory design by architects Shaffer Wilson Sarver & Gray of Herndon, VA, was carried out by the construction company Brown and Root of Arlington, VA.
Details

Hits: 11544
This year nearly 300,000 students, parents and teachers attended the 3rd USA Science and Engineering Festival in Washington DC during 25-27 April 2014. The Analemma Society and the North American Sundial Society jointly featured a very successful booth to encourage science, technology, engineering and mathematics (STEM) through sundials. The Analemma Society and NASS were among hundreds of exhibits from universities, scientific organizations, government agencies, and companies in the defense and educational industries.
Volunteers from the Analemma Society and NASS demonstrated a number of sundial types and provided paper sundial cut-outs that were enjoyed by children, students, parents and teachers alike. They handed out over 1400 of the sundial cut-outs, with the classic horizontal sundial and Briggs polar dial being the most popular. Especially important were the numerous contacts made with teachers who will now enhance their science classes with sundials.
Volunteers from the Analemma Society and NASS who made this outreach possible were Ken Clark, Jeff Kretsch, Bob Kellogg and Dru Anne Neil. They did a terrific job explaining that indeed, sundials are the world's oldest clocks.
In the photo at left NASS member Ken Clark and Analemma Society member Jeff Kretsch show how sundials work while you dialists cut out their sundials.
Details

Hits: 13054

Members of The North American Sundial Society and Analemma Society will be participating in the 3rd USA Science & Engineering Festival. Mark your calendars for Saturday and Sunday April 26 and 27th at the Walter E. Washington Convention Center in Washington DC. This is a Science, Technology, Engineering and Mathematics (STEM) exposition. In recognition of the Festival's role in making STEM a national priority, Congress recently designated the last week in April as National Science Week.
NASS and the Analemma Society along with other expo presenters have more than 3,000 hands-on activities. NASS and the Analemma Society will introduce students and families to a variety of sundials and offering hands-on activities to cut them out and test them using a solar heliograph. It's all free. Come and learn about Sundials – The World's Oldest Clocks.
The Science & Engineering Festival will also have a book fair—complete with signings by well-known science authors. Bill Nye the science guy will be there as well as Mike Rowe (Dirty Jobs on Discover Channel), Nate Bell (Design Squad on PBS) and the cast and crew from TV shows like Big. Bang Theory, as part of over 100 live stage performances.
Details

Hits: 8753
Building on the success of the 2010 USA Science & Engineering Festival, the North American Sundial Society and Analemma Society joined nearly 1500 other activities at the Expo in Washington DC on April 28-29, 2012 presenting "Sundials, the World's Oldest Clocks". That's the old news. The new twist is that Ken Clark of NASS made it to youtube describing sundials. You can watch too:
Details

Hits: 9425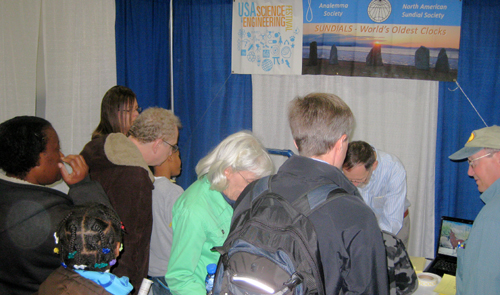 On April 28-29, the North American Sundial Society and Analemma Society participated in the USA Science & Engineering Festival in Washington DC, presenting "Sundials – The world's oldest clocks" at the Walter E. Washington Convention Center in Washington D.C.
Photo shows opening day with Ken Clark and Jeff Kretsch helping students learn about sundials while parents look on. A great first day at the Science and Engineering Festival. And the second day was equally exciting.
Parents, teachers, students, and children of all ages were able to participate in over 3,000 hands-on science and engineering activities. On stage among many others was Bill Nye the Science Guy and Adam Savage and Jamie Hyneman, hosts of the Discovery Channel's Mythbusters.
Volunteers from the North American Sundial Society and The Analemma Society talked to over 1000 attendees about sundials, sundial history, and making paper sundials to show how sundials work
.
Details

Hits: 8956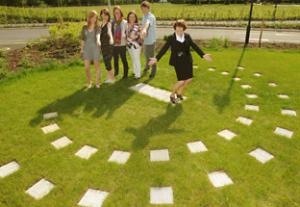 Mark and Clare Hoggart have three daughters, all of whom attended and graduated from the Joseph Rowntree school in the UK. Now, in appreciation, the Hoggarts have donated an analemmatic sundial to the school, saying, "It's just a thank-you for getting the girls through their education. They have all got on really well and have blossomed into lovely young ladies. We want to thank them for the effort they have shown them as individuals." The sundial has been installed outside the science block.
The Hoggarts, who own an ornamental gardenware company, have already received orders from others who are interested in a similar installation. See the NASS website on dial construction for further plans to build an analemmatic sundial.