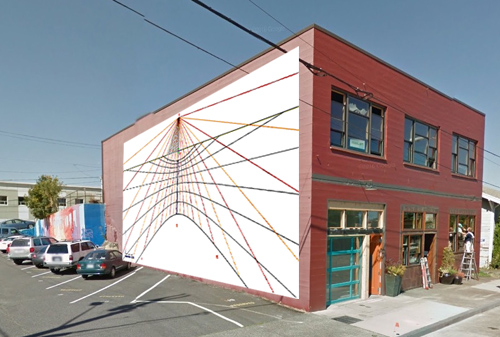 In Bellingham, WA there is a small, plain building with a 54 x 28 feet south facing wall. What kind of a vertical sundial can you imagine on that wall? The Allied Arts of Whatcom County is making a request for proposals for "The International Bellingham Wall Sundial Mural Competition". NW Sun Works, a small group dedicated to the creation of sundials and public artworks, is seeking artist proposals for a working vertical sundial and mural. It is to be constructed on a south facing wall in Bellingham, WA. on a private building near the downtown core. The project is open to any artist, muralist or sundialist, including teams of people who would like to work together.

Proposals may be made by artists, persons, or teams for:
submit a design proposal only
submit design proposal with ability to create the mural
submit design proposal with ability to do any mural and installation of sundial time telling elements.
If the winning design is a 'design proposal only', they will have local talent available to complete any work required for the sundial portion and for any mural/artwork involved. To demonstrate what a vertical, south facing sundial looks like, the group used the Sonna 4.01 software by Helmut Sonderegger (available at Sonne403 Sundialists Software) to present a deliniated vertical sundial for the Bellingham latitude of 48.75 deg at 2.48 degrees west of the 120th time zone meridian.

"Bellingham is a hidden jewel of Washington State filled with people who are forward thinking and enjoy the outdoors. Protected by the North Cascade mountains and bumped right up to the bay, our views are speckled with island's, volcanic mountains, numerous lakes, thick mossy forests, and are surrounded by small farms. Our city thrives on small businesses which fill our brick buildings thanks to our community which encourages handmade and locally sourced goods. Bellingham is very unique, and we hope for the designs to reflect this vibe."


Read more at: http://www.alliedarts.org/sundial-mural-competition/