Details

Hits: 10247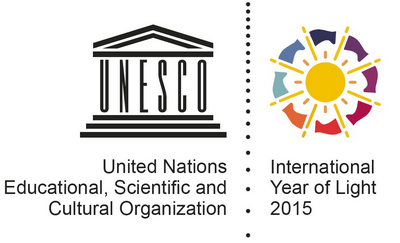 A Letter to NASS regarding the IYL-2015 and the Literary Competition "Words and Light"
I have read the article about the International Year of Light in the website of the North American Sundial Society, and I would like to thank the NASS very much for your interest and for highlighting the International Year of Light 2015 Literary Competition "Words and Light".

I would like to send you the direct link to more details on this competition, as I believe it may be of interest for some members of the NASS (I saw the Art and Literature section in the "Teachers Corner"). The deadline for submitting entries is coming soon - 31 March:

"Words and Light" is a tribute to all the writers who were inspired by Light, writers who were interested in the Science of Light, and scientists who were also poets. The Competition is dedicated to Mikhail Vasilyevich Lomonosov and Johann Wolfgang von Goethe, celebrating the publication of the grammar book by Lomonosov written in 1755 which reformed the Russian literary language by combining Old Church Slavonic with the vernacular (160th anniversary in 2015), and to the book "Theory of Colours" (Zur Farbenlehre) by Goethe, published in 1810, which contains detailed descriptions of phenomena such as coloured shadows, refraction, and chromatic aberration (205th anniversary in 2015).
Thank you very much for your attention and I send you my best wishes.

Yours sincerely,
Ana Luisa
--
Dr. Ana Luisa Simoes Gamboa
Associate Professor, Department of Industrial Ecology
ITMO University (Saint Petersburg National Research
University of Information Technologies, Mechanics and Optics)
Saint Petersburg, Russia
+7 911 716 37 22
Details

Hits: 12926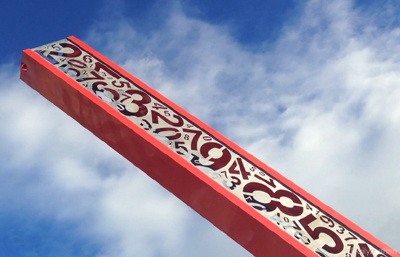 SOLART2 by artist MA2F
UNESCO has declared 2015 the International Year of Light and Light-Based Technologies (IYL-2015). For sundialists, the inauguration of SOLART2 on the June 2015 solstice may be the highlight. SOLART2 is the largest IYL-2015 artistic sundial project in Europe. It is located in Rivesaltes at the northern entrance of Perpignan, France. It was initiated in 2013 as a strong symbol of sustainable development. Artist MA2F (Marc-Andre 2 Figuères) is constructing the sundial with an incredibly large gnomon created from a double metal bar with numbers silouhettes cut into the structure. The dial is meant to illustrate the flow of matter and energy, projecting a continually changing shadow of numbers onto the dial face during the progression of solar time. The edges of the gnomon are painted red "as a visual value and mastery of light". You can see a video of the dial at: http://ma2f.com/pages/solart2.php
Details

Hits: 11215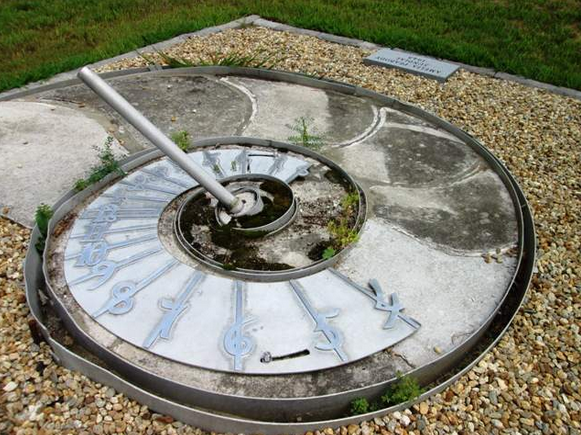 Amelia Peabody Sundial - Dover Town Library
photo: Maureen Sullivan (Wicked Local Dover)
Although Amelia Peabody died in 1984, her legacy and interest in sundials continues. In 1920 she moved to Dover, Delaware, and began raising thoroughbred horses. Ultimately she purchased more than 800 acres in Dover, becoming its largest land owner. She built three houses on her Powisset Farm, three other houses on other properties, and another called the Sun House at 145 Powisset St. in Dover.
As Eleanor Tedesco reports in the Wicked Local Dover on-line news, "The Sun House reflected her interest in heat generated by the power of the sun and was the first of its kind in New England. But the house failed to reach its goal of heating the building with the sun's heat." But true to its name, a graceful sundial in the shape of a Nautilus shell decorated her yard.
Details

Hits: 10253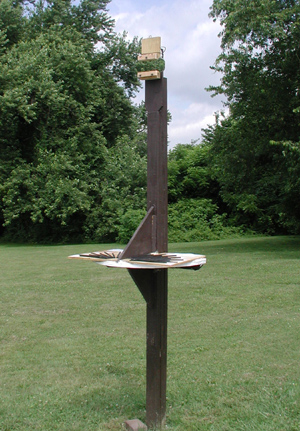 Westminster Dial with Analemma Casting Mirror on Top
Photo Credit: Robert Clark
How do you get the people of your town interested in astronomy? Robert (Bob) L. Clark a retired professor of mathematics and computer science and member of the Westminster Astronomical Society had the obvious answer: Build a unique sundial.
In the grassy field next to Hoffman's Ice Cream in Westminster, the Westminster Astronomical Society dedicated a simple horizontal dial attached to a pole with a unique "ornament" … a vertical south facing mirror.
Details

Hits: 9681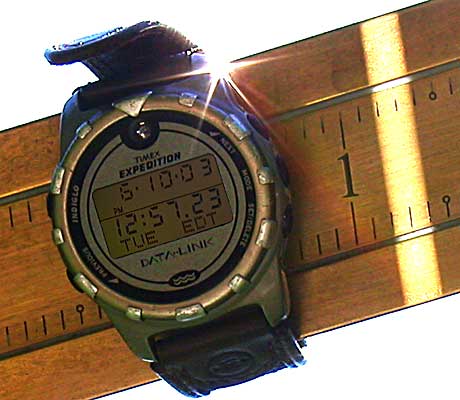 Telling Time with Precision
(By Permission - Bill Gottesman)
The Andalusia Star News reports that the Lurleen B. Wallace (LBW) Community College in Andalusia, Alabama, has a new timepiece that President Herb Riedel says, "… is a device used for practical purposes to keep time, but they also take on a symbolic meeting. For a college campus, I thought it would be very appropriate because it combines science and art."
Indeed, the sundial is a large helical sundial, a modern "Renaissance" sundial designed by Bill Gottesman of Precision Sundials in Vermont.
Details

Hits: 6649
Eight years ago the University of Western Australia (UWA) commissioned a talented graduate, artist Shaun Tan, to create an impressionistic sundial for the 100th anniversary of UWA. The fundamentals of the west-facing sundial were delineated by UWA Professor Peter Kovesi of the Geophysics and Image Analysis Group.
What Shaun artistically designed based on Professor Kovesi's hour lines was carefully photographed, scanned and reproduced as a pixilated map that was turned into 337,600 glass chips (tessera) by artisan tiler Iain H. Middleton from V-vo Architectural Mosaics, with Ankit Gakhar, Darren Hay and Brody Osborne. The mosaic suppliers Bisazza from Vicenza, Italy selected the colored glass to give Shaun Tan's brilliance as well as accuracy. They prepared 375 squares each containing 900 individual tessera and shipped them from Vicenza to Perth. In all, UWA states that "To create the background, place the tiles, clean and detail, grout and polish has taken approximately 560 man-hours."
The 4.56×8.0 m. sundial was unveiled in January 2013, mounted with precision on a west wall of the University Club building located on the UWA campus in Crawley, Perth. A star-shaped gnomon with an open annulus casts a spot of time on the wall. During the course of the afternoon, the spot moves from the bottom of the wall to the top, recording Italian Hours until sunset, a common and practical way of measuring time used since the Arabic sundial of al-Shatir in 1371. The final sunset line is a race between the gnomon shadow and a shadow from a further western building. Watch the time-lapse video created by Nic Montagu to see which shadow wins the race. The dial marks the annual limits of the sun's shadow at the solstices (summer on the left hand and winter on the right hand side) and a middle line for the equinoxes.
Read the full details at: http://hourstosunset.com/
Details

Hits: 6799
The Battle Point Astronomical Association, founded in 1992, provides astronomical observing for science education and public enjoyment at Ritchie Observatory and Planetarium in Battle Point Park on Bainbridge Island, Washington.
Details

Hits: 7841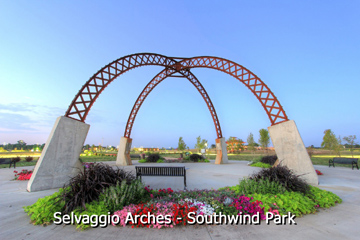 Southwind Park in Springfield Illinois is a National Model Park. It got its start in October 2004 when trustees accepted the donation of 80 acres of land just off South Second Street. Their website states "Our unique state-of-the-art park serves as a national model by proving a new dimensions of inclusion for all people." A park without boundaries that accomodates people in wheelchairs and visitors with special needs.
Details

Hits: 6406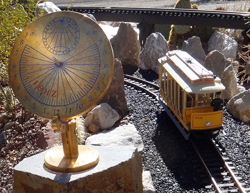 [photo courtesy of John Carmichael]
In 2002, the North American Sundial Society recognized John Carmichael with the Sawyer Dialing Prize as an eminent artisan who creates a wide variety of sundials, principally in stone and glass. In recognition, John received a small brass equatorial sundial made by the renowned British artisan Tony Moss. But for nearly a decade the sundial remained on John's workbench never seeing the full light of day.
Recently Mr. Carmichael completed a 24:1-scale model railroad in his back yard (http://www.flickr.com/photos/jlcarmichael/sets/72157632430552837/with/8348506244/). Now his Sawyer Dialing Prize sundial finally sits in the Arizona sun as a miniature "Monumental Sundial" at the Trolley Station. At the 24:1 scale, the 3-inch dial assumes the proportion of a large 6-foot equatorial sundial. You can see John Carmichael's dials at http://www.sundialsculptures.com/.
Select Sundials by State/Province
Who's Online
We have 222 guests online
Copyright © 1995-2022-2023 North American Sundial Society - All Rights Reserved