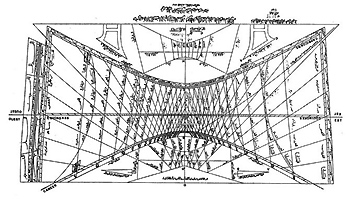 At 3pm on August 15th Roger Bailey of the North American Sundial Society will hold a public lecture on the historic Ibn al-Shatir sundial at the Great Falls Library in VA. The Analemma Society proposes to recreate the dial's design, adapted for the latitude of Observatory Park, The Turner Farm, in Great Falls, VA.
Hopefully this will be the second major dial at Observatory Park maintained by the Analemma Society in conjunction with the Fairfax County Park Authority. The first dial was a commemorative dial designed and built by Tony Moss for the 400th anniversary of Jamestown, VA.
"High on the minaret of the Great Mosque in Damascus is a remarkable sundial created by Ibn al-Shatir in 1371. Through the 10th to 14th centuries the science of astronomy, timekeeping and sundials had advanced in major Moslem centres like Cairo and Damascus. Based on the developing science of timekeeping, Ibn al-Shatir designed a unique instrument that was a breakthrough…The sundial features equal hours rather than the previous system of dividing the day into 12 hours regardless of the seasonal changes."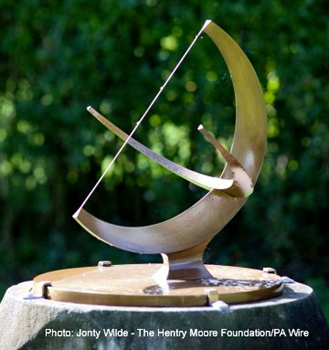 Update: On Saturday July 22nd, less than two weeks after the Henry Moore sundial was stolen, it was recovered by detectives after receiving tips from the British Crimewatch television series. Three young men, all from Essex, have been arrested on suspicion of two counts of theft and are currently in police custody.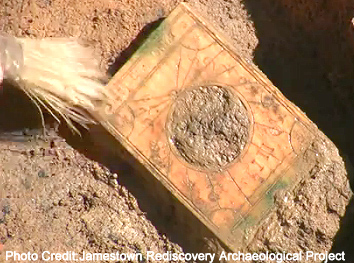 [photo courtesy of the Jamestown Rediscovery Archaeology Project]
At historic Jamestown, Virginia, the first successful English colony in the New World, a rare 17th century ivory sundial was found during recent excavations. You can read about it in Popular Archaeology June-2012
A small ivory diptych sundial was discovered during the Jamestown Rediscovery Archaeological Project dig of soil where a cellar stood as part of the early James Fort. The pocket dial was crafted by Hans Miler, most probably of Nuremberg, Germany. You can see a similar Nuremberg Diptych Sundial from Metropolitan Museum of Art made by Hans Troschel the Elder. http://www.metmuseum.org/toah/works-of-art/03.21.38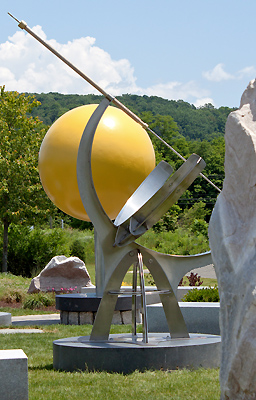 [photo courtesy of volunteers at the McCarthy Observatory ]
On Saturday, June 9th 2012, the volunteers of the John J. McCarthy Observatory in New Milford, CT, dedicated a 9-foot stainless steel sundial as the centerpiece of "Galileo's Garden" adjacent to the John J. McCarthy Observatory. The sundial was built and dedicated in memory of Kathleen Fischer, a sixth-grade science teacher who inspired many students to pursue science.
The sundial is an open armillary, with an adjustable hour band for standard and daylight time. At the tip of the gnomon is a bronze and brass true-size rendering of Galileo's first telescope, honoring the 400 years since Galileo explored the heavens. The North American Sundial Society was privileged to donate to this effort.