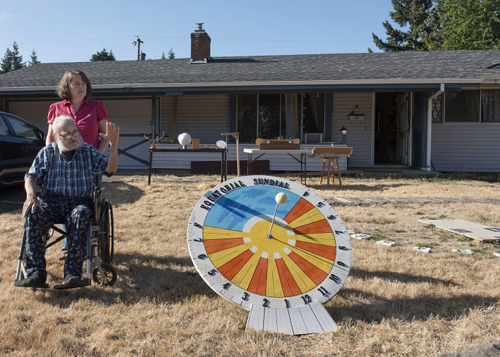 He may be wheelchair bound, but that doesn't diminish Tom Laidlaw's enthusiasim for sundials. In front of his house on Carolina Lane is the Vancouver Heights neighborhood landmark - a sundial garden. And what has he planted?

There is a bright circular equatorial sundial that shows the time from 4am to 8pm (and even an offset for daylight saving time). On the grass is an analemmatic sundial sundial marking time from 6am to 6pm for anyone who wants to stand to the plywood walkway. On a table near the house are a series of globe, equatorial and horizontal sundials as well as other sundial types that he will gladly explain. For example, Tom has turned a skate board into a polar dial by adding a "T" gnomon in the middle. And then there is a model of the Jefferson dial where you swing the gnomon around a globe to cast only a thin line shadow

Katie Gillespie, of the Columbian, reports "The 80-year-old retired electrician has always been a 'do-it-yourself kind of guy,' he said. For a while, it was skateboards he fancied, and bookshelves, and a Benjamin Franklin chair that transforms from a chair into a stepladder. He's self-taught, he said, researching new projects online, then diving in.... 'It's fun to watch him talk to people about it,' said Debra Brouhard, Laidlaw's daughter and neighbor."
His latest obsession is sundials. As a member of the North American Sundial Society, Tom now designs a multitude of sundials. Visitors see his yard dotted with all types of sundials. They come in all sizes: big and small. His analemmatic sundial on the lawn always draws attention. Nearby, a plumb bob dangles from a beam. allowing Tom to tell time solar noon. when the shadow draws a line on the lawn pointing due north.
Gillespie found that, "Laidlaw's passion for sundials began in 2009, when his grandson, Doug Brouhard, stuck a stick in the ground while they were camping. Doug Brouhard was about 12 at the time, and the dial didn't quite work, Laidlaw said. It was the right idea, though, and a new hobby was born. 'I still have the stick that started it all,' Doug Brouhard said."

Read more of Katie Gillespie's article and see more photos of Tom Laidlaw and his sundials at http://www.columbian.com/news/2017/aug/30/sundial-garden-shines-in-vancouver-heights/
Normally when one mentions a human sundial, we think of an analemmatic dial carefully painted on the ground with a himan gnoman standing carefully on a date in the central walkway. But you can design a sundial that works for a day or two by just having a central platform, standing on it to become a gnomon, and letting your shadow fall on marked hours drawn on the ground below. But would you stand there all day? NASA presented their Astronomical Picture of the Day showing that "on July 19th, the Astronomy Group of students in the Progymnasium Rosenfeld created a human sundial, each participant patiently playing the role of a gnomon for 10 minutes. In this timelapse video of their temporal voyage of discovery, one image was taken every 20 seconds from 8 amuntil4 pm Central European Summer Time. Drawn on the ground are the dial hour marks calculated to show the local time for that specific date. Behind, the tower clock offers a time check... The group plans a repetition of this performance next winter to compare the length of the day and the altitude of the sun."
Video by permission of Astronomie-AG, Progymnasium Rosenfeld, Till Credner, AlltheSky.com

>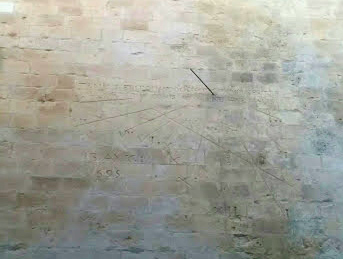 In January of this year we reported that the Malta 1695 vertical sundial on the wall of the Jesuits' Church, next to the Old University entrance on St. Paul Street in Valleta was in severe disrepair. Alexei Pace reports that "restoration of the 1695 sundial in Valletta, has now been completed. All the vegetation and fungal growth/mold has beeen removed and the stonework re-pointed."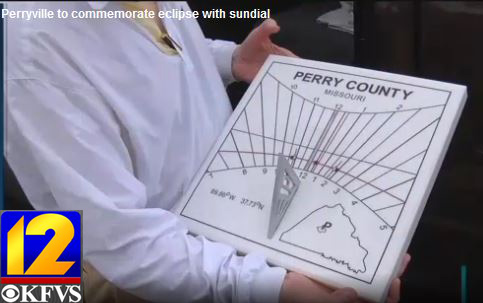 Perryville Eclipse Sundial
In Perryville, Missouri, Perry County unveilled a sundial commemprating the coming August 21st total solar eclipse. Mike Mohundro, Photojournalis for Hearland News (KFVS Channel 12) interviewed Trish Erzfeld, Perry Count Heritage Tourism Director, who said "We just wanted something after the eclipse is over with that the community can be proud of and reflect back on." Mohundro went on to write "many organizations worked on this project together including Earthworks, the [North] American Sundial Society, St. Louis Stone Artist Abraham Mohler, Perry County and more."
The sundial, shown in a KFVS video and in the photo at right, is a horizontal white milk glass sundial now mounted on a large marble pedestal (watch the dial video at http://www.kfvs12.com/story/35969739/perryville-to-commemorate-eclipse-with-sundial).
On the pedestal are three plaques, one entitled "Time" explaining how to convert the sundial's solar time to civil time as told by watches and cellphones. "Not a lot of people know how to read a sundial," Erzfeld said. "It's a teaching tool as well as a historical marker here on out." The second plaque entitled "Eclipse" shows the date and time when the August 21st eclipse starts and stops as seen in Perryville said Don Snyder, local member of the North American Sundial Society. The third plaque "Sundial" indicates who was involved in creating the dial.
Mohundro quotes Erzfeld saying "Education is been our main focus through this whole solar eclipse even... There's just so many things that play into the science of it and a sundial is one of those things that people can learn from."