Details

Hits: 4055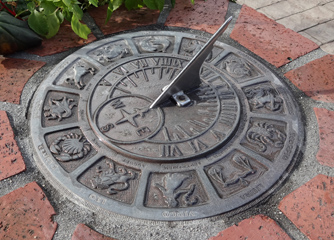 Dr. Jessica Warren, lecturer of physics and astronomy at Indiana University Northwest, is active in science outreach and education. She is also passionate about sundials. For Indiana University outreach shecreated a video "The Garden Sundial - Much More than an Ornament" that presents a brief history of the sundial, how they work, and where to get one or make one.
You can watch the video on YouTube at https://www.youtube.com/watch?v=K10nPV69Q1A. It is also part of the North American Sundial Society library of videos, found on this website at https://sundials.org/videos/making-and-using-sundials.html where NASS has a collection of videos on sundials, timekeeping, and interviews with sundialists on how they make sundials.
At the end of her presentation, Dr. Warren provides a list of reference material about sundials. Her entire video including references is available as a PDF and is available for download at the bottom of this article. Additional references and sundial topics are available on the NASS sundial links page: https://sundials.org/dial-links/general-sundial-links.html. Read more about the fascinating world of sundials.
Details

Hits: 9552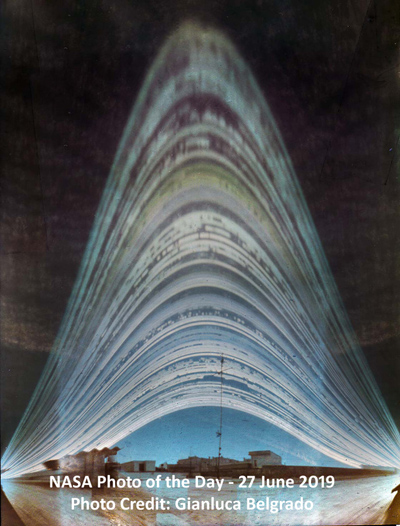 In the NASA Photograph of the Day for 27 June 2019 is a beautiful photograph by Gianluca Belgrado using a pinhole camera. https://apod.nasa.gov/apod/ap190627.html As explained by NASA, "This persistent six month long exposure compresses the time from solstice to solstice (December 21, 2018 to June 16, 2019) into a single point of view....Fixed to a single spot at Casarano, Italy for the entire exposure, the simple [pinhole] camera continuously records the Sun's daily path as a glowing trail burned into the photosensitive paper. Breaks and gaps in the trails are caused by cloud cover. At the end of the exposure, the paper was scanned to create the digital image...."
In 2011 Art Paque explained the art of solargraphy to members of the North American Sundial Society at their annual conference in Seattle. The construction steps involve creating a pinhole in thin foil, then taping the foil onto a tin can that has photographic paper inside and opposite the pinhole. The lid on the can is sealed and most important, pointed at the sky with firm support to prevent moving. The rest is up to nature as the sun crosses the sky each day. Beautiful solargaphs such as from Gianluca can be obtained with patience tracking the sun for three to six months. In the end your solargarph will be a day by day time capsule of solar observation.
Type "solagraphy" into your web search engine and you will discover a host of sites showing the details of making your pinhole camera. For example: http://www2.uiah.fi/%7ettrygg/camera.html and http://www.pinholephotography.org/Solargraph%20instructions%202.htm

Details

Hits: 7323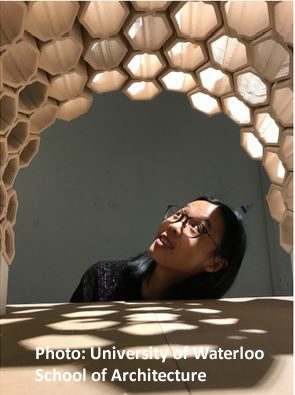 Students at the University of Waterloo School of Architecture in Cambridge, Ontario are experimenting with the benefits of 3D design and printing. In particular Joanne Yau created a set of hexagonal hollow bricks called sundial arches that lets in sunlight from different portions of the arch as the sun travels across the sky. We expect that the length to width ratio of the bricks can tailor sunlight for specific times of the year (summer, spring/fall, or winter).
Joanne Yau was one of three teams challenged to learn how to operate a new industrial 3D printer capable of squirting out clay. Professor Correa, interviewed by 3Dprint.com said "There is no other way to make these kinds of façades without enormous cost and time," said Correa, who has been involved in 3D printed research on an even more advanced level, studying how such objects respond when exposed to varying degrees of moisture and temperature. "They are completely unique." "The printer allows us to make much more complex geometry," said Joanne Yau, part of the team that 3D printed bricks for the ambitious arch/sundial. "To make this by hand or to extrude it would be virtually impossible."
See a video of how the 3D clay bricks are created in an article by Bridget O'Neal June 5, 2019: https://3dprint.com/245698/whistling-walls-sundial-arches-ontario-architecture-students-3d-print-clay/
Details

Hits: 6591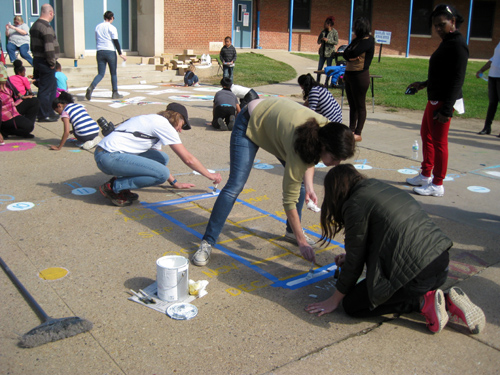 Grimm & Parker Architects sponsored a "Green Apple Day" on October 15, 2016 to help two Baltimore City Schools - Graceland Park ES/MS and Holabird Academy ES/MS - receive analemmatic sundials on their front sidewalks. The weather was perfect as teachers and volunteers from G&P chalked out and then painted simple 16 x 5 foot analemmatic sundials.
The sidwalks were aligned true North-South, making dial lay-out easy. With tape measures in hand, they marked out the focal points and north point of the analemmatic ellipse. Then, using the time-honored principle of constant distance they used a chalk line between those 3 points to maneuver a piece of chalk following the shape of an ellipse. For the sundial, the ellipse stretched from 5am to 7pm. The hour marks were made using two tape measure to check positions that were quickly followed by drawing of the hour circles with a plastic lid. While volunteers painted the hour circles others chalked out the walkway whose monthly lines and solstices were quickly painted as well. The final touch was the inclusion of the East and West Bailey points that determine the direction of the rising and setting sun. With a lot of support and good organization, both dials were finished in 3 hours!
Details

Hits: 2820

Want to travel? Want to see sundials? Well, you can do both by taking a virtual tour of the Galileo Museum (Museo Galileo) in Florence, Italy. Beside showing you detailed sundials, astrolabes, and quadrants in their collection, they host a series of short 2 minute videos on sundials and many other topics.
This is a fun virtual site to explore: https://catalogue.museogalileo.it/ Here you can read about the biography of Galileo or many other famous scientists or you may want to browse many of 1000 astronomical instruments in their collection, or watch a video on Galileo's astronomy or see how the the heavens can be seen in the armillary sphere sundial, or consider the history of the lightning rod with a demostration of gunpowder blowing apart a small wooden house (called a "Thunder House") that doesn't have one.
There are many short videos about sundials and astrolabes. And of course there is the Monumental Sundial at the entrance to Museo Galileo. Click here to watch a short animation of how this gnomonic sundial works. The Museum has many of these instructional videos. Be sure to visit their video catalogue: https://catalogue.museogalileo.it/index/VideoIndexByThematicArea.html
Details

Hits: 7428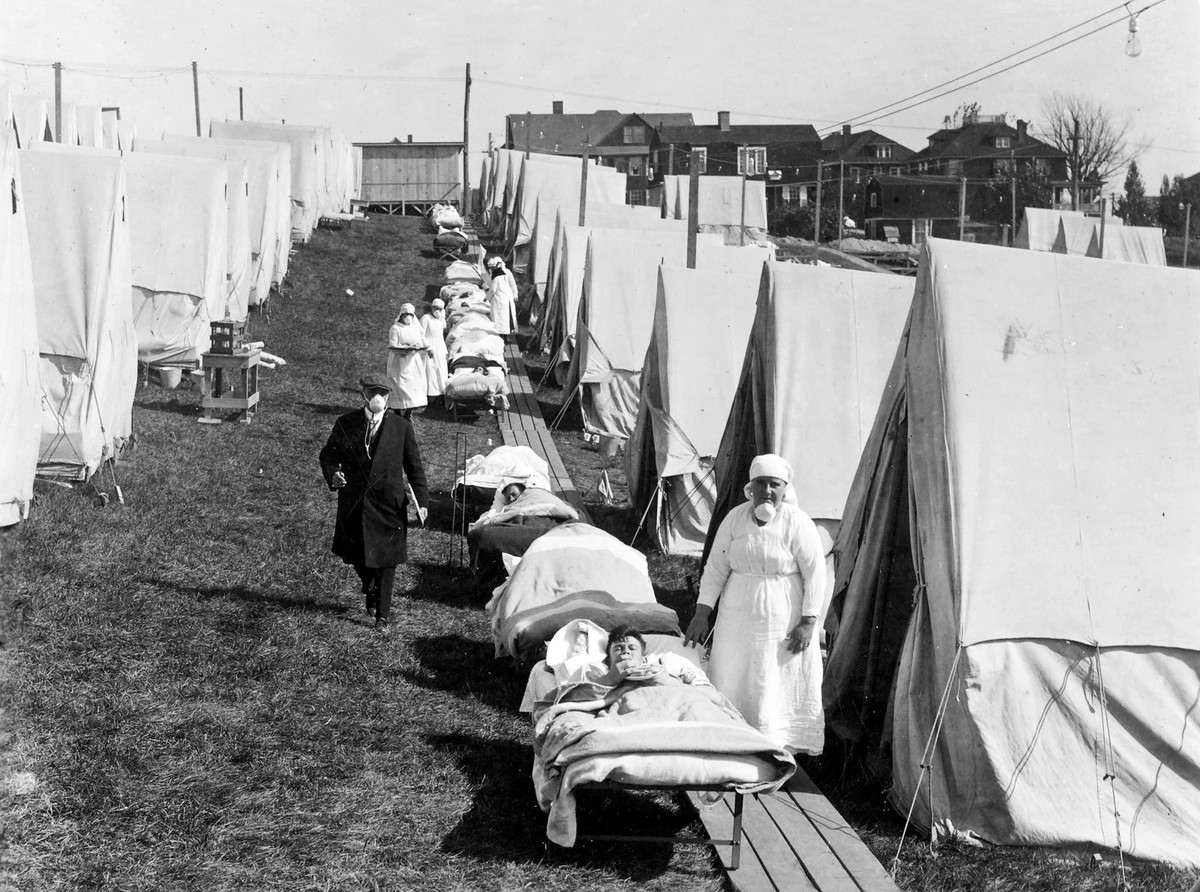 1918 Photo of Camp Brooks Open-Air Hospital Boston - Nat'l Archives
We feel the menance of the Corona Virus (Covid-19) and the imposed social isolation. Although worse than the typical annual flu, the Corona Virus pales to the worldwide pandemic of the Spanish Flu (isolated as the H1N1 virus). What does this have to do with sunlight? I am indebted to Richard Hobday's well researched article:
Here is his paragraph on "Sunlight and Influenza Infection"
"Putting infected patients out in the sun may have helped because it inactivates the influenza virus.[7] It also kills bacteria that cause lung and other infections in hospitals.[8] During the First World War, military surgeons routinely used sunlight to heal infected wounds.[9] They knew it was a disinfectant. What they didn't know is that one advantage of placing patients outside in the sun is they can synthesise vitamin D in their skin if sunlight is strong enough. This was not discovered until the 1920s. Low vitamin D levels are now linked to respiratory infections and may increase susceptibility to influenza.[10] Also, our body's biological rhythms appear to influence how we resist infections.[11] New research suggests they can alter our inflammatory response to the flu virus.[12] As with vitamin D, at the time of the 1918 pandemic, the important part played by sunlight in synchronizing these rhythms was not known."
[7] Schuit M, Gardner S, Wood S et al. The influence of simulated sunlight on the inactivation of influenza virus in aerosols. J Infect Dis 2020 Jan 14;221(3):372–378. doi: 10.1093/infdis/jiz582.
[8] Hobday RA, Dancer SJ. Roles of sunlight and natural ventilation for controlling infection: historical and current perspectives. J Hosp Infect 2013;84:271–282. doi: 10.1016/j.jhin.2013.04.011.
[9] Hobday RA. Sunlight therapy and solar architecture. Med Hist 1997 Oct;41(4):455–72. doi:10.1017/s0025727300063043.
[10]Gruber-Bzura BM. Vitamin D and influenza-prevention or therapy? Int J Mol Sci 2018 Aug 16;19(8). pii: E2419. doi: 10.3390/ijms19082419.
[11] Costantini C, Renga G, Sellitto F, et al. Microbes in the era of circadian medicine. Front Cell Infect Microbiol. 2020 Feb 5;10:30. doi: 10.3389/fcimb.2020.00030.
[12] Sengupta S, Tang SY, Devine JC et al. Circadian control of lung inflammation in influenza infection. Nat Commun 2019 Sep 11;10(1):4107. doi: 10.1038/s41467–019–11400–9.
Details

Hits: 9709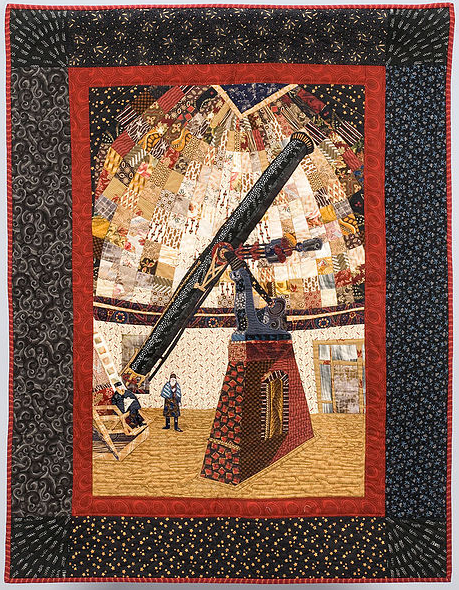 Sundials are often created at the instersection of science and art. Quilting has made its mark as well. For example in Burnsville North Carolina is the Quilt Block Sundial, painted in bright quilt blocks on a 8x8 foot board above the entrance to the Yancy Common Times Journal Building.
Now comes Altazimuth Arts, an enterprise established by Sara Schechner, well-know historian of science who is curator of Harvard's Collection of Historic Scientific Instruments. But Schechner is also active in the Studio Art Quilt Associates, Quilters' Connection of Watertown MA, and member of Quinobeguin Quilters guild. As she explains, "Recent quilts are inspired by history and the night sky, the built environment wet within nature, and by the many-faceted meanings of tangible things."
Illustrated is the US Naval Observatory 26-inch refractor made by Alvan Clark & Sons in 1873. "The inspiration for my quilt was an engraving from a newspaper story celebrating the work of the telescope. The print shows astronomer Simon Newcomb (at the eyepiece) and Superintendent Rear Admiral Benjamin F. Sands (standing) in the dome with the brand new telescope in late fall 1873. The engraving was based on a photograph of the same scene." Visit Schechner site at www.altazimutharts.com
Details

Hits: 6964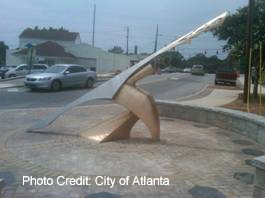 This weekend on October 6th a new sundial was dedicated in Atlanta, Georgia. Ayokunle Odeleye, nationally renowned artist, has created a modernistic bronze and stainless steel sundial called "Chi Wara Sundial Lantern." The 8-foot tall sundial is accessible at ground level, sitting in a 20-foot circular plaza with hour marks at the circumference.
Interestingly, it functions as a sundial by day, but shines as a lantern by night. The public artwork honors twelve community leaders from Cascade Heights located in southwest Atlanta for their spiritual and cultural contributions to their community and Atlanta.
Odeleye's sundial took inspiration from Mali folklore of West Africa and the headdress of Chi Wara, a mythical creature that is half-man and half-antelope. As noted by the city of Atlanta, the sundial represents "a headdress in special ceremonial harvest dance designed to pass on knowledge from the elders to young people in the viliage. Odeleye's 'Chi Wara Sundial Lantern' interprets this mythological image and conceptually uses it to suggest the ceremonial passing of scholarship from Cascade elders to the youth of this community."
Reference: Saporta Report - David Pendered - Oct 3, 2012
Details

Hits: 1743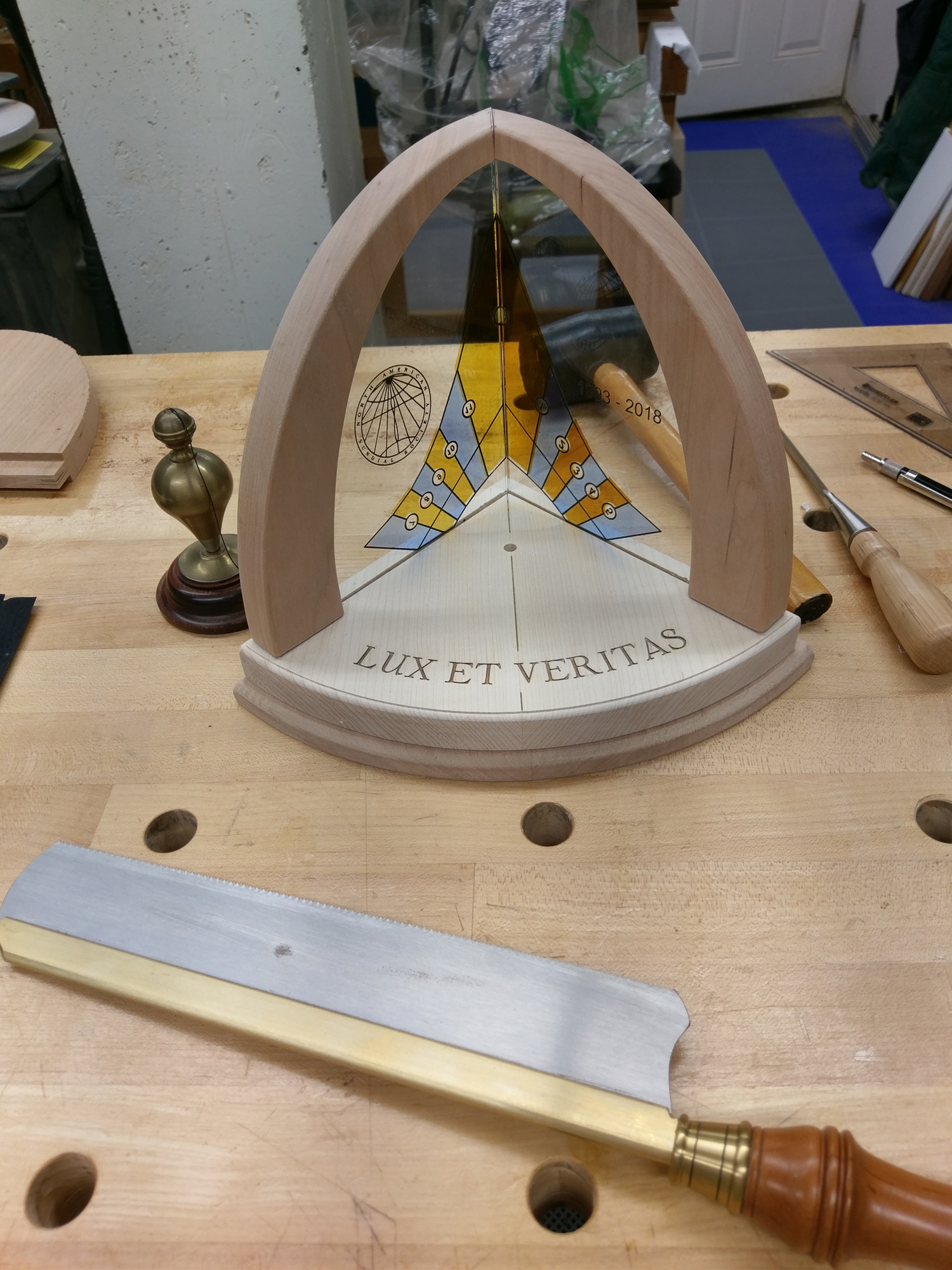 Don Snyder, long time NASS member, sundial designer and conference organizer, died Nov. 21, 2022 at the age of 87. He organized two St. Louis conferences for NASS in 2008 and 2017. For the first St. Louis conference, Don worked closely with Michael Olsen of the Missouri Botanical Garden to have five sundials available for viewing, including the dedication of a dial donated by Ron Rinehard, the Schmoyer sundial made by NASS member Bill Gottesman and donated to the Garden by Don and Bill, and in the Ottoman Garden, the Ottoman Sundial designed by NASS member Roger Bailey based on the 1845 dial at Topkapi Palace, Istanbul.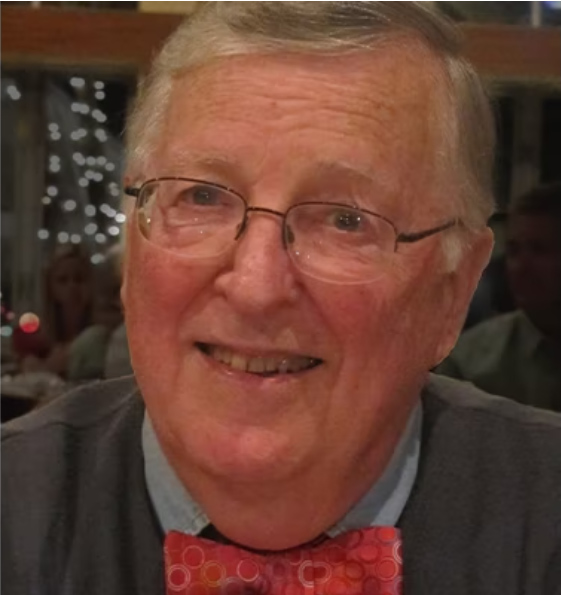 At the 2017 NASS conference in St. Louis, Don organized a ring-side seat at Jefferson Barracks to watch the total solar eclipse. Don worked with Perry County and Perryville, a town on the eclipse path, to create a new sundial for the courthouse gardens in honor of the eclipsing sun. Local craftspeople then created the dial following Don's design.
Don was always available to help other sundialists, offering advice and technical assistance. He helped restore a sundial at Concordia Seminary, established a Sundial Trail of dials around St. Louis, and for a decade checked the links on the NASS website for accuracy and relevance. With his hobby of woodworking, Don made a dial for the 25th anniversary of NASS (1993-2018) that projected solar time in colors on the dial face.
Don was a senior professor in the Department of Electrical Engineering at Washington University in St. Louis. He was the Samuel C. Sachs Professor of Electrical Engineering and chair of the department from 1976 to 1986 as well as a professor of radiology at the School of Medicine. As the founding director of the Electronic Systems and Signals Research Laboratory from 1986 to 1998 he tackled imagery problems in biomedicine, astronomy and remote sensing. In the Washington University Newsletter, they noted that when the Hubble space telescope was launched and had a blurry focal plane, Don proposed a novel image reconstruction approach. A version of this sharpening algorithm has been used on all subsequent images.
https://www.legacy.com/us/obituaries/name/donald-snyder-obituary?id=38326477
https://engineering.wustl.edu/news/2022/Donald-Snyder-87-senior-professor-of-electrical-systems-engineering.html