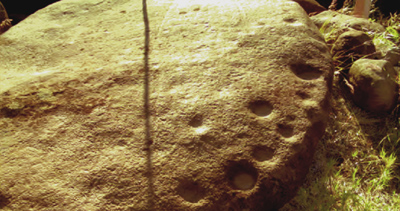 Kānaloa Stone Shadow Alignment
Photo: Kaho'olawe Island Reserve Commission
On Kaho'olawe, the smallest island of the Hawaiian island chain only 7 miles from Maui, sits an endangered and sacred rock, the Kānaloa, with petroglyphs and a row of 32 cupules (man-made depressions) along one edge. "It has significant celestial alignments with the rising and setting of the sun," said Michael Naho'opi'i, Executive Director of the Kaho'olawe Island Reserve Commission (KIRC). It appears that there is a relationship between the shadow of a stick held vertically along lines etched in the stone and the cupules.
Documented as Site 110 feature BU, the Kānaloa stone is relatively flat and rests on a natural pedestal that when tapped, resonates with a bell-like ring. But its petroglyphs and alignment cups may soon topple into a nearby and ever growing ravine. In 2010 the Commission approved "The Cultural Use Plan: Kūkulu Ke Ea A Kānaloa" with one of the recommendations to preserve and stabilize the stone. The first phase of the plan has been to document the stone's celestial alignments and quantify the erosion forces acting on its base.
For native Hawaiians, Kaho'olawe is a sacred island, deeply rooted in history, culture, and religion. Called "Kānaloa" or "Kohemalamalama" in ancient times, the island has been inhabited since the 5th century AD. But it has had an uneven history: its population was devastated by competing chiefs, the island was turned into a prison colony by Kamehameha III in 1853, and for 50 years the island was used as a gunnery and bombing range starting in the 1920's. Native Hawaiians have pressed for the return of the island ever since they were ordered off in 1941.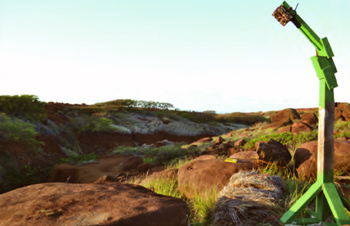 Kanaloa Stone Time Lapse Photography
Photo:Kaho'olawe Island Reserve Commission
In 1953 President Eisenhower promised to return the island to Hawaiians as soon as soon as its military usefulness ended, but it took nine protesters in 1976 to actually lay the groundwork for legal restoration. In 1981 the island of Kaho'olawe was placed on the National Register of Historic Places and a decade later in 1993, the U.S. Government approved a $400 million clean-up fund for Kaho'olawe, and in 1994 the island was officially returned to Hawaii with bombing permanently prohibited. Now the entire island and its waters can only be used for Native Hawaiian cultural, spiritual and subsistence purposes; fishing; environmental restoration; historic preservation; and education. Michael Naho'opi'i explains that "One of our traditional practices is to call the sun to rise in the morning to start our day."
Watch episodes about Kaho'olawe from KRON-2 television by Diane Ako and video by Ryan Kawamoto:
Read more about Kaho'olawe Island Reserve Commission and island archaeology at: