Details

Hits: 13054

Members of The North American Sundial Society and Analemma Society will be participating in the 3rd USA Science & Engineering Festival. Mark your calendars for Saturday and Sunday April 26 and 27th at the Walter E. Washington Convention Center in Washington DC. This is a Science, Technology, Engineering and Mathematics (STEM) exposition. In recognition of the Festival's role in making STEM a national priority, Congress recently designated the last week in April as National Science Week.
NASS and the Analemma Society along with other expo presenters have more than 3,000 hands-on activities. NASS and the Analemma Society will introduce students and families to a variety of sundials and offering hands-on activities to cut them out and test them using a solar heliograph. It's all free. Come and learn about Sundials – The World's Oldest Clocks.
The Science & Engineering Festival will also have a book fair—complete with signings by well-known science authors. Bill Nye the science guy will be there as well as Mike Rowe (Dirty Jobs on Discover Channel), Nate Bell (Design Squad on PBS) and the cast and crew from TV shows like Big. Bang Theory, as part of over 100 live stage performances.
Details

Hits: 8754
Building on the success of the 2010 USA Science & Engineering Festival, the North American Sundial Society and Analemma Society joined nearly 1500 other activities at the Expo in Washington DC on April 28-29, 2012 presenting "Sundials, the World's Oldest Clocks". That's the old news. The new twist is that Ken Clark of NASS made it to youtube describing sundials. You can watch too:
Details

Hits: 9426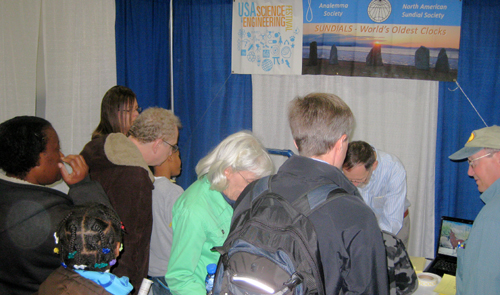 On April 28-29, the North American Sundial Society and Analemma Society participated in the USA Science & Engineering Festival in Washington DC, presenting "Sundials – The world's oldest clocks" at the Walter E. Washington Convention Center in Washington D.C.
Photo shows opening day with Ken Clark and Jeff Kretsch helping students learn about sundials while parents look on. A great first day at the Science and Engineering Festival. And the second day was equally exciting.
Parents, teachers, students, and children of all ages were able to participate in over 3,000 hands-on science and engineering activities. On stage among many others was Bill Nye the Science Guy and Adam Savage and Jamie Hyneman, hosts of the Discovery Channel's Mythbusters.
Volunteers from the North American Sundial Society and The Analemma Society talked to over 1000 attendees about sundials, sundial history, and making paper sundials to show how sundials work
.
Details

Hits: 8956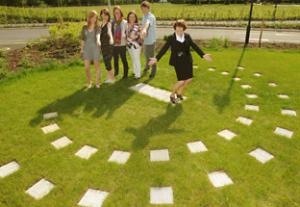 Mark and Clare Hoggart have three daughters, all of whom attended and graduated from the Joseph Rowntree school in the UK. Now, in appreciation, the Hoggarts have donated an analemmatic sundial to the school, saying, "It's just a thank-you for getting the girls through their education. They have all got on really well and have blossomed into lovely young ladies. We want to thank them for the effort they have shown them as individuals." The sundial has been installed outside the science block.
The Hoggarts, who own an ornamental gardenware company, have already received orders from others who are interested in a similar installation. See the NASS website on dial construction for further plans to build an analemmatic sundial.
Details

Hits: 16239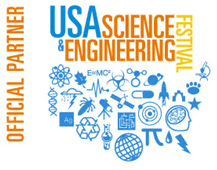 NASS and the Analemma Society, inspired by the success of the 2010 USA Science and Engineering Festival, are registering for the Festival on the Washington D.C. Mall. The event, supported by volunteers from both NASS and the Analemma Society is scheduled for the Spring of 2012.
NASS and the Analemma Society will have a booth to teach families and children how to make sundials and read sundial time with the theme: Sundials, the Worlds Oldest Clocks.
We expect the return of many of the sundialist volunteers that supported the 2010 Festival. For the coming year, we expect to improve our educational goals beyond the popular "Great Sundial Cutout." What else is in store? Stay tuned as we formulate our educational material. Have and idea? Please send an email toRobert Kellogg
For more information on all Festival events and how you can get involved, visit www.usasciencefestival.org.
Details

Hits: 3550
John Krieger, a former science teacher, is a strong supporter of STEM in the classroom and science in the real world. Bollards at Laguna Nigel in southern California might offer the opportunity to teach a bit of astronomy.

John says, "I don't mean to imply that every concrete curb stop should be turned into an astronomical instrument. But why can't we have more of these things around us? The 'globe sundial' is not an original idea of mine. People have actually made them, but they are depressingly rare....Sometimes someone does go to the trouble of making a beautiful, scientifically literate public display, and places it in full view of the everyday public, and even provides instructions..."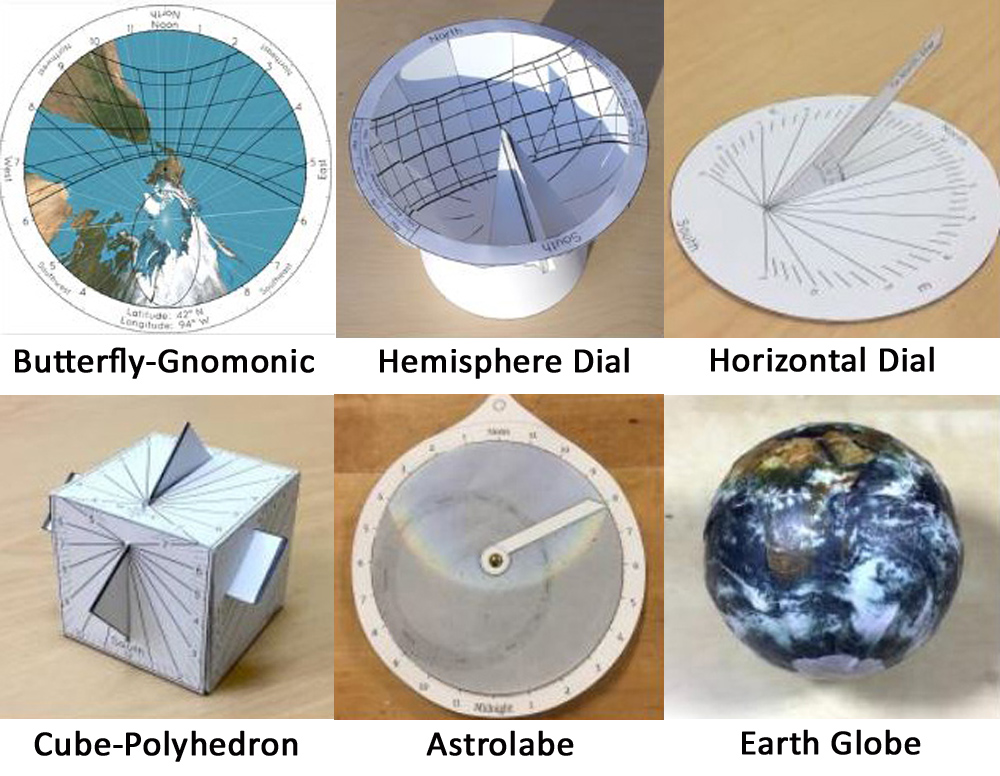 Many of these public displays are sundials and during John's career, he developed aids to teach astronomy to schoolchildren. At his website, he makes an array of paper sundials, globes, astrolabes and quadrants available in PDF form for printing and easy constructing to make an accurate sundial or globe with explanation of how it works. "Most of them are printable PDF files that you can download and give to kids to label, cut out, and use as the basis of some activity... Officially, I am making all of these works available under a Creative Commons — Attribution License, which means you may do anything you like with them, as long as you give me credit as the creator."
And don't worry about adjusting for latitude. His paper instruments are available for download at every 10 degrees of latitude from 60 deg south to 60 deg north, which for example would be appropriate for use in Reykjavik, Iceland. In North America, 20 degrees covers lower Florida, 30 degrees is suitable for southern California, 40 degrees works for the big US east coast cities, and 50 degrees is appropriate for Calgary in the heart of Alberta.
Downloads available at: https://www.astronomyforthinkers.com/downloads/
For the Hemispherical Dial, go to: https://www.instructables.com/A-Hemispherical-Paper-Sundial/
Details

Hits: 12735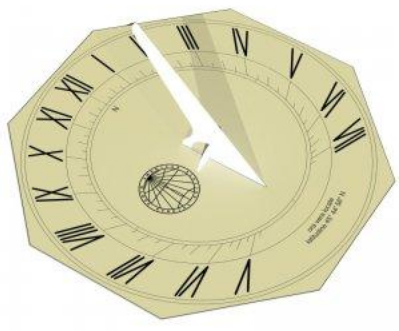 Need a small sundial for your display or science project? Want to show how different sundials cast shadows? Need a simple cut-out science exercise for your students? Fabio Savian of Milan Italy has the solution. For a number of years he has managed the Sundial Atlas website, ever increasing the number of sundial photos from around the world. Over the last several years he has worked very hard to create the gnomolab that includes a solar compass map of the earth, cloud software for creating analemmatic (human shadow) sundials, and a section for making paper sundials to your specification. The analemmatic dial measurements and papger dial designs are created as download PDF files. Four of those dials were created by the North American Sundial Society. Enjoy. Sundial Atlas Paper Sundials
Details

Hits: 8966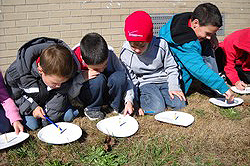 Second-grade students at Connetquot Elementary School in Islip, New York, created sundials using paper plates and pencils. The pencil gnomons were set mostly vertical by the students and then they traced the resulting shadows at three times during the day. This helped teachers Leslie Davis and Melissa Love demonstrate the sun's apparent movement in the sky and talk about the earth's rotation as the cause. "The students really had fun," said Love, "and they were able to recognize that a sundial is a tool that can be used to measure time."
Details

Hits: 7387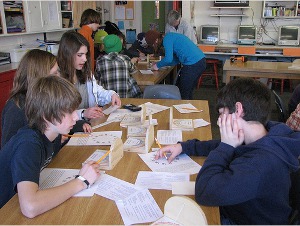 Avid dialist and former The Grammar School teacher and head of the Putney, VT school, Mac Oglesby guides 6th graders to plan and construct their own working sundials. Oglesby's students learned how to correctly position their dials to display the accurate time throughout the year.
Select Sundials by State/Province
Who's Online
We have 423 guests and no members online
Copyright © 1995-2022-2023 North American Sundial Society - All Rights Reserved