Details

Hits: 6914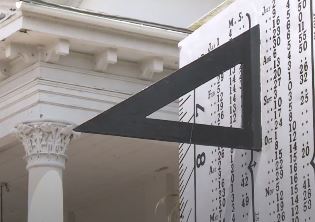 In this age of smartphones and digital wrist watches, the Barnwell Sundial in front of the Court House in Barnwell, South Carolina continues to tell accurate time. As reported by the television stations WRDW and WAGT, "It was put up in 1858 after it was given to the county by state senator Joseph D. Allen. The sundial keeps very accurate standard time, even though that wasn't established until 1884. [Telling standard time is possible through Equation of Time corrections listed on the face of the dial.] The courthouse that is located near it burnt down in 1865, but the sundial stood tall. In 1918, still in it's original location, a concrete curbing was built around the sundial to protect it from traffic. Over the years, it was restored and fixed up."
See the video of Phill Huggins tell about how he got the opportunity to restore the sundial.
http://www.wrdw.com/content/news/Unique-Barnwell-sundial-stands-the-test-of-time-484160371.html
Details

Hits: 8103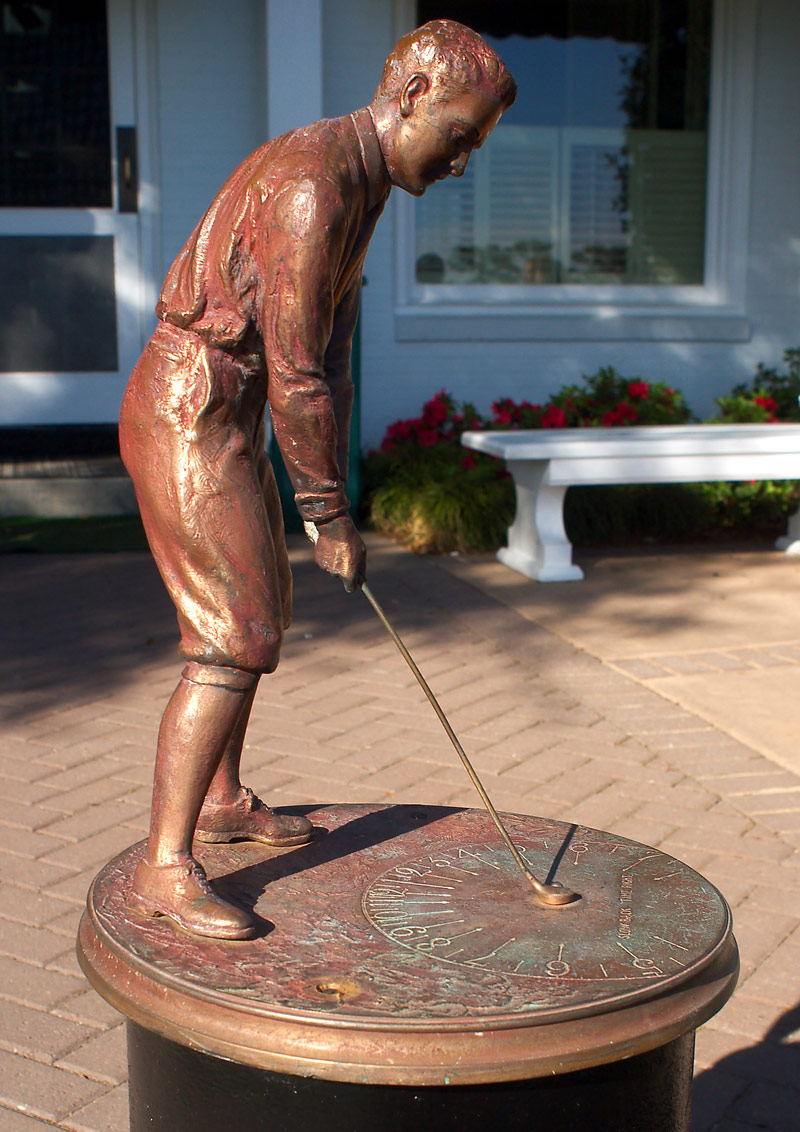 With the Masters Tournament playing in Augusta and the return of Tiger Woods, many golf enthusiasts think back to other great players. One of the greatest was Bobby Jones. John Steinbreder writes about a sundial in his honor, "Another reminder of Jones here [at the Augusta National Golf Club] is a small bronze statue just 18 1/2 inches in height that is part of a working sundial outside the Member Golf Shop and just across from the first tee. The effigy boasts a rich, brown patina and etched across the lower part of the sundial are the words: 'Slow Back, Time Right.'

Back in the 60's Pete Pascale found the statue and dial in a scrap metal dumping ground in Erie, Pensylvannia. After cleaning and repairing the statue, he gave it to Rick and Hank DeDionisio who ran Ricardo's Restaurant in Erie. The brothers were avid golfers and in turn presented the figure and dial to their Downing Golf Club. As Steinbreder writes,"...the brothers and club hit upon the idea of offering the statue to Augusta National, because of their admiration of Jones. They asked John May, a senior editor at Golf Digest, to act as an intermediary, and the journalist contacted Roberts in a letter dated May 18, 1972. Some time later, the Sundial took its place outside the Member Golf Shop."
Read about August National and the Sundial at: http://www.goerie.com/sports/20180406/erie-residents-helped-iconic-sundial-reach-augusta-national
It is believed that Edwin E. Codman, the English artist crafted the piece in the 1930s, using Jones as the model for the figure. Codman spent the early part of his life in England working at the Gorham foundry, creating small exquisite bronze sculptures. In 1931 he moved to Dorset, Vermont where he and his wife lived quietly until his death in 1955. Looking at history, Bobby Jones won fame between 1923 to 1930, culminating with the Grand Slam that included the British Amateur and British Open. It is very plausible that Codman made the sculpture and sundial in 1930 to recognize the fame of this retiring golfer.

The real story behind the Bobby Jones sundial is ultimately instructive for the world of golf: In Augusta, it doesn't tell correct time, even solar time. If Codman made the sundial in the UK, it explains the angle of the golf club shaft, closer to the latitude angle of London at 51 degrees rather than 42 (Erie, PA) and certainly not 36 degrees (Augusta, GA). This may be confirmed by the face of the dial, where the hours span from 4am to 8pm, allowing for the variation of sunlight in England, not Georgia.

So the joke is on all those golfers who look to the Bobby Jones sundial, as the only time telling device on the course: it has never told correct time (except for noon) in Augusta and never will. It would be fun to get a rubbing of the dial face to prove it runs on London time.

Details

Hits: 5483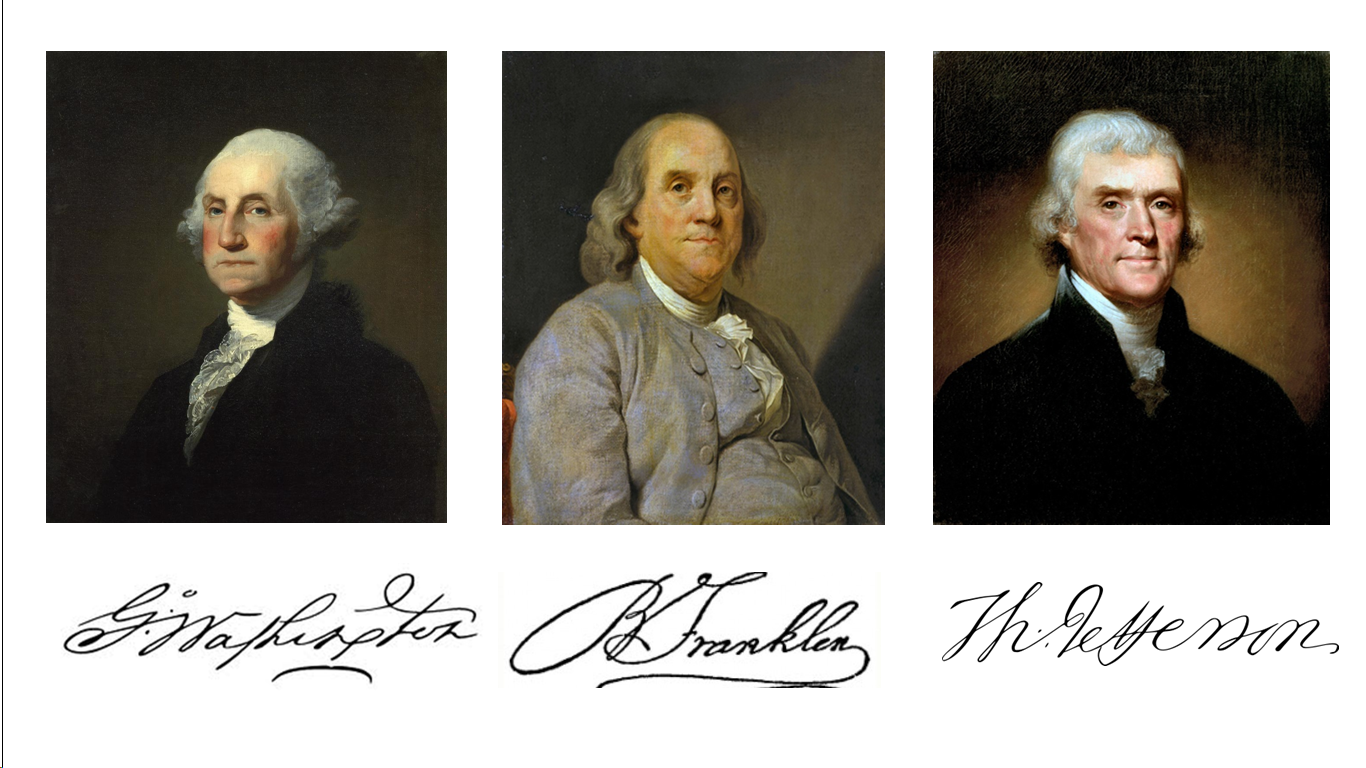 Did you know that Thomas Jefferson designed sundials and thought that a book of trigonometric tables was one of his most valuable books? And that Benjamin Franklin made a "modest" proposal for an extension of the noon-day sundial canon? Join Fred Sawyer, eminent sundialist and president of the North American Sundial Society as he explores sundial history with the United States founding fathers George Washington, Benjamin Franklin and Thomas Jefferson in three video presentations. The videos are taken from a presentation he made two years ago at the annual meeting of the NASS in Indianapolis. See these videos at: http://www.sundials.org/index.php/dial-links/videos/historic-sundials
Learn more about sundials, their construction and their history by joining the North American Sundial Society. Go to http://www.sundials.org/index.php/join-nass/join-nass and join now.
Details

Hits: 8210
In 2000 the North American Sundial Society held its annual conference in San Francisco and visited the Ingleside Terraces Sundial. A century ago the site was a racetrack and as it turned into a housing development in 1913, a promotion sundial was installed with the advertisement "largest sundial in the world". Michael Callahan of "This Forgotten Day in San Francisco" talks about this historic dial and the developer Joseph A. Leonard of Urban Reality Improvement Company on November 15, 1913.
Details

Hits: 8599
In 1636 or 1637 Samuel Foster, a distinguished Professor of astronomy at Gresham College produced a manuscript that describes the construction and use of an analemmatic sundial, a vertical sundial, and a declining sundial.
The collection of 12 pages on four double leafs each measure 15 x 18 cm. This manuscript relates to Samuel Foster's most important invention, a computational device known as a dialling scale, and precedes the publication of his second and most significant book in 1638 "The Art of Dialling: by a New, Easie, and Most Speedy Way ..."
Details

Hits: 7987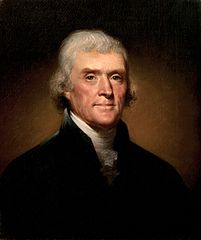 Thomas Jefferson
by Rembrandt Peale-1800
White House Historical Association
Fred Sawyer, President of the North American Sundial Society and editor of the Compendium sundial journal will present a lecture on "Gnomonic Tales of Thomas Jefferson (and other Founding Fathers)" on Thursday evening, April 10th at 7pm at the Great Falls Library, VA. Reservations are required. Contact the Fairfax County Libraries for more information.
The lecture will consider sundials in the lives of Thomas Jefferson and other prominent figures of early America such as George Washington and Benjamin Franklin. Rather than serving simply as timekeeping devices, sundials will be seen as academic exercises, inspirations for poetry, symbols of an industrious new country, invitations to relaxation, and opportunities for invention.
Details

Hits: 9123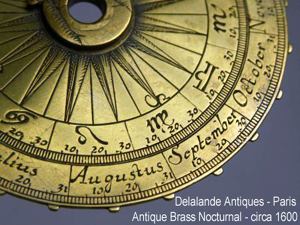 Gallerie Delalande, Louvre de Antiquaires, Paris
The Galerie Delalande, Louvre des Antiquaires in Paris is presenting an exhibition of 150 Pocket and Table Sundials. The exhibit will continue until January 19th, 2014. The gallery is now offering a book "Cadrans solaires / Sundials", written in French and English to illustrate these sundials:. http://www.delalande-antiques.com/exhibition-sundials-paris/book-sundials.html
The Louvre des Antiquaires opened in 1978 and has a beautiful collection of astrolabes and nocturnals, globes and armillary spheres, octants, sundials and equinoctial rings and much more. You can find photos of many of these dials following the link http://www.delalande-antiques.com/marine-sciences/
Details

Hits: 9995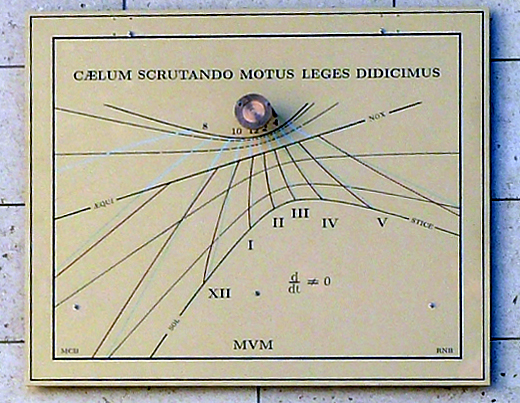 [photo courtesy of Kathleen Gust, Terman Engineering Library, Stanford Univ]
In 1995 Professor Emeritus Bracewell designed a vertical declining dial for the south face of the Terman Engineering Building at his Stanford University home campus in Palo Alto. But the building was torn down in 2011 and by March 2012 nothing but landscaping of the new Terman Park remained. Fortunately Prof. Ronald Bracewell's sundial once again casts its solar time on the south wall of the Stanford Jen-Hsun Huang Engineering Center. Both the Huang and old Terman building have similar south-south-west alignments allowing the dial to be remounted without adjustment. [http://library.stanford.edu/blogs/stanford-libraries-blog/2013/04/sundial-returns-engineering-center].
Details

Hits: 8914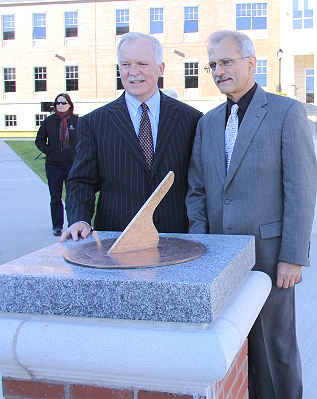 [Photo courtesy of Holland College]
In 2009 Holland College on Prince Edward Island began a major $17M renovation and expansion program, including a large open-space quadrangle. Vice President Michael O'Grady was commissioned Tony Moss of Lindisfarne Sundials [now retired] to make a replica sundial Captain Samuel Holland had given to Dartmouth College, New Hampshire in 1773. Tony undertook the work to create a copy of the dial, redeclinating it to the new site in Charlottetown in Prince Edward Island with the proviso that he "might replace the original ... chapter ring scrolls with some of my own design." Tony further commented, "I think the engraver was indulging an apprentice with the less-critical parts of the job..."
Select Sundials by State/Province
Who's Online
We have 364 guests and no members online
Copyright © 1995-2022-2023 North American Sundial Society - All Rights Reserved