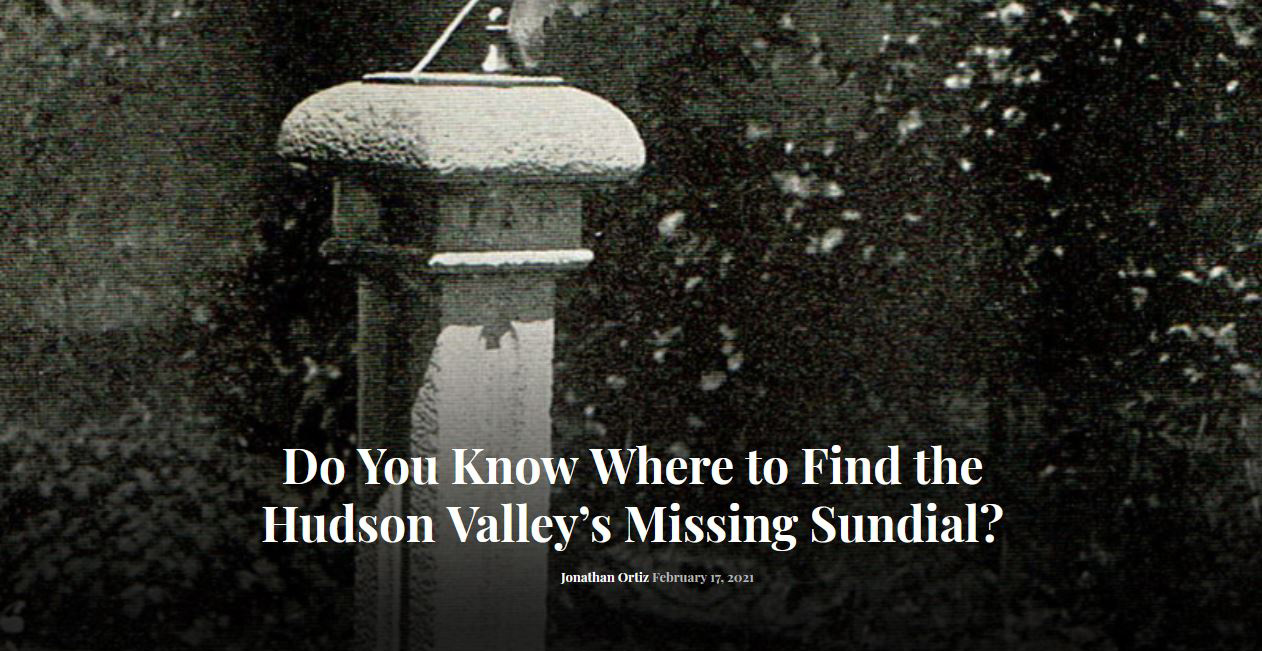 Photos courtesy of Kevin Franklin unless otherwise noted
This article is reproduced by permission from Hudson Valley on-line magazine of Feb 17,2021 and can accessed directly at https://hvmag.com/life-style/history/missing-sundial-hudson-valley-hillside-dean-sage/ It was written by Jonathan Ortiz with information from NASS/BSS member Martin Jenkins and fellow researcher Kevin Franklin.
Menands' village historian dives headfirst into the past to discover the whereabouts of a sundial that once resided at the Hillside estate in Albany County. There's a mystery to solve in the Hudson Valley. It involves a cast of unlikely players: a local historian, a British society, a wealthy Albany County businessman, and a famed Scottish novelist.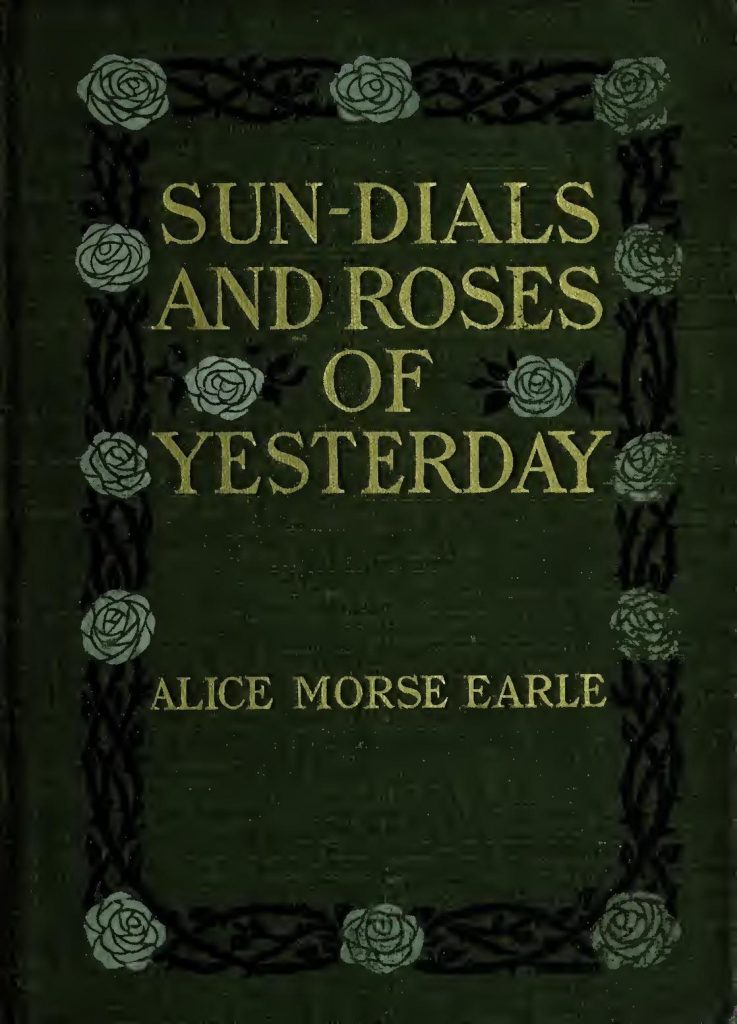 Sun-Dials and Roses of Yesterday / Wikimedia Commons
The object of their attention? A missing sundial. Its last known whereabouts are the estate of Dean Sage, in Albany County's village of Menands, which lies inside the Town of Colonie; however, this conundrum begins much, much farther away — in Scotland, to be exact.
"It's a trans-Atlantic mystery," says Kevin Franklin, Menands' village historian and a former Menands police officer.
In 2020, Franklin was contacted by Martin and Janet Jenkins, two members of the British Sundial Society. They sought information about Hillside, the former Albany County estate of Dean Sage, son of Henry W. Sage of famed lumber firm H.W. Sage Co. fame. Hillside is located on the north side of the Menand Road (now State Rt. 378).
Interestingly enough, their purpose in finding this sundial makes the story ever more complicated. The device once located in Menands is actually a replica of another sundial from the Abbottsford estate of famed Scottish writer Sir Walter Scott. Now, there stands only a pedestal upon which the original sundial once sat.
"It is not known what the Scott sundial looked like," writes Martin Jenkins in a letter to Franklin. "If the replica sundial made for Hillside could be traced, then a replacement replica could be made for Abbotsford in Scotland, the pillar then no longer standing silent and unadorned."
Several books make reference to both the original sundial and the replica. Most recently the March 2019 edition of the British Sundial Society Bulletin by Denis Cowan refers to the fact that a replica sundial was made for "Hillside, Menands, NY." The 1902 edition of Sun-Dials and Roses of Yesterday by Alice Morse Earle shows the replica sundial to be in existence at Hillside, in the Shakespeare Garden border. In Ye Sundial Booke by T. Geoffrey W. Henslow in 1914, there are two sketches, one showing the sundial pillar at Abbotsford, Scotland, and the other depicting the replica sundial at Hillside.
Lastly, in The Book of Sun-Dials, the author Margaret Gatty apparently made her sketch of the sundial pillar at Abbotsford in 1839, but, by then, the sundial was missing — more than likely stolen.
Despite extensive documentation, many questions remain. What was the connection between Sir Walter Scott and Hillside? Who commissioned the Hillside replica? And, most importantly, what happened to the replica?
It was here that Franklin picked up the trail, starting with the local angle: Dean Sage.
"The Sages were immensely wealthy," explains Franklin. "Their wealth evolved around the exporting of lumber from the Michigan area across the Erie Canal to the 'Lumber District' of Albany."
Researching Sage's background did reveal one important fact, and the potential connection between him and Scott: Sage was both a bibliophile and an avid fisherman.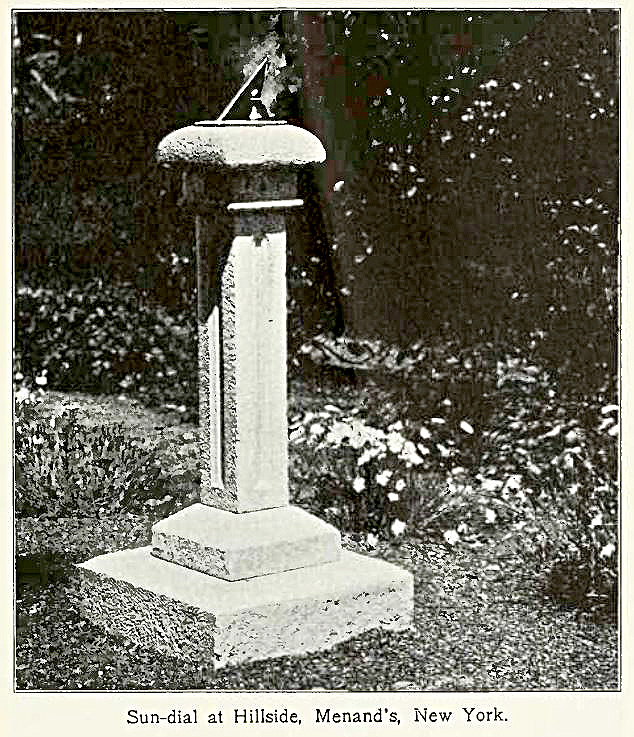 Replica of Sir Walter's Sundial | Photo by Alice Morse Earle, public domain
He wrote the famous fly fishing book Ristigouche and Its Salmon Fishing in 1888. It was published by David Douglas of Edinburgh, whose name also appears in Sun-Dials and Roses of Yesterday. There, it is stated that Sage's replica sundial was, "commissioned by the publisher Douglas."
Douglas has another publisher's credit — in The Journal of Sir Walter Scott. Scott kept a daily journal from 1827 until his death in 1832. These journals were published in 1890 by the very same Douglas who published for Sage.
While Sage, born in 1841, could never have met Scott, who died in 1832, it is well known that Abbotsford is on the banks of the River Tweed and has been famous for salmon fishing since Roman times. The Tweed Commissioners whose responsibility it was to manage the river and its fish was set up by Scott in 1805. It seems likely that Dean Sage visited Abbotsford at some time as part of his salmon fishing interest.
"It would not be beyond the realm of imagination for Dean Sage to have gotten either a sketch or drawing, maybe even a photograph, of this sundial at least the base that still remains at the Abbottsford and had that duplicated," explains Franklin.
The final question remains: Where is the Hillside sundial?
Mr. Franklin continues to follow up with past residents of the area and any leads which would help locate the missing sundial of Hillside.
Have any info on the missing Hillside sundial? Send any information or clues to this local mystery to This email address is being protected from spambots. You need JavaScript enabled to view it., or directly to Kevin Franklin at This email address is being protected from spambots. You need JavaScript enabled to view it..
[You may also send any information to the North American Sundial Society, at This email address is being protected from spambots. You need JavaScript enabled to view it. ]