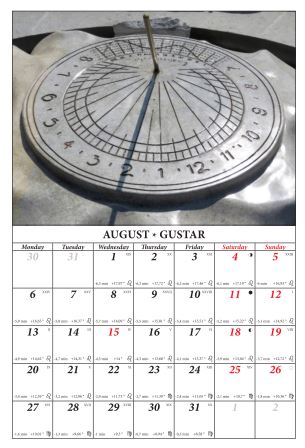 Dan-George Uza has prepared a calendar for 2018 "containing images of Romanian sundials and some daily astronomical information (the equation of time, the Sun's declination angle & zodiac sign, the Moon's phase & age etc.).... The calendar reflects the usual Romanian practice of starting weeks on Mondays, being the first working day, although orthodox religious calendars have reverted to starting weeks on Sundays due to religious reasons since 2011. The days of the week have been translated to their English counterparts for your convenience. Apart from the last two, which have different etymological background, they all closely follow the names of the ancient planets" Luni - Luna (Moon), Marti - Marţe (Mars), Miercuri - Mercury (Mercury), Joi - Joe/Jupiter (Jujpiter), Vineri - Venus (Venus) Sámbătă - from the Latin sa(m)bbatum meaning Sabbath, Duminica - from the Latin (dies) Dominica meaning day of the Lord. .... You may download the English version at the link below:"

https://goo.gl/FNafub

Dan explains that the calendar " includes a brief introduction to the Romanian calendar, such as an explanation for the names of the days and months, the dates of national holidays etc. This is actually my second calendar. I did the first one last year inspired by Fabio Savian's French Republican Calendar. A big thanks goes to Patrick Powers who was kind enough to correct my spelling mistakes for this English edition."

"The astronomical data was generated in Sun Ephemeris, Gian Casalegno's excellent software. The calendar is freeware so you may of course share it. It's intended for A3++ size paper (330x483mm) but I guess simple A3 will do."

"Have a Happy New Year or - as we like to say in Romanian - La Multi Ani!"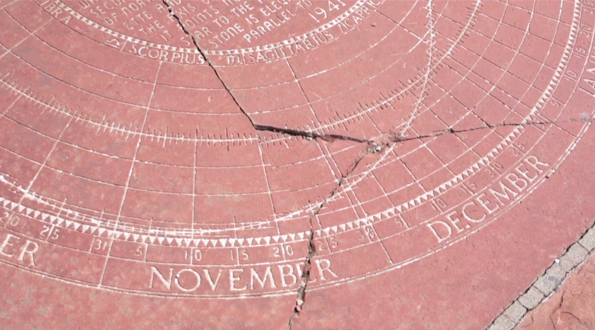 Damage to Erickson Equatorial Sundial in Cranmer Park, Denver, CO. Photo Credit: Save Our Sundial
In 1941 George Cranmer undertook to place a sundial of Chinese tradition in Mountain View Park (now Cranmer Park) in the area of Hillside, Denver. Dan Babcock and Stephen Ionides of Erickson Monument Company translate the Chinese characters into Arabic. Unfortunately the dial was dynamited by vandals in 1966, and through the Erickson Monument Company, a large 6-foot disk equatorial dial of pink granitie was erected on a terrazzo plaza.

Climate and a sinking foundation led to the deteriation of the dial and plaza. In June 2014 the CIty of Denver committed \(545,000 to restor the Cranmer sundial and plaza through the Parks and Recreation and the Arts and Venues departments with the proviso that the citizens raise another million dollars.

A group local group of neighbors orgainized as The Park People started "Save Our Sundial" and began fundraising. By April 2017 they raised \)680,000 that will augment the city's set aside of \(870,000 for the project.
See: https://www.denverite.com/looks-like-cranmer-park-sundial-will-saved-33833/

The Denver Patch reports that a total of \)2 million is available for the project. Denise Sanderson, "a local advocate and organizer for the park restoration" created the "Save Our Sundial" project which is run by The Park People with Executive Director Kim Yuan-Farrel. City coordinator is Lauri Dannemiller, Executive Director of Parks & Recreation City & County of Denver. The restoration would not be possible without the financial support and community activism of the residence of Hilltop community. Neighbors met Monday, Dec. 18 to celebrate the beginning of the reconstruction at Cranmer Park which will begin in early 2018 and completed by late fall 2018 if seasonal weather permits.
See: https://patch.com/colorado/denver/sundial-repair-denvers-cranmer-park-begin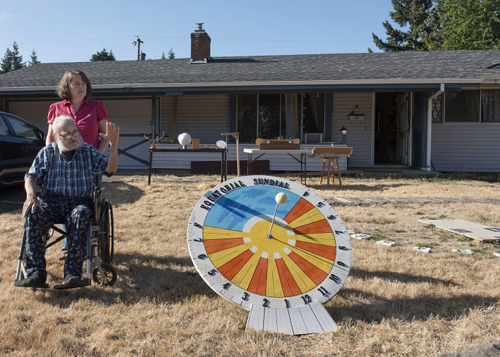 He may be wheelchair bound, but that doesn't diminish Tom Laidlaw's enthusiasim for sundials. In front of his house on Carolina Lane is the Vancouver Heights neighborhood landmark - a sundial garden. And what has he planted?

There is a bright circular equatorial sundial that shows the time from 4am to 8pm (and even an offset for daylight saving time). On the grass is an analemmatic sundial sundial marking time from 6am to 6pm for anyone who wants to stand to the plywood walkway. On a table near the house are a series of globe, equatorial and horizontal sundials as well as other sundial types that he will gladly explain. For example, Tom has turned a skate board into a polar dial by adding a "T" gnomon in the middle. And then there is a model of the Jefferson dial where you swing the gnomon around a globe to cast only a thin line shadow

Katie Gillespie, of the Columbian, reports "The 80-year-old retired electrician has always been a 'do-it-yourself kind of guy,' he said. For a while, it was skateboards he fancied, and bookshelves, and a Benjamin Franklin chair that transforms from a chair into a stepladder. He's self-taught, he said, researching new projects online, then diving in.... 'It's fun to watch him talk to people about it,' said Debra Brouhard, Laidlaw's daughter and neighbor."
His latest obsession is sundials. As a member of the North American Sundial Society, Tom now designs a multitude of sundials. Visitors see his yard dotted with all types of sundials. They come in all sizes: big and small. His analemmatic sundial on the lawn always draws attention. Nearby, a plumb bob dangles from a beam. allowing Tom to tell time solar noon. when the shadow draws a line on the lawn pointing due north.
Gillespie found that, "Laidlaw's passion for sundials began in 2009, when his grandson, Doug Brouhard, stuck a stick in the ground while they were camping. Doug Brouhard was about 12 at the time, and the dial didn't quite work, Laidlaw said. It was the right idea, though, and a new hobby was born. 'I still have the stick that started it all,' Doug Brouhard said."

Read more of Katie Gillespie's article and see more photos of Tom Laidlaw and his sundials at http://www.columbian.com/news/2017/aug/30/sundial-garden-shines-in-vancouver-heights/
Normally when one mentions a human sundial, we think of an analemmatic dial carefully painted on the ground with a himan gnoman standing carefully on a date in the central walkway. But you can design a sundial that works for a day or two by just having a central platform, standing on it to become a gnomon, and letting your shadow fall on marked hours drawn on the ground below. But would you stand there all day? NASA presented their Astronomical Picture of the Day showing that "on July 19th, the Astronomy Group of students in the Progymnasium Rosenfeld created a human sundial, each participant patiently playing the role of a gnomon for 10 minutes. In this timelapse video of their temporal voyage of discovery, one image was taken every 20 seconds from 8 amuntil4 pm Central European Summer Time. Drawn on the ground are the dial hour marks calculated to show the local time for that specific date. Behind, the tower clock offers a time check... The group plans a repetition of this performance next winter to compare the length of the day and the altitude of the sun."
Video by permission of Astronomie-AG, Progymnasium Rosenfeld, Till Credner, AlltheSky.com

>