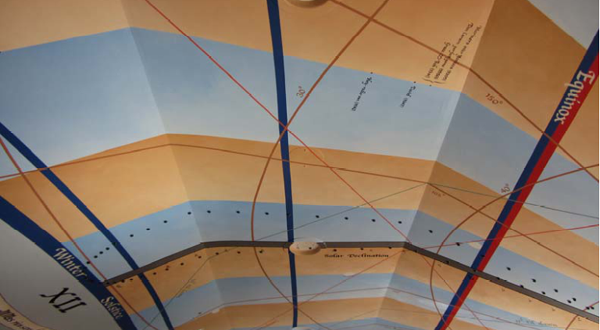 Professor Woody Sullivan's Reflection Dial
[photo - NASS Conference 2011]
Professor Woody Sullivan of the University of Washington in Seattle, whose long time motto has been "Seattle, sundial capital of North America", received a tribute from local television station King5 for sundials that he has designed or brought to light around Seattle. His pride and joy is his ceiling reflection dial [photo at left] As related by Joan Kinsey from King5 news, "It took Sullivan and an artist three years to chart hundreds of reflected dots across the top of Sullivan's remodeled garage..." The celestial view includes hour lines, solar declination lines of the equinox and the soltices, and a variety of transit dots that represent special dates and times to the Sullivan family.
Sullivan, a professional astronomer, has helped design a number of Seattle dials. As Joan Kinsey notes, "His first one [a declining vertical dial] went up in 1994 on the side of the astronomy building at the university ...The huge wall sundial ignited Sullivan's passion to make more and research the ones that already exist in town." Woody has created a Sundial Trail of prominent Seattle dials ranging from several vertical dials increasing the educational value at local schools to a large Shepard's dial and an occulus gnomonic dial.
Of course being Seattle, Woody scribed an appropriate sundial motto, "I thrive in the sun, Can't work in the rain. So, if I'm beclouded, please come back again. "
Read about it at: king5 news