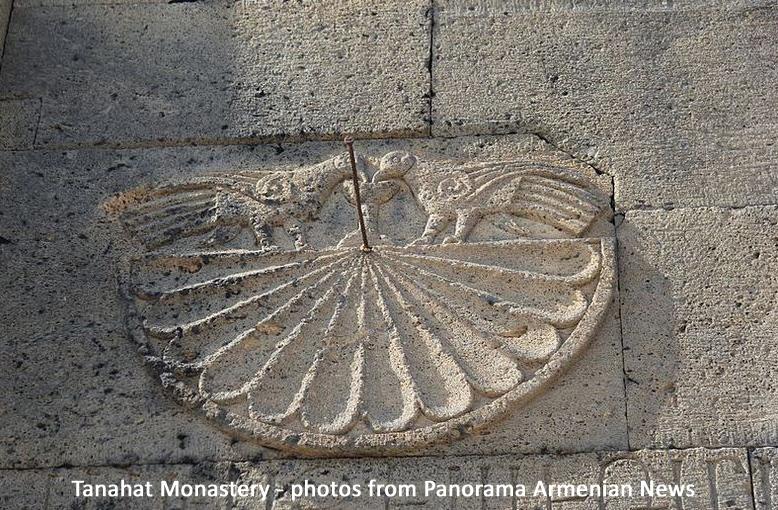 Last February in the Panorama Armenian News an article reviewed some of the oldest sundials in Armenia. Piliposyan, Doctor of History at the Preservations Service for Historic-Cultural Reserve-Museums and Historic Environment (SNCOT) related that the oldest sundial may be on the Zvartnots temple dating to the 7th century. Sundials have been preserved on buildings of Dsegh, Tsakhkadzor, Dilijan, Noyemberyan as well as Nagorno Karabakh churches. Sundial also were curved on khachkars [Armenian cross-stones]. In the Panorama article Piliposyan said that apart from serving as clocks, sundials served as a means of communicating with god. He brought the example of the Zvartnots temple sundial found during excavations with enclosed documents calling on prayers to talk to god whatever time it was.
The vertical dials had horizontal gnomons and on the dial face there are typically 12 equally spaced divisions to mark the hours. Frank King commented on the dials that "These are variants of the standard European sundials used for indicating 'unequal [temporal] hours', at least approximately, in medieval times. Several thousand survive in England alone. They divide the daylight period from sunrise to sunset into 12 parts. Unfortunately, these parts are not equal in time and their relationship varies with the time of year....The examples in the photographs seem very nicely made."
To appreciate the Medieval Armenian dials as well as modern interpretations, visit https://www.panorama.am/en/news/2019/02/23/Armenian-sundials/2076856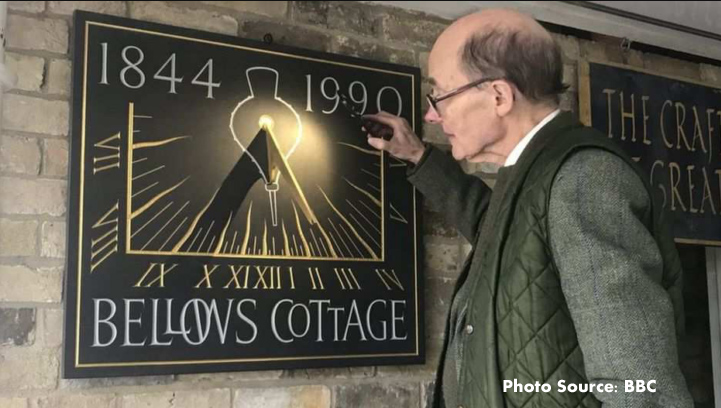 It's rare that a sundialist casts a shadow on UK education, but that's exactly what Dr. Frank King did the other day in a BBC interview (https://www.bbc.co.uk/news/uk-england-cambridgeshire-47133011). Dr. King, a Fellow in Computer Science at Churchill College, has long been intrigued with time remarking to the BBC in an interview, "Anything from atomic clocks to the most ancient of sundials I can tell you about." He is Keeper of the Clock, responsible for Cambridge University's official timepiece on Great St. Mary's Church. But the number of people interested in sundials is on the wane. As president of the British Sundial Society,(a group like the North American Sundial Society who all truly enjoy time systems and the anciernt and beautiful art of designing sundials) Dr. King notes with sadness that the number of people who "really understand" the science behind sundials "are few and far between..... There seems to be no teaching of spherical triangles, and very little teaching of solid geometry. How many school leavers have heard of Euclid?"
Some could argue that who needs sundials in this age of digital watches, GPS navigation, and fit-bit monitors? The UK Register reports that "[Dr.] King would likely be deeply saddened to know, then, that there are people of adult age out there incapable of reading analogue clocks." But for those interested in promoting STEM in schools and getting students excited in something beyond designing a video game, the study of sundials offers a wonderful perspective. As stated by the BBC, "Dr. King strongly believes the sundial - 'the perfect collaboration of science and art' - has a place in the digital age. But he is concerned that the skills needed to create them may dwindle, and believes education could play a greater role."
The development of an aethetically pleasing sundial involves using digital computer aided design tools that sometimes significantly altering classic designs. Sundials requires artisan skill and craft for the selection of materials, casting, engraving and even 3D printing of dials. A sense of artistic proportion is needed to create pleasing embellishments that still remain true to the underlying mathematics that convey acurate time. Artist, sculpture, craftsman, geometer, mathematician, computer programmer, engraver and metal worker are but a few of the talents encompassing the talents of a dialist.
Read more at:
https://www.theregister.co.uk/2019/02/18/sundials_dying_out_and_millennials_are_to_blame/
https://www.telegraph.co.uk/news/2019/02/17/sundials-risk-dying-young-people-arent-interested-cambridge/
As of Feb 8, 2019 the NASS sundials.org website has been upgraded with the latest Content Management System. Users of the website should see little change, as the content and the layout has been maintained. We appreciate all of you who visit this website. Our goal is to engage you into the history, current events, and mathematics of the many different types of sundials that exist across North America. Our sundial registry has nearly one thousand dials. You may easily search the NASS website by using the search feature in the top right-hand column. For example you can type the word "equatorial" and find articles and sundials all related to the equatorial type dial. Or you could type "Boston" to find dials from that city. Welcome to our new Content Management System. This email address is being protected from spambots. You need JavaScript enabled to view it.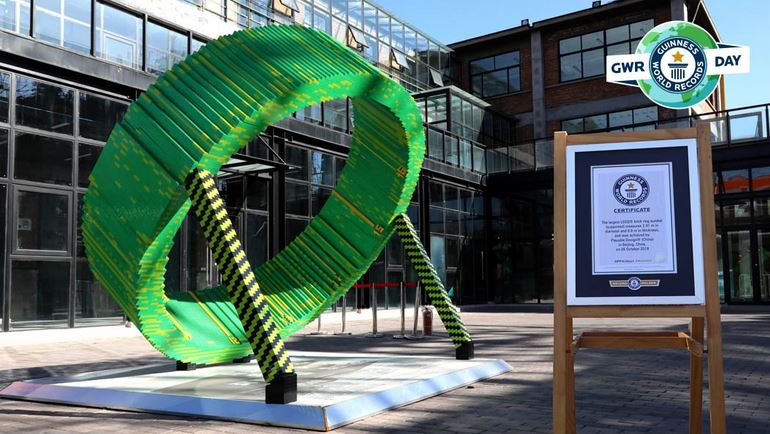 Back in March of 2012, NASS had an article about an inventive sundialist constructing a 62-LEGO block equatorial dial. That now seems like ancient history. In Beijing China, dialists have built a ring dial 9 1/2 feet in diameter consisting of more than 45,000 LEGO blocks, setting a new Guinness World Record.

The dial was the idea of Mrs. Hou at Playable Design, a company that creates and develops eduational activities using LEGO construction blocks. Astronomical professionals and structural engineers were enlisted to guide this three month construction project. According to an article from the on-line Guiness World Records website, Mrs. Hou (founder of Playable Design), says the giant ring sundial "... is a teaching tool that allows children to learn sciences across disciplines including astronomy, mathematics, history and cosmology. Inspire children to think and ask questions, when they see the ring sundial, but we are all very excited to ber recognized by the Guinness World Records at the same time.... This is an important part of a public education project. For creators and educators like us, the process of learning never stops."

See a time-lapse video of the dial's construction at: http://www.guinnessworldrecords.com/news/2018/11/45-000-bricks-used-to-create-largest-lego-brick-ring-sundial-for-gwr-day-546470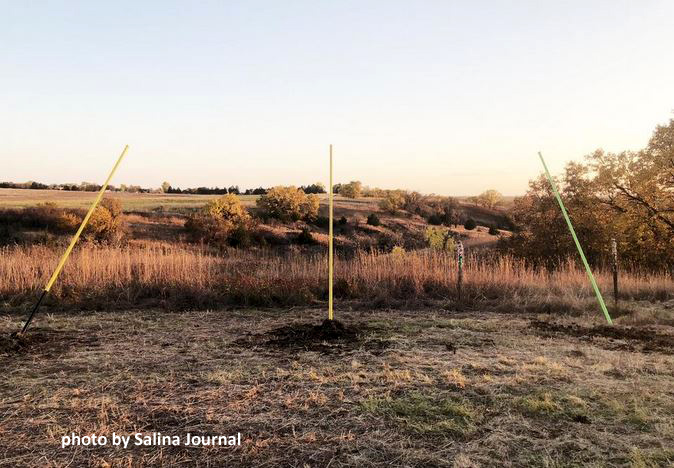 The Land Institute is a not for profit organization based in Salina, Kansas, having a goal to create an agriculture system that mimics natural systems in order to produce ample food and reduce or eliminate the negative impacts of industrial agriculture. A mile north of the Institue is their Marty Bender Nature Area where Owen Brown has created an art project "Units of Measurement". According to Jason Beets of the Salina Journal, his project "consists of three sets of sun dials created from praire-colored angled flag poles to symbolically represent the passage of time."
The idea is to meditate on the passage of time. The first set of three poles, called "In the Beginning" is 1,190 feet east of another set of poles called "The Passage of a Second". According to the artiist, this is the distance that the earthrotates in one second. A third site, called "From the Future" is located 723 feet north of "In the Beginning" is placed such that at "... dawn of the summer solstice, the shadows of the sundials at "From the Future" will touch [point to] the sundials at "The Passage of a Second." Owen said, "I want this installation to make us more aware of where we are, who we are, and how we are ... in relation to the earth, to what we grow, and to what nurtures us."
Interesting art but very poor science. For each cluster of three flag poles, only the one point to North can work as a sundial. And the pole needs to be at an angle from the ground equal to the latitude of 38.855° N. From the photo, the angle is closer to 60°. Fortunately there are no hour lines on the ground to show the incorrect time of the shadow.
If a dialist computes the distances of separation, again our artist fails. We need to meditate on using the radius of the earth at Salina, KS, (a value between the earth's equatorial radius of 6378.137 km and polar radius of 6356.752 km. The parallel circumference distance is 2pi*R*cos(lat), which is 27142 km, the distance Salina KS travels in a day. But what is a day? Here we need to use the sidereal day of 86164.1 seconds (giving one revolution of the earth in inertial space). The distance between "In the Beginning" and "The Passage of a Second" is therefore 27142/86164, resulting in 1,033 ft, not 1,190 ft. By the way, if we had a telescope and somehow watched the events from one site to another, we would see the event 1 microsecond later. Another unit of time to contimplate.
The azimuth of sunrise (when the limb of the sun just peaks over the horizon) at summer solstice is a bit messy to calculate, but turns out to be 62.1° measured clockwise from north. The separation distance between "From the Future" and "In the Beginning" to have the sun's shadow align with "Passage of a Second" is 1,033/tan(62.1), giving only 547 ft, much shorter than the 723 ft designed by the artist. So for a dialist, there are indeed many things to meditate looking upon and calculating shadows at Owen Brown's "Unit of Measurement" in Kansas.
Read more at: http://www.salina.com/news/20181027/land-institute-art-project-reflects-on-time-nature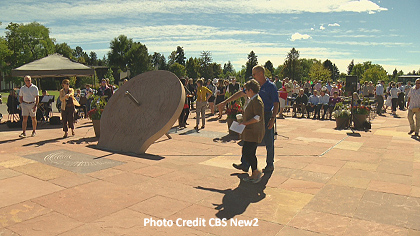 On Wed, Oct 3, 2018 the six-foot-tall Cranmer Sundial and surrounding Plaza were rededicated, celebrating the completion of a 2 million renovation project that started nearly two years ago. The city's Parks and Recreation Department replaced the cracked and sinking terrazzo plaza that was originally laid in the 1930s. They improved the drainage system that was a factor in the plaza's deteriation as well.
In 1941 George Cranmer placed a sundial of Chinese tradition on what was then called Mountain View Park. But in 1966 the original Cranmer Sundial was blown up with dynamite. The community rallied to raise funds and through the Erickson Monument Company, erected a large 6-foot disk equatorial dial of pink granitie on a terrazzo plaza. But the years did not treat the sundial well. When the sundial fell into disrepair the community pulled together again, and through the organization The Park People started "Save Our Sundial" and began fundraising. In all, citizens were able to raise $830,000 for the dial's repair. The Denver City Council committed to the rest of the funding, but the restoration would not be possible without the financial support of the residence of Hilltop community.

At the dedication, City Councilwoman of District 5, Mary Beth Susman said, "To have it restored to what George Cranmer's vision was ... meaningful to all of us, and to have it restored in such a beautiful way, with the inlay still there, I can't tell you how moving it is to celebrate this day." [CBS News]

Read more:
https://www.thedenverchannel.com/news/our-colorado/-2-million-project-restores-historic-denver-sundial-at-cranmer-park

https://denver.cbslocal.com/2018/10/03/hilltop-cranmer-park-sundial/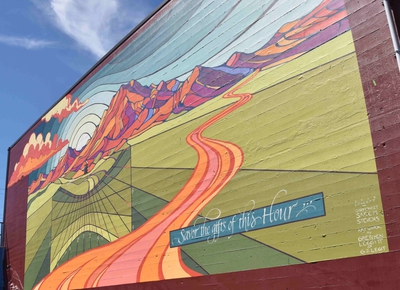 The Sundial Mural Project has been completed. Sasch Stephens of NW Sunworks spent years putting this project together and in association with Allied Arts sponsored an international competition that ultimately commissioned Gretchen Leggitt to paint a beautiful 30' x 60' wall mural incorporating the dial. The bright and engaging sundial mural is located on the south facing wall of 207 Unity Street in Bellingham, WA.

The dial and mural will be dedicated at noon Saturday, September 22, 2018 which coinsides with the date of the fall equinox. Called the "First Shadow Celebration" city council officials and noted sudialists will be present, as will Mataio Gills, co-owner of Ciao Thyme, the building that supports the mural and vertical dial. There will be music, entertainment, information about sundials, sundial kits, and a celebration of Solar Noon on the Equinox as seen on this major vertical sundial.

If you are in the Seattle-Bellingham-Vancouver area, head for the sundial dedication and First Shadow Celebration on the equinox, Saturday, Sept 22.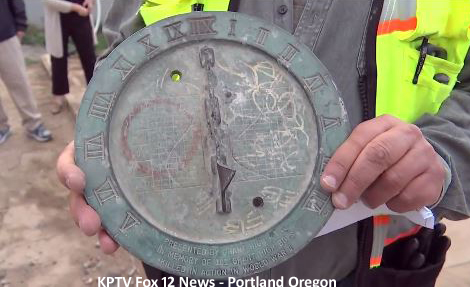 In Portland Oregon during the rennovation of Ulysses S. Grant High School an old brass sundial with only the remenant of a gnomon stood on a concrete pedestal ready to be turned into scrap metal and dust. But now according to Portand KPTV "a group of veterans want to bring it back similar to its original state." The dial, about 8 inches in diameter with Roman numerals from 5am to 7pm has the engraved inscription "Presented by Grant High School in Memory of the Grant High Boys Killed in Action in World War II"

KPTV Fox News 12 reporter Tyler Dumont interviewed Daniel Thompson, "We're going to restore it and make it a part of the future of Grant High School," He and other contractors, all veterans, formed a group to restore it for the school's opening in the summer of 2019. Thompson continued, "As a veteran, all the veterans feel like remembering the wars that were fought and the wars we're still fighting - it's important that everybody, every student, does not forget that."
Tyler Dumont summed it up: "A historic piece of patriotism and honor at Northeast Portland's Grant High School: this sundial is in memory of 101 former Grant students that were killed in World War II. After years of vandalism & aging, a group of veterans are set to restore it." pic.twitter.com/5NsibjDTfp

See KPTV's video of the sundial and interview at: https://www.kptv.com/news/group-restoring-historic-sundial-honoring-veterans-at-portland-high-school/article_9d2d432a-b52d-11e8-a26e-c3d447a6d595.html