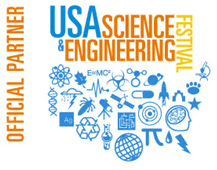 NASS and the Analemma Society, inspired by the success of the 2010 USA Science and Engineering Festival, are registering for the Festival on the Washington D.C. Mall. The event, supported by volunteers from both NASS and the Analemma Society is scheduled for the Spring of 2012.
NASS and the Analemma Society will have a booth to teach families and children how to make sundials and read sundial time with the theme: Sundials, the Worlds Oldest Clocks.
We expect the return of many of the sundialist volunteers that supported the 2010 Festival. For the coming year, we expect to improve our educational goals beyond the popular "Great Sundial Cutout." What else is in store? Stay tuned as we formulate our educational material. Have and idea? Please send an email toRobert Kellogg
For more information on all Festival events and how you can get involved, visit www.usasciencefestival.org.