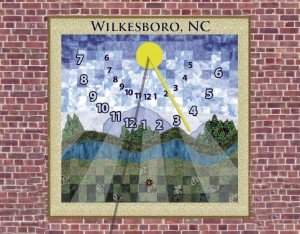 [photoCourtesy of the Wilkes Journal-Patriot]
Some sundial artisans and their work are instantly recognizable. Back in 2010 on the wall of the Yancey Times Journal building in Burnsville, North Carolina, astronomer Bob Hampton and artist Martin Weaver created the Quilt Block Sundial, an 8x8 foot vertical dial colorfully painted by volunteers from the Quilt Trails of North Carolina.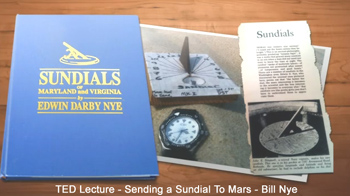 Bill Nye, The Science Guy gives a 7 minute TED-ED talk describing the excitement of creating sundials on Mars. http://ed.ted.com/lessons/sending-a-sundial-to-mars-bill-nye
TED stands for Technology, Entertainment, and Design, a nonprofit organization devoted to spreading ideas of worth. Conferences are held each year with more than 50 guest speakers to motivate the audience on many different fields and now through YouTube, you can share the excitement of sundialing.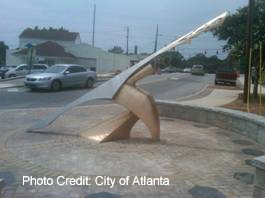 This weekend on October 6th a new sundial was dedicated in Atlanta, Georgia. Ayokunle Odeleye, nationally renowned artist, has created a modernistic bronze and stainless steel sundial called "Chi Wara Sundial Lantern." The 8-foot tall sundial is accessible at ground level, sitting in a 20-foot circular plaza with hour marks at the circumference.
Interestingly, it functions as a sundial by day, but shines as a lantern by night. The public artwork honors twelve community leaders from Cascade Heights located in southwest Atlanta for their spiritual and cultural contributions to their community and Atlanta.
Odeleye's sundial took inspiration from Mali folklore of West Africa and the headdress of Chi Wara, a mythical creature that is half-man and half-antelope. As noted by the city of Atlanta, the sundial represents "a headdress in special ceremonial harvest dance designed to pass on knowledge from the elders to young people in the viliage. Odeleye's 'Chi Wara Sundial Lantern' interprets this mythological image and conceptually uses it to suggest the ceremonial passing of scholarship from Cascade elders to the youth of this community."
Reference: Saporta Report - David Pendered - Oct 3, 2012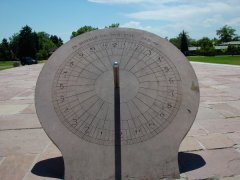 Want to know the history of Cranmer Park in Denver Colorado and why the current Erickson equatorial dial is there on the terrazzo plaza?
Downtown Main Street
provides a glimpse of its history and the dynamiting of a dial that stood in the park for 25 years before. Read the article in
Downtown Main Street
and visit the North American Sundial Registry Entry
NASS Denver Sundial-24
.