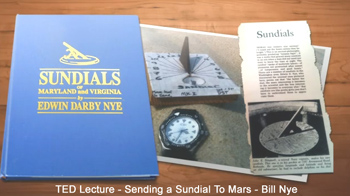 Bill Nye, The Science Guy gives a 7 minute TED-ED talk describing the excitement of creating sundials on Mars. http://ed.ted.com/lessons/sending-a-sundial-to-mars-bill-nye
TED stands for Technology, Entertainment, and Design, a nonprofit organization devoted to spreading ideas of worth. Conferences are held each year with more than 50 guest speakers to motivate the audience on many different fields and now through YouTube, you can share the excitement of sundialing.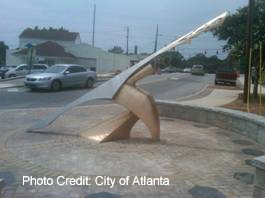 This weekend on October 6th a new sundial was dedicated in Atlanta, Georgia. Ayokunle Odeleye, nationally renowned artist, has created a modernistic bronze and stainless steel sundial called "Chi Wara Sundial Lantern." The 8-foot tall sundial is accessible at ground level, sitting in a 20-foot circular plaza with hour marks at the circumference.
Interestingly, it functions as a sundial by day, but shines as a lantern by night. The public artwork honors twelve community leaders from Cascade Heights located in southwest Atlanta for their spiritual and cultural contributions to their community and Atlanta.
Odeleye's sundial took inspiration from Mali folklore of West Africa and the headdress of Chi Wara, a mythical creature that is half-man and half-antelope. As noted by the city of Atlanta, the sundial represents "a headdress in special ceremonial harvest dance designed to pass on knowledge from the elders to young people in the viliage. Odeleye's 'Chi Wara Sundial Lantern' interprets this mythological image and conceptually uses it to suggest the ceremonial passing of scholarship from Cascade elders to the youth of this community."
Reference: Saporta Report - David Pendered - Oct 3, 2012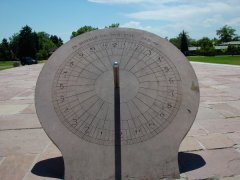 Want to know the history of Cranmer Park in Denver Colorado and why the current Erickson equatorial dial is there on the terrazzo plaza?
Downtown Main Street
provides a glimpse of its history and the dynamiting of a dial that stood in the park for 25 years before. Read the article in
Downtown Main Street
and visit the North American Sundial Registry Entry
NASS Denver Sundial-24
.
Building on the success of the 2010 USA Science & Engineering Festival, the North American Sundial Society and Analemma Society joined nearly 1500 other activities at the Expo in Washington DC on April 28-29, 2012 presenting "Sundials, the World's Oldest Clocks". That's the old news. The new twist is that Ken Clark of NASS made it to youtube describing sundials. You can watch too: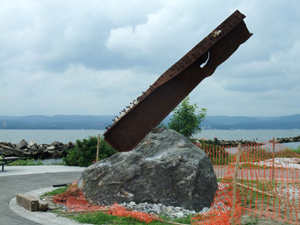 On September 11, 2012 the Town of Cortlandt and the Villages of Buchanan and Croton-on-Hudson in New York will dedicate a giant sundial as part of a 9-11 memorial using steel salvaged from the World Trade Center site. All are welcome to the dedication.
Visitors attending the dedication of the Buchanan*Cortlandt*Croton-on-Hudson (BCC) 9-11 Remembrance Memorial are asked to assemble at 2:30 pm at the Croton Landing parking lot and walk the 1/2 mile to the memorial site for the 3 o'clock ceremony. A van will be available for those who wish to ride. For further information, please call the Project Director, Janet Mainiero at 914-271-8222.
Read more: 9-11 Memorial Sundial Dedicated at Croton Landing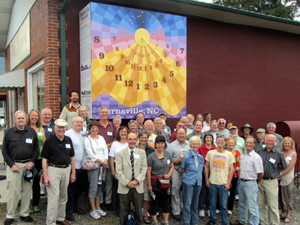 The North American Sundial Society held its 2012 conference in Asheville NC, August 16-19. Alice Io Oglesby and Hugh Munro, local hosts and sundial enthusiasts, took NASS members on a sundial tour through Asheville and the rolling hills of western North Carolina to see the vertical dials at Sunny Point Café and the analemmatic dial of the "kitchen garden" at the Biltmore Estate. In Burnsville, NASS members saw the Quilt Block Sundial, one of over 200 colourful quilt block paintings along the North Carolina Quilt Block Trail. NASS was welcomed by the Mayor of Burnsville and had the Quilt Block sundial explained by Bob Hampton, astronomer designer and Martin Weaver artist. The Quilt Block Sundial in Burnsville was a most impressive example of teamwork and community support. Travelling further, Brian Leonard showed the armillary sundial he fabricated and installed in Marshall, NC.
The NASS conference included exciting talks on a colourful "Parallel Time East West Sundial" presented by new NASS member Peggy Gunnerson and shadow alignments at Toshogu Shrine by Barry Duell of the Tokyo International University. Frank King talked about a most unusual circular analemmatic dial he designed for the Metropolitana of Naples (an Italian job). Dr. King was also this year's recipient of the Sawyer Dialing Prize. Roger Bailey discussed dials of Mallorca and the "Box of Sapphires", a compendium designed by Ibn al-Shatir in the 14th century. Fred Sawyer gave a most interesting talk on "Projected Refraction Sundials with Ambigram", and at the NASS dinner on Saturday, he distributed a special gift to NASS participants: a location specific projected refraction sundial with the ambigram showing "CARPE" on the dial and "DIEM" in the projected shadow. Other speakers with interesting presentations included Alice Io Oglesby, Bill Gottesman, Dudley Warner and Ken Clark. Next year's conference is being planned for Boston.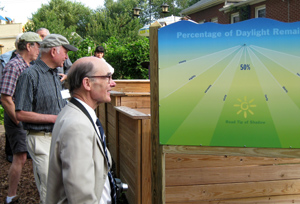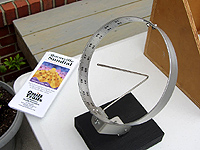 Photos shown: (Top) NASS conference participants underneath Bob Hampton's Quilt Block Dial; (Bottom Left) NASS members examine Alice Oglesby and Hugh Munro's vertical dial at Sunny Point Cafe; and (Bottom Right) Bob Hampton's Equatorial Dial made from a bent yardstick.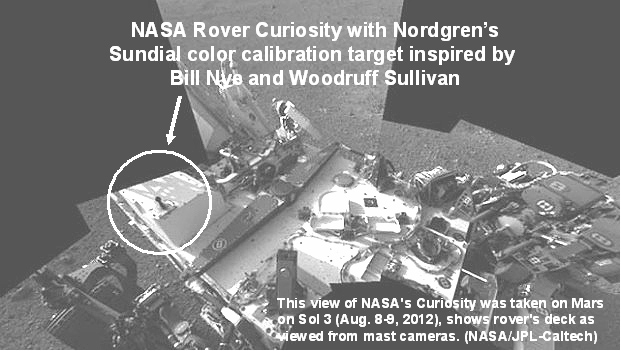 With the successful landing of the NASA rover Curiosity, another sundial is on planet Mars. Turning the color calibration target into a sundial was the idea of Bill Nye, the Science Guy, and Professor Woodruff Sullivan at the University of Washington, originally hailed by "Two Worlds – One Sun"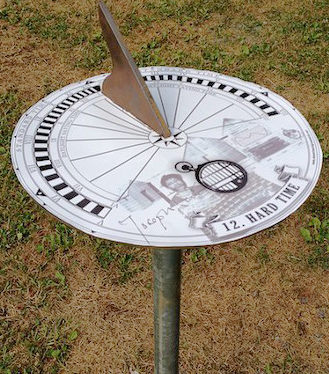 A new sundial project called "Meantime in Greenwich" opened on "Dingle Day" August 6th in Sir Sandford Fleming Park (affectionately known as "Dingle Park") located in the Halifax Regional Municipality of Nova Scotia. Media artist David Clark created a series of 24 horizontal sundials that surround the Memorial (Dingle) Tower, a site that once had been Fleming's summer home. Visitors to the public exhibit can download a free app onto their phone or iPad and hear an audio story when they approach each sundial. For iPhone users, aiming its camera at the sundial triggers a 3D object to appear on the screen. As Clark describes it, "Each sundial becomes a pedestal for virtual reality. Everybody becomes their own cinema."