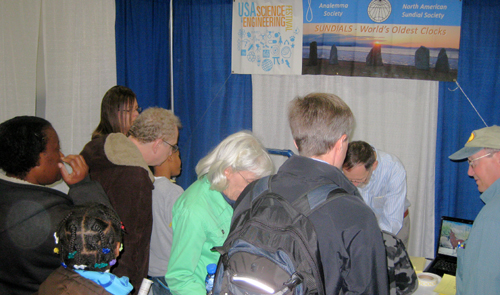 On April 28-29, the North American Sundial Society and Analemma Society participated in the USA Science & Engineering Festival in Washington DC, presenting "Sundials – The world's oldest clocks" at the Walter E. Washington Convention Center in Washington D.C.
Photo shows opening day with Ken Clark and Jeff Kretsch helping students learn about sundials while parents look on. A great first day at the Science and Engineering Festival. And the second day was equally exciting.
Parents, teachers, students, and children of all ages were able to participate in over 3,000 hands-on science and engineering activities. On stage among many others was Bill Nye the Science Guy and Adam Savage and Jamie Hyneman, hosts of the Discovery Channel's Mythbusters.
Volunteers from the North American Sundial Society and The Analemma Society talked to over 1000 attendees about sundials, sundial history, and making paper sundials to show how sundials work
.