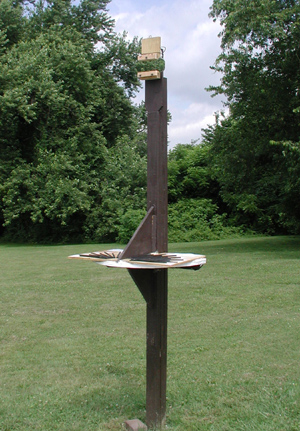 Westminster Dial with Analemma Casting Mirror on Top
Photo Credit: Robert Clark
How do you get the people of your town interested in astronomy? Robert (Bob) L. Clark a retired professor of mathematics and computer science and member of the Westminster Astronomical Society had the obvious answer: Build a unique sundial.
In the grassy field next to Hoffman's Ice Cream in Westminster, the Westminster Astronomical Society dedicated a simple horizontal dial attached to a pole with a unique "ornament" … a vertical south facing mirror.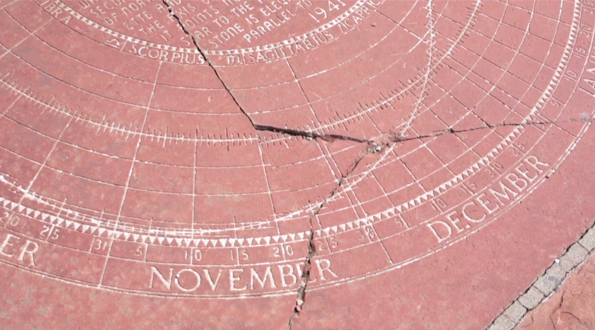 Damage to Erickson Equatorial Sundial in Cranmer Park, Denver, CO. Photo Credit: Save Our Sundial
What happens to old sundials? In Denver, citizens of Cranmer Park are taking matters into their own hands. The City of Denver has generously committed $545,000 to the restoration of the Cranmer sundial and plaza through the Parks and Recreation and the Arts and Venues departments... but the citizens must raise another million dollars.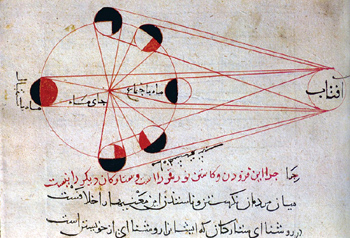 Al-Biruni's diagram of the moon's phases.
Credit: photo reproduction from Seyyed Hossein Nasr, Islamic Social Science: An Illustrated Study (World of Islam Festival Publishing Co., 1976).
Photo use for non-profit educational purposes only.
Ibn al-Shatir, whom we give credit for inventing the first modern sundial with gnomon pointing to the celestial pole in 1371 C.E., is but one of many scientific scholars of Central Asia during the "Eastern Renaissance" that lasted from about 800 to 1500 C.E. In this week's issue of Science, [20 June 2014] Richard Stone reviews the accomplishments of Abu Rayhan al-Biruni (born 973 C.E.) and the possibility that he "discovered" the American continent.
Situated at the crossroads of cultures from China, India, the Middle East, and Europe, al-Biruni was an acomplished astronomer at an early age. At 16 he measured the height of the midday sun and calculated the latitude of his hometown, now in present day Khiva, Uzbekistan.
This year nearly 300,000 students, parents and teachers attended the 3rd USA Science and Engineering Festival in Washington DC during 25-27 April 2014. The Analemma Society and the North American Sundial Society jointly featured a very successful booth to encourage science, technology, engineering and mathematics (STEM) through sundials. The Analemma Society and NASS were among hundreds of exhibits from universities, scientific organizations, government agencies, and companies in the defense and educational industries.
Volunteers from the Analemma Society and NASS demonstrated a number of sundial types and provided paper sundial cut-outs that were enjoyed by children, students, parents and teachers alike. They handed out over 1400 of the sundial cut-outs, with the classic horizontal sundial and Briggs polar dial being the most popular. Especially important were the numerous contacts made with teachers who will now enhance their science classes with sundials.
Volunteers from the Analemma Society and NASS who made this outreach possible were Ken Clark, Jeff Kretsch, Bob Kellogg and Dru Anne Neil. They did a terrific job explaining that indeed, sundials are the world's oldest clocks.
In the photo at left NASS member Ken Clark and Analemma Society member Jeff Kretsch show how sundials work while you dialists cut out their sundials.