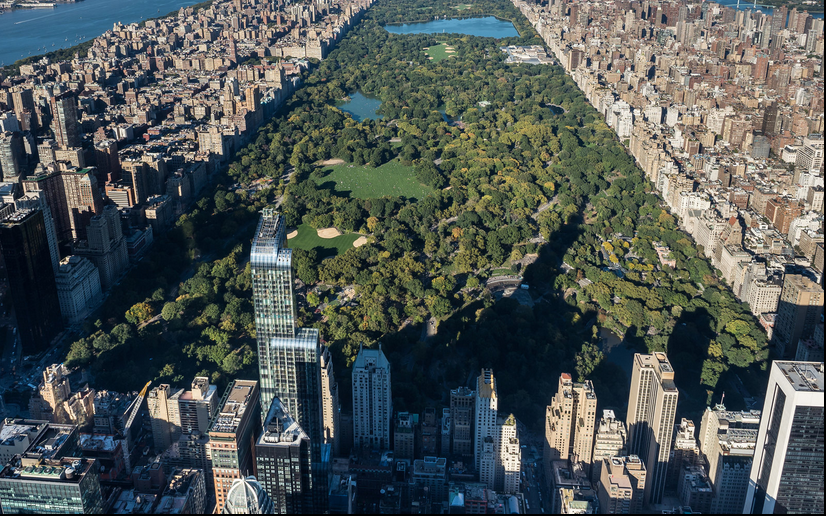 Michael Lee's photograph of Central Park started it all. Erika Owen (TravelandLeisure.com) wrote "If you think Central Park is only good for its slightly quieter reprieve from the hustle and bustle of the Big Apple, you're missing out. As it turns out, the park can actually be used as a giant sundial. Understandably, this isn't a universally accessible perk of the park...you'd need to be in an airplane or helicopter to truly appreciate the functionality."
Any vertical ediface such as a tall building, a flagpole, or even the Washington Monument can become a gnomonic sundial measuring time by the tip of their shadow. But seeing those shadows on the ground results in fuzzyness of the penumbral shadow. The solution? Step back, way back to a perspective of seeing the shadows from high in the air. From this view these giant sundials become visible. Owen continues, "Billionaire's Row, the name given to the skyscrapers lining the two blocks south of the park between Fifth Avenue and Central Park West gives off plenty of shadows..."
To see the shadows in motion, Cube Cities presents a short video "Central Park Shadows". Cube Cities specializes in urban city representations and animation software to create them. For example they visualize the growth of cities as Manhattan from the 1920s and the growth of San Franciso from 1977 to 2015 and Chicago from 1862 to 2014.
{mp4}Central_Park_Shadows_CubeCity{/mp4}