French inventor and maker of things Julien Coyne of Mojoptix has created an intriguing digital sundial gnomon that can be 3D printed. His software design (dated 13 October 2015) uses the 3D open software OpenSCAD described as "The Programmers Solid 3D Computer Aided Design Modeller".[http://www.openscad.org/about.html].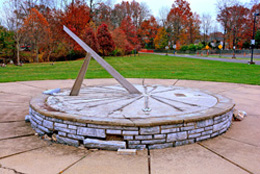 The North American Sundial Society likes to record public sundials that are in good or excellent condition. Dial #797 in Cranford, New Jersey is a sad exception. In 1972 the Kiwanis Club of Cranford presented a 15-foot diameter sundial to Union College as an expression of interest in the college and the youth of Cranford. But the years have taken a toll where it sits adjacent to the William Miller Sperry Observatory. The dais stonework mortar has given way and the concrete dial face has deteriorated.

A plan to restore the dial is underway. Dr. Stephen D. Nacco, of Union County College, Vice President, Administrative Services & Executive Assistant to the President set up a Sundial Fund under the Union County College Foundation, a 501(C ) 3 not-for-profit organization. Donations can be made online via the Web Site, http://www.uccfoundation.org/give.html with the donor selecting GIVE ONLINE NOW. Choose Donation Type "Other", and then put "Sundial" in the Additonal Comments Area as the reason for the donation.
Checks can be made out to:
Union County College
Sundial Fund
1033 Springfield Avenue
Cranford, NJ 07016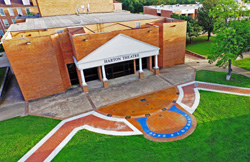 The large analemmatic sundial in front of the Harton Theater North Entrance of Southern Arkansas University (SAU) is being formally dedicated on Thursday, November 5th, 2016 in memory of the late David Thomas Smith, a 1957 SAU alum and retired assistant director of the SAU Physical Plant.
The Smith Sundial, funded by family and friends of David Smith was built by the SAU Department of Art and Design and engineers of the SAU Physical Plant. Patrick Finney was the construction supervisor and Steven Ochs was the project concrete art designer and craftsman. As described in the NASS Sundial Registry, Dial #800 is "a 22 by 17 foot analemmatic dial of stained concrete with Arabic hour numerals of polished brass. The dial perimeter and hour numerals are set in a blue decorative polymer "U" arc, appearing as a large mule shoe that represents the university Muleriders mascot symbol. Dial colors represent the royal blue and gold school colors."
As reported by Southern Arkansas University, "The Smith Sundial at SAU is one of only four Arkansas sundials that are registered on the North American Sundial Society, and the only one outside of Little Rock and North Little Rock. It is also the only sundial in the state that is [a monumental] analemmatic..."
Read more at: https://web.saumag.edu/news/2015/10/28/sau-to-dedicate-smith-sundial-on-nov-5/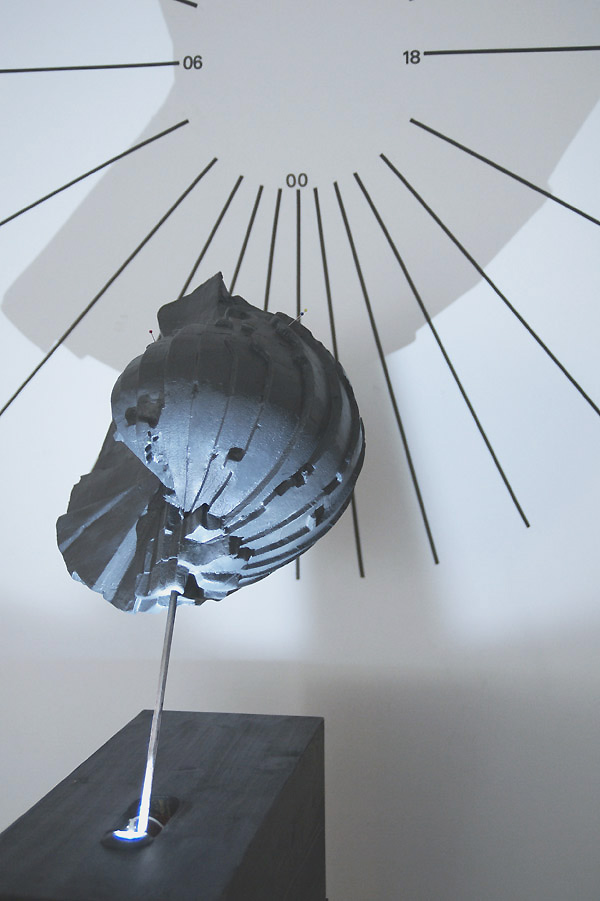 Greenwich Globe - Alisa Goikhman
Alisa Goikhman has put into art a sculpture called the Greenwich Globe. What started as a simple idea of dividing Canada and the US into time into time zones 15o wide (one hour steps), today's meridian boundaries create a complicated map. Goikhman projects this map onto a globe with the ragged ridges of each time zone, sequentially enlarging the meridians using the proportions of an Archimedes spiral.
Goikhman explains: " The Greenwich Globe's shape was generated by an algorithm that treated time as physical matter. Each additional hour is represented through a constant degree of elevation and a 15o angle bend. The elevation based map projections gives easy-to-read shape to the complex man-made system of time-zones. It also operates as a sundial, a play on the now familiar row of world time clocks. The shadow it casts on a wall is meant to be read as a world watch. Each spike in the shadow shows the local time at a corresponding geographical region."