At the Grolier Club on the Upper East Side of Manhattan is a massive exhibit On Time: The Quest for Precision curated by Bruce Bradley. The exhibit presents the progress of timekeeping over six centuries through 86 rare books from the Linda Hall Library of Science, Engineering & Technology.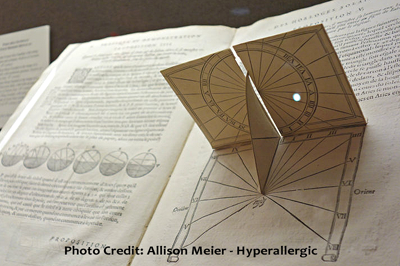 1624 La pratique et demonstration des horloges solaires
Journalist Allison Meier of Hyperallergic.com describes a number of books on display such as "German cartographer Sebastian Münster's 1533 Horologiographia, the first book devoted to sundials, with woodcuts attributed to Hans Holbein the Younger." As shown in her photo, "French engineer Salomon de Caus's 1624 La pratique et demonstration des horloges solaires has embedded pop-ups to make the workings of its sundials easier to replicate."

The scope of "On Time" stretches from sundials, to water clocks, mechanical clocks and even a Pilkington & Gibbs Heliochronometer, ending with our latest atomic clocks. The display flirts with the possible. While Benjamin Franklin may have suggested using hourly time-telling canon in the 18th century, Athanasius Kircher proposed a fanciful firing sundial a century earlier in his 1646 Ars magna lucis et umbrae in decem libros digesta. His bowl-shaped sundial holds gunpowder at the hours that is ignited by the rays of the sun from a lens. In turn the firing gunpowder triggers hammers to toll hourly bells. If one thinks about this for a moment, Kircher's proposal is as unrealistic as Franklin's. The change in solar declination creates problems for proper placement of the gunpowder, let alone directing the ignition to trigger hammers.

Allison observes that "These manuscripts affirm the centuries of shared ideas that give our modern timekeeping devices their precision." On Time: The Quest for Precision" continues through November 19, 2016.
Read more at: http://hyperallergic.com/327958/on-time-grolier-club-manhattan/