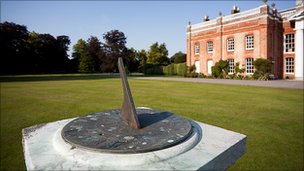 A nearly three-century old brass sundial was stolen in the early overnight hours of August 9 from the grounds of Avington Park in Itchen Abbas, near Winchester (England). Local officials say the dial is large enough it would have required several people to move it. The dial is valued at over £100,000 and is very distinctive.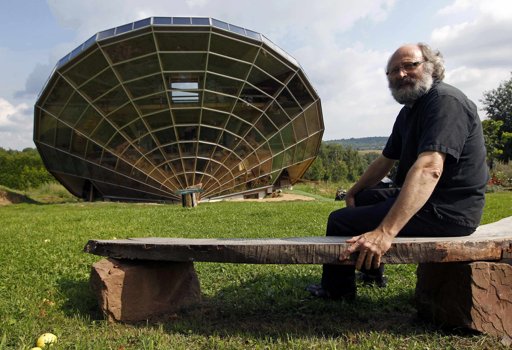 [photo credit: Vincent Kessler]
A three dimensional sundial house? You can find it at 10 rue du Diebach, Cosswiller near Strasbourg in the countryside of Alsace in France. Eric Wasser has created the "Heliodome", a tilted circular building aligned with the earth's polar axis that is a far cry from the old Buckminister Fuller "Bucky Domes".
The house has a glassed southern exposure to allow sunlight during the winter, but from the equatorial belt forward the house has a nearly conventional roof providing shade during the summer. As Wasser explains on his website, "The passive solar house is an architectural volume, a Heliodome, determined by the diurnal and annual trajectory of the sun." Read more about the details at http://www.heliodome.com/equipe.html.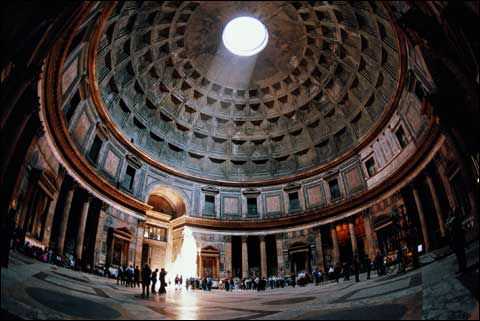 One of the most iconic buildings in the world, the Pantheon in Rome is an enduring testament to the power and glory of ancient Rome. At the same time, it has also always posed something of a mystery. The only source of natural lighting is a thirty-foot diameter hole at the very top of the hemispherical dome, often referred to as the "oculus".
Working since 2009, scholars Guilio Magli and Robert Hannah discovered that at midday on the equinoxes, a shaft of circular light shines through the oculus and illuminates the Pantheon's entrance.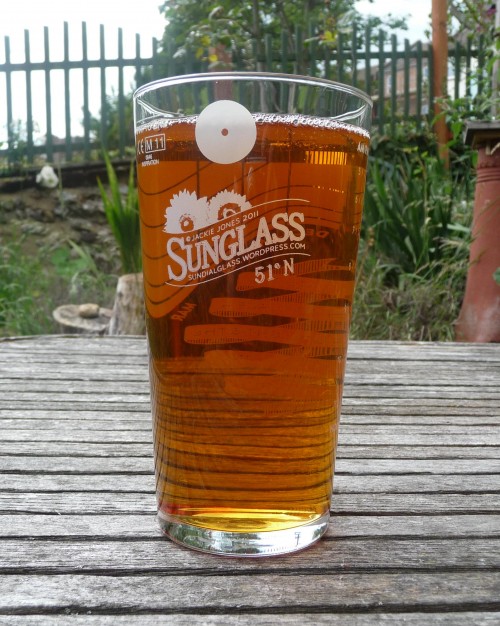 [photo courtesy of
Jackie Jones]
All right mate, have a pint of golden sun. You can pick up a sundial beer glass designed by Jackie Jones for 51o North at The Greys Pub in Southover Street Brighton, or if you're out of the country, the dial will work in Banff, Canada, the European cities of Calais, Brussels, and Dresden, and in Kazahstan or other points of equal latitude
The sundial glass motto? "Campaigning for real time". The sundial glass is a sun altitude type of dial using a frosted ring on one side of the glass to cast a spot of light onto the far side of the glass, calibrated with hour lines for the date of year. Not a bad way to contemplate the time while having a sip. You can get your own sundial glass at http://sundialglass.wordpress.com/