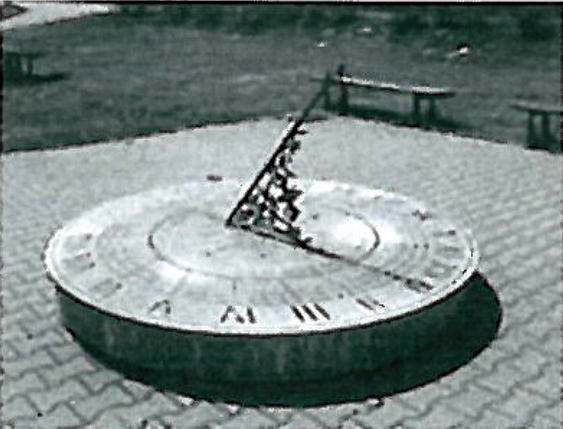 Photo: PL 664 Sundial at School in Janowice Janowice Rybnickie just south of Rybnik
The sundials working group of the Czech Astronomical Society in Hradec Králové organized a short study tour to Poland in June 2016 with a special emphasis on seeing sundials. This report is provided by Hohumil Landsman:
"The first stop was the Muzeum im. Przypkowskich, the world famous museum that began as the clock collection of the Przypkowski family. It is situated in the town square of Jędrzejów. As well as various fixed and portable sundials, the museum showed devices for the construction of sundials and several old books on astronomy and gnomonics."
"From there we visited the Planetarium and Observatory of Youth in Niepołomice. Among other things, there were commentaries available for blind visitors for whom the spoken word is a principal source of information. Another interesting stop was the Silesian Planetarium and Astronomical Observatory of Nicolaus Copernicus in Chorzów. In the courtyard of the planetarium there is a large sundial showing local solar time, and in the basement we found a seismological station containing two early 20th-century seismographs as well as their more modern equivalents. A meteorological station forms part of the same complex of buildings. As an additional diversion, we also visited the salt mines in Wieliczka."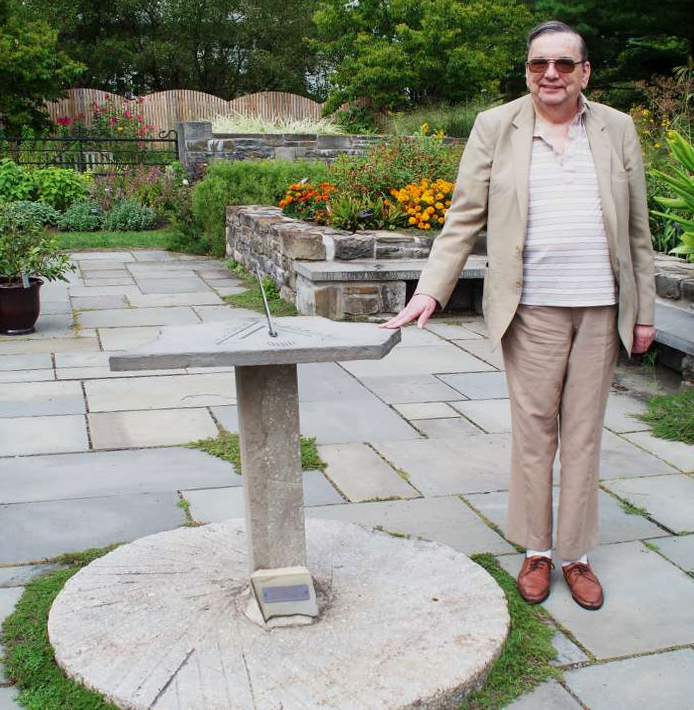 Richard Mallet at Cornell Univ. Sundial
Richard Mallet, former British Sundial Society Trustee, Council Member and former BSS Webmaster passed away on Nov 7th, 2016 with funeral held on Dec 12th, 2016. He lived in Eaton Bray, UK and had many interest in physics, mathematics, and sundialing. Those of us maintaining websites know of the difficulty in perserving order, yet always allowing for expansion of new material. "After a near disaster with the [British] Sundial Society's then heavily modified and entirely non-compliant website, Richard stepped in at no charge to the Society to rewrite it using the then new Expression Web software from Microsoft. This proved very successful and was of course fully W3C compliant."

Over the next year, the North American Sundial Society website will migrate from an older version of the Joomla Content Management System to the fully maintainable Joomla 3.x version. The majority of content and organization will remain intact, but new innovations are expected.

Read more about Richard Mallet's life at: http://www.ppowers.com/mallett.htm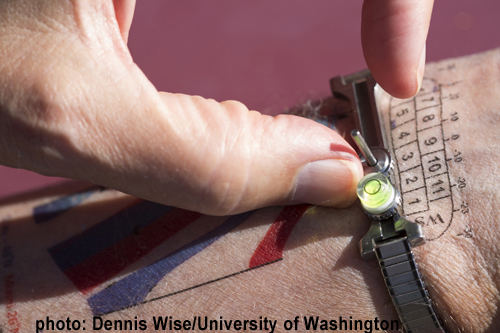 Woodruff (Woody) T. Sullivan III hosted two NASS conferences, one in 1998 and a second in 2011, each time showing many new Seattle sundials...most of which he had a helping designer's hand. Woody made T-shirts proclaiming "Seattle - sundial capital of North America". Now in the on-line University of Washington Today for December 1, 2016, Peter Kelley profiled Professor Emeritus Sullivan, noting the many worlds of interest by the UW astronomer and astrobiologist...including his passion for sundials. In Kelley's interview Woody expounded "My sundial interest began very specifically in 1991. I got interested because three years before we moved in to the new Physics-Astronomy building in 1994, the architects asked , what do you want? I'm thinking of my interest in history of science and art and design, so I casualy said, 'A sundial would be nice'. Since then, it's hard to believe - like getting married - that there's a phase in my life before that."

That UW sundial was a large vertical decliner, entered in the NASS Sundial Registry as Dial #117. But now a new precision sundial...using an arm tattoo. Woody explained, "This started with a paleontologist graduate student in the astrobiology program. She likes sundials and we got talking and over the last couple of years we designed [a tattoo sundial]. The idea was for her to have it, but she how has her degree and has since left town. Meanwhile I said to myself, dammit - that would be pretty neat. In April I gave a talk to the British Sundial Society about the technical details and showed the decal I'd made for my inner forearm. I'm going to write it up for their publication. The world's first working sundial tattoo!"
Read more at:: http://www.washington.edu/news/2016/12/01/the-many-worlds-of-uw-astronomer-and-astrobiologist-woody-sullivan/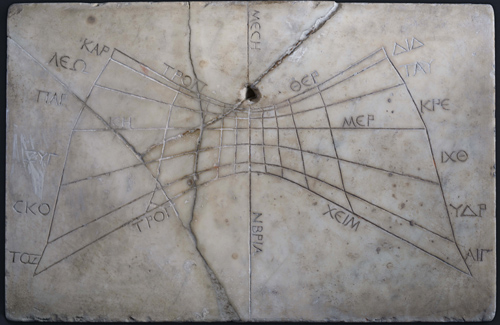 Horizontal Gnomonic Dial (Inv. 3075)
Museo Archeologico Nazionale di Napoli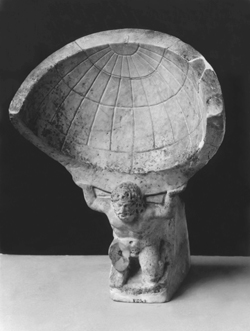 Statuette of Atlas Bearing a Hemispherical Sundial
Sir John Soane's Museum, London
The Institute for the Study of the Ancient World (15 East 84th Street in New York) is hosting an exhibition "Time and Cosmos in Greco-Roman Antiquity" open to the public from now until April 23, 2017. From their on-line invitation, "This exhibition aims to explore the ways that time was organized and kept track of in the Greco-Roman world, and how it was conceived in relation to the Cosmos. The objects displayed include artifacts illustrating the technology of ancient time-reckoning and the perception, visualization, and social role of time and cosmos..." This is exemplified by a wonderful horizontal gnomonic sundial using a vertical gnomon shown at left. It was found at Pompeii around 1865 and became part of the Museo Archeologico Nazionale di Napoli in 1867. "Despite the fact that it was found in Italy, the inscriptions on it are in Greek, perfhaps reflecting the status of Greek as the langauage of science in antiquity. The summer and winter tropics (solstices), equinox, and seasons are reasonably declined. The hour lines however reflect temporal hours rather than the hour angles we would draw todayl.