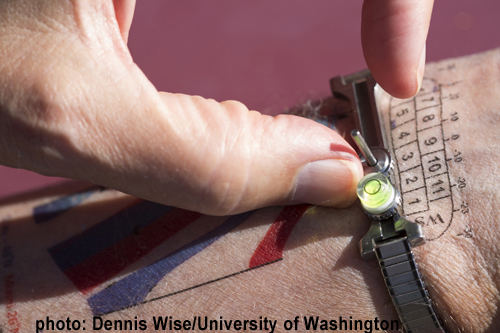 Woodruff (Woody) T. Sullivan III hosted two NASS conferences, one in 1998 and a second in 2011, each time showing many new Seattle sundials...most of which he had a helping designer's hand. Woody made T-shirts proclaiming "Seattle - sundial capital of North America". Now in the on-line University of Washington Today for December 1, 2016, Peter Kelley profiled Professor Emeritus Sullivan, noting the many worlds of interest by the UW astronomer and astrobiologist...including his passion for sundials. In Kelley's interview Woody expounded "My sundial interest began very specifically in 1991. I got interested because three years before we moved in to the new Physics-Astronomy building in 1994, the architects asked , what do you want? I'm thinking of my interest in history of science and art and design, so I casualy said, 'A sundial would be nice'. Since then, it's hard to believe - like getting married - that there's a phase in my life before that."

That UW sundial was a large vertical decliner, entered in the NASS Sundial Registry as Dial #117. But now a new precision sundial...using an arm tattoo. Woody explained, "This started with a paleontologist graduate student in the astrobiology program. She likes sundials and we got talking and over the last couple of years we designed [a tattoo sundial]. The idea was for her to have it, but she how has her degree and has since left town. Meanwhile I said to myself, dammit - that would be pretty neat. In April I gave a talk to the British Sundial Society about the technical details and showed the decal I'd made for my inner forearm. I'm going to write it up for their publication. The world's first working sundial tattoo!"
Read more at:: http://www.washington.edu/news/2016/12/01/the-many-worlds-of-uw-astronomer-and-astrobiologist-woody-sullivan/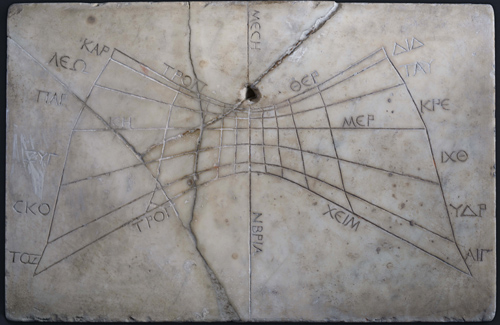 Horizontal Gnomonic Dial (Inv. 3075)
by permission
Museo Archeologico Nazionale di Napoli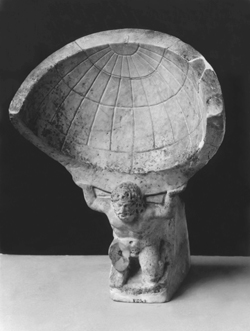 Statuette of Atlas Bearing a Hemispherical Sundial
by permission
Sir John Soane's Museum, London
The Institute for the Study of the Ancient World (15 East 84th Street in New York) is hosting an exhibition "Time and Cosmos in Greco-Roman Antiquity" open to the public from now until April 23, 2017. From their on-line invitation, "This exhibition aims to explore the ways that time was organized and kept track of in the Greco-Roman world, and how it was conceived in relation to the Cosmos. The objects displayed include artifacts illustrating the technology of ancient time-reckoning and the perception, visualization, and social role of time and cosmos..." This is exemplified by a wonderful horizontal gnomonic sundial using a vertical gnomon shown at left. It was found at Pompeii around 1865 and became part of the Museo Archeologico Nazionale di Napoli in 1867. "Despite the fact that it was found in Italy, the inscriptions on it are in Greek, perfhaps reflecting the status of Greek as the langauage of science in antiquity. The summer and winter tropics (solstices), equinox, and seasons are reasonably declined. The hour lines however reflect temporal hours rather than the hour angles we would draw todayl.
"Time and Cosmos presents over 100 objects, including ancient sundials, calendars, jewelry, and surveying instruments, and is organized around two themes: the Tools of Time Reckoning, exploring the material resources that gave temporal structure to the daily life of private individuals as well as the community in such public spheres as religion, commerce, and law; and Reflections of Time and Cosmos, concerning ancient representations of time, the universe, and their power to shape the environment and human destiny." Perhaps a representitive of the universe is seen in figure of Atlas shown at right. First illustrated by Giuseppe Settele in 1816, it was found at Tor Paterno, the site of a Roman seaside estate not far from Rome. Settle says that by the time of his publication, it had entered an English collection. Recently this collection was identified as that of Sir John Soane's Museum. Parts of the sundial bowl were restored in the late 18th century and the figure was made by the addition of a wedge of stone below its base to tilt it so that it became a sundial showing equinoctial hours."
Read more at: http://isaw.nyu.edu/exhibitions/time-cosmos
At the Grolier Club on the Upper East Side of Manhattan is a massive exhibit On Time: The Quest for Precision curated by Bruce Bradley. The exhibit presents the progress of timekeeping over six centuries through 86 rare books from the Linda Hall Library of Science, Engineering & Technology.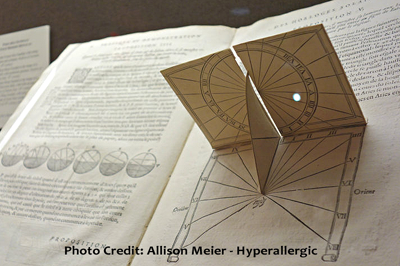 1624 La pratique et demonstration des horloges solaires
Journalist Allison Meier of Hyperallergic.com describes a number of books on display such as "German cartographer Sebastian Münster's 1533 Horologiographia, the first book devoted to sundials, with woodcuts attributed to Hans Holbein the Younger." As shown in her photo, "French engineer Salomon de Caus's 1624 La pratique et demonstration des horloges solaires has embedded pop-ups to make the workings of its sundials easier to replicate."

The scope of "On Time" stretches from sundials, to water clocks, mechanical clocks and even a Pilkington & Gibbs Heliochronometer, ending with our latest atomic clocks. The display flirts with the possible. While Benjamin Franklin may have suggested using hourly time-telling canon in the 18th century, Athanasius Kircher proposed a fanciful firing sundial a century earlier in his 1646 Ars magna lucis et umbrae in decem libros digesta. His bowl-shaped sundial holds gunpowder at the hours that is ignited by the rays of the sun from a lens. In turn the firing gunpowder triggers hammers to toll hourly bells. If one thinks about this for a moment, Kircher's proposal is as unrealistic as Franklin's. The change in solar declination creates problems for proper placement of the gunpowder, let alone directing the ignition to trigger hammers.

Allison observes that "These manuscripts affirm the centuries of shared ideas that give our modern timekeeping devices their precision." On Time: The Quest for Precision" continues through November 19, 2016.
Read more at: http://hyperallergic.com/327958/on-time-grolier-club-manhattan/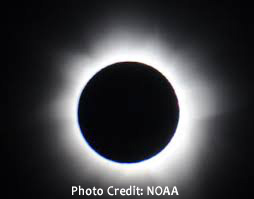 Come to St. Louis for the 23rd Annual NASS Conference at the Clayton Plaza Hotel. Take the free shuttle to the hotel from the Lambert St. Louis International Airport and enjoy 3+ days of gnomonic presentations and sundial discussions. We are planning some tutorial sessions for the afternoon of Saturday, Aug 19th and the tour this year is very special with a ring side seat to watch the August 21st Solar Eclipse.
As usual there are two registration plans: (1) full registration for all of the talks, conference dinner, and bus tour to observe the eclipse, and (2) partial conference registration that includes everything but the sundial presentation sessions.
If you have a sundial presentation or want to display your favorite sundial or book, please contact by email This email address is being protected from spambots. You need JavaScript enabled to view it. In any event, download the registration form now. You may pay by check or Pay Pal.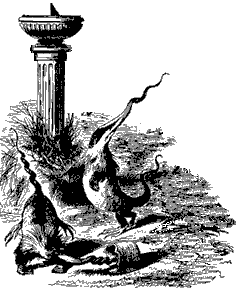 What do Omega Psi Phi fraternity of Howard University Washington DC, Merton College in Oxford, Nashotah House Theological Seminary in Wisconsin, and Lewis Carroll's poem Jabberwocky all have in common? Dancing and ceremonies around a sundial! In Carroll's poem of 1885 "the slithy toves did gyre and gimble in the wabe" and as Alice explains to Humpty Dumpty, "Toves are curious creatures that are something like badgers, something like lizards, and something like corkscrews. They make their nests under sun-dials and live on cheese." and "Wabe is the grass-plot round a sun-dial. It is called like that because it goes a long way before it, and a long way behind it. And a long way beyond it on each side."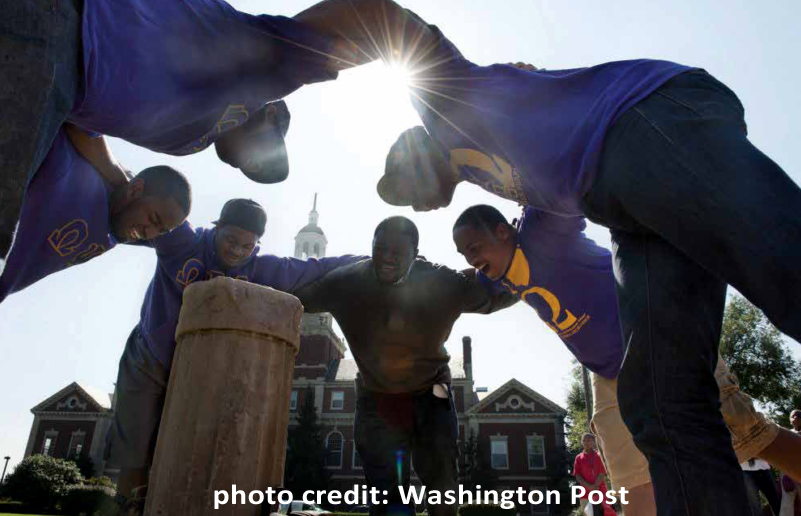 At Howard University in the center of the main campus quadrangle is a bronze sundial on a 3-foot fluted limestone pedestal, gifted in 1929 to the university in honor of Benjamin Banneker, surveyor of the city of Washington DC, clockmaker, and sundialist. The dial has been a symbolic cornerstone for the Brothers of Omega Psi Phi Fraternity for over 87 years. Although the gnomon went missing during the late 1970's that has not stopped the Brothers, especially on Fridays during the Spring and Fall, from converging at the dial at noon to celebrate through step and song lead by their the Grand Basileus to honor the traditions of the fraternity. You can see a photo of their latest performance on the front page of the Washington Post, Oct.22, 2016.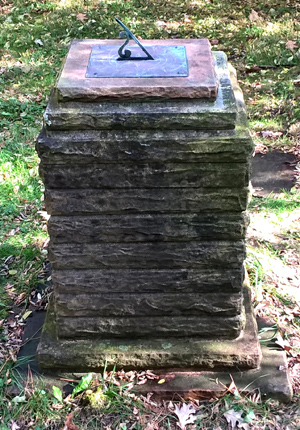 As the world spins and we accommodate both daylight savings time and standard time in a yearly cycle, honoring this event has become tradition. On the eve of the time change back to standard time on Saturday Nov 5, 2016 the Nashotah Theological Seminary in Wisconsin begins a tradition originated in 1971 at Merton College, Oxford. The Mertonians hold an hour long ceremony from 2am to 2am acknowledging the end of daylight savings time and the return of standard time. At Merton, the Time Ceremony is held by "walking backwards dressed in sub fusc [full academic dress] and drinking port...saving the universe by stabilizing the time-space continuum." The Wisconsin seminarians will surround their sundial in full regalia, and as we understand, with a good supply of port in hand.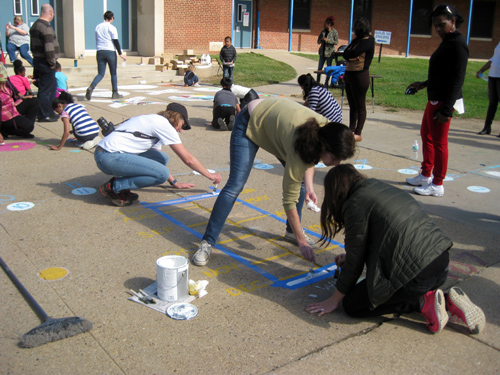 Grimm & Parker Architects sponsored a "Green Apple Day" on October 15, 2016 to help two Baltimore City Schools - Graceland Park ES/MS and Holabird Academy ES/MS - receive analemmatic sundials on their front sidewalks. The weather was perfect as teachers and volunteers from G&P chalked out and then painted simple 16 x 5 foot analemmatic sundials.
The sidwalks were aligned true North-South, making dial lay-out easy. With tape measures in hand, they marked out the focal points and north point of the analemmatic ellipse. Then, using the time-honored principle of constant distance they used a chalk line between those 3 points to maneuver a piece of chalk following the shape of an ellipse. For the sundial, the ellipse stretched from 5am to 7pm. The hour marks were made using two tape measure to check positions that were quickly followed by drawing of the hour circles with a plastic lid. While volunteers painted the hour circles others chalked out the walkway whose monthly lines and solstices were quickly painted as well. The final touch was the inclusion of the East and West Bailey points that determine the direction of the rising and setting sun. With a lot of support and good organization, both dials were finished in 3 hours!
Amid the rain and cloudy skies, on Saturday October 1st, 2016, a ribbon-cutting ceremony officially opened the Roll-Top Observatory at Observatory Park, Turner Farm in Great Falls, VA. Tim Hackman, Dranesville District representative of the Fairfax County Park Authority (FCPA) Board, introduced all those who made the Roll-Top observatory possible through public-community-and-private funding. Initiated in 2007 in collaboration with the Analemma Society, the million-dollar facility was funded in part by the 2008 and 2012 Park Bonds, telecommunications funds, Mastenbrook grant money and a donation provided by Jean and Rick Edelman through the Fairfax County Park Foundation.
Ground breaking for Roll-Top began in 2014 and over the next two years the Roll-Top Observatory design by architects Shaffer Wilson Sarver & Gray of Herndon, VA, was carried out by the construction company Brown and Root of Arlington, VA.