| | |
| --- | --- |
| Digital Cube Beams Time | |
Posted: Friday, 28 March 2014 17:28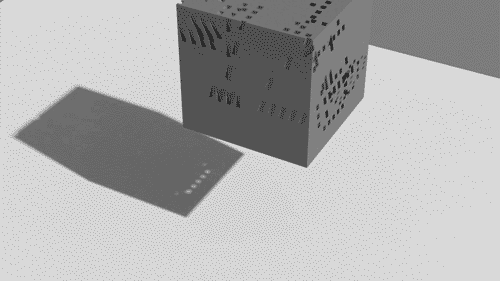 Voshart's Digital Cube
Chindōgu is the Japanese art of inventing ingenious things that are, well, Rube Goldberg. Daniel Voshart from Toronto has designed a solar time-telling cube from 59 stacked millboard plates. [See: Voshart Cube ] The result is a digital sundial, though not as universal as those patented by Scharstein [USP 5,590,093] or Kellogg [USP 05,596,553] but still, it is an interesting dial.
The cube creates light tunnels, an extension of an idea perhaps from Jiyeon Song's "One Day Poem Pavilion" [http://people.artcenter.edu/~jsong5/thesis/]. Voshart's cube gives the digital hours from 8am to 6pm [the animated illustration above shows the concept from 10am-2pm] but only for about 15 days centered around a specific date, in the case of the prototype, designed around the birthday of his father. According to Voshart, it only works within 100 miles of the designated location, and even then, only for a limited number of days when the sun's declination track across the sky matches the computed tunnel angles within the cube. Voshart commented on his website, "I gave myself a month [to design the cube] and then I had to stop, otherwise it would have continued for the whole summer. I have a plan to do a giant one for Burning Man next year."
The statement that the cube works only within 100 miles is slightly incorrect. The cube works within a latitudinal band of +/- 50 miles, but the cube vs clock time can be replicated within each time zone around the earth.
The cube, if designed correctly, accounts for the longitude offset from the center of the time zone (4 minutes of time per degree of longitude) and the solar variation of meridian passage called the "equation of time" that can be calculated for a father's birthday or any other day of the year. We shall assume that Vorshart was clever enough to include both these corrections for his father's birthday thus creating a sun clock that for a brief two weeks will tell quite accurate clock time. http://www.voshart.com/SUN-CUBE-prototype
| | |
| --- | --- |
| Renaissance Dial - It's Academic | |
Posted: Tuesday, 04 March 2014 19:37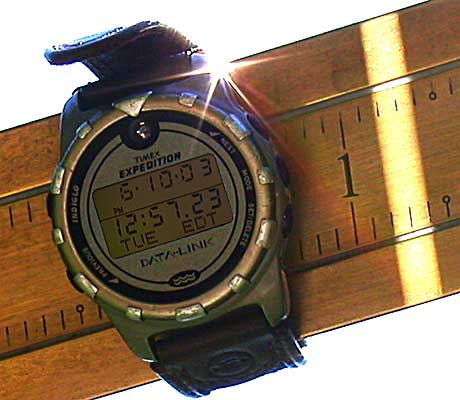 Telling Time with Precision
(By Permission - Bill Gottesman)
The Andalusia Star News reports that the Lurleen B. Wallace (LBW) Community College in Andalusia, Alabama, has a new timepiece that President Herb Riedel says, "… is a device used for practical purposes to keep time, but they also take on a symbolic meeting. For a college campus, I thought it would be very appropriate because it combines science and art."
Indeed, the sundial is a large helical sundial, a modern "Renaissance" sundial designed by Bill Gottesman of Precision Sundials in Vermont. http://www.precisionsundials.com When the dial is adjusted for the day of the year it reflects a beam of light from mirrors sitting on the inclined gnomon back onto a helical band inscribed with hour and minute marks. The dial is a precision instrument, telling civil time to an accuracy of less than one minute. While most sundials tell solar time marking noon as the moment the sun passes the meridian, the Renaissance helical dial is adjusted daily to show true clock time. Several years ago at a North American Sundial Society conference where the helical dial was displayed, observers were able to tell time to 10 seconds. This is rather remarkable since the sun's diameter (measured in time passage) is about two minutes and therefore requires the concave mirrors to reflect a converging beam that sharpen the sun's image, a sundial technique covered by US Patent 6,301,793.
President Riedel is proud to have this timepiece at LBW Community College saying, "It's been my dream for many years to acquire this particular sundial, and it's only been here in Andalusia that I was able to get one for LBW… I hope it will generate some thinking and learning, but I also hope that it will inspire people to think about who we are as humans in relation to the world, and that there are things greater than ourselves."
The dial is made for the location of the College at 31o 19' 19" North latitude, 86o 27' 4" West longitude. Other Renaissance sundials dot the academic landscape including the University of Maryland, Rockville campus in Maryland, University of Houston at Clear Lake, Texas, and Louisiana State University, Louisiana.
| | |
| --- | --- |
| 20th Annual NASS Conference | |
Posted: Sunday, 02 March 2014 19:21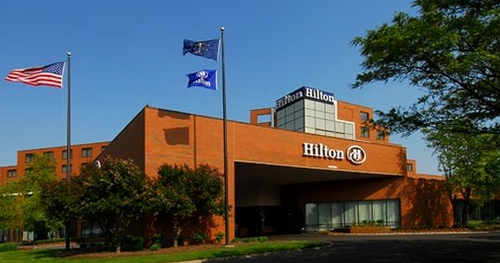 UPDATE ... SEE THE REGISTRATION ATTACHMENT BELOW !!!
The North American Sundial Society is holding its 20th annual conference in Indianapolis IN from the 21st – 24th of August, 2014, hosted by Mark and Phyllis Montgomery and George and Betsy Wilson. The conference will be held at the Hilton Indianapolis North Hotel, located 26 miles from the Indianapolis International Airport (special NASS hotel rates apply) with sundialists attending from the US, Canada, and abroad. Come hear about the latest advances in gnomonics and new sundial designs (yes, the variety of their creation is a lively art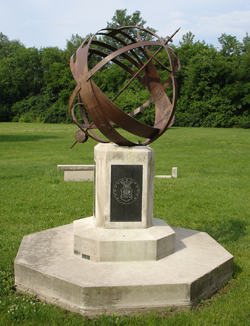 even if the science is nearly 800 years old). Sundialists from North American and around the globe will make presentations on sundials, gnomonics, and the history of sundials.
There will be a bus tour of Indianapolis are sundials on Friday the 22nd. Could there be a famous tower in Indianapolis that looks like a sundial but isn't? Will it be on the tour of sundials? Join the conference to find out! One sundial that is on the NASS tour will be The American Legion Sundial, a beautiful armillary sphere. And, a special conference sundial is being designed for each conference attendee, but since it's made for a specific latitude and longitude, sign up early. We'd like to know before April 1st if you will be coming … and knowing your latitude and longitude is necessary at the latest before July 1st. If your paid registration has not been received by that date, you will not receive the conference sundial. Interested in coming? Want to give a paper on some aspect of sundials? Show off a sundial that you've made? Contact This e-mail address is being protected from spambots. You need JavaScript enabled to view it or This e-mail address is being protected from spambots. You need JavaScript enabled to view it for more details.
| | |
| --- | --- |
| Sundials at STEM Festival | |
Posted: Sunday, 02 March 2014 19:09

Members of The North American Sundial Society and Analemma Society will be participating in the 3rd USA Science & Engineering Festival. Mark your calendars for Saturday and Sunday April 26 and 27th at the Walter E. Washington Convention Center in Washington DC. This is a Science, Technology, Engineering and Mathematics (STEM) exposition. In recognition of the Festival's role in making STEM a national priority, Congress recently designated the last week in April as National Science Week.
NASS and the Analemma Society along with other expo presenters have more than 3,000 hands-on activities. NASS and the Analemma Society will introduce students and families to a variety of sundials and offering hands-on activities to cut them out and test them using a solar heliograph. It's all free. Come and learn about Sundials – The World's Oldest Clocks.
The Science & Engineering Festival will also have a Career Pavilion, Book Fair—complete with signings by well-known science authors. Bill Nye the science guy will be there as well as Mike Rowe (Dirty Jobs on Discover Channel), Nate Bell (Design Squad on PBS) and the cast and crew from TV shows like Big. Bang Theory, as part of over 100 live stage performances.
| | |
| --- | --- |
| Founding Fathers | |
Posted: Thursday, 06 February 2014 22:33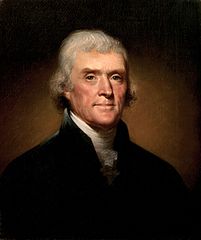 Thomas Jefferson
by Rembrandt Peale-1800
White House Historical Association
Fred Sawyer, President of the North American Sundial Society and editor of the Compendium sundial journal will present a lecture on "Gnomonic Tales of Thomas Jefferson (and other Founding Fathers)" on Thursday evening, April 10th at 7pm at the Great Falls Library, VA. Reservations are required. Contact the Fairfax County Libraries for more information.
The lecture will consider sundials in the lives of Thomas Jefferson and other prominent figures of early America such as George Washington and Benjamin Franklin. Rather than serving simply as timekeeping devices, sundials will be seen as academic exercises, inspirations for poetry, symbols of an industrious new country, invitations to relaxation, and opportunities for invention.
Fred is a cofounder and the current president of the North American Sundial Society (NASS), and a vice president of the British Sundial Society. He is also the editor of The Compendium, having been responsible for each of the 80 quarterly issues to date. He has authored over 100 articles on gnomonics, and is a regular speaker at both NASS and BSS conferences. His interests lie primarily in theory, historical techniques for drawing dials, and new dial forms (including his own wandering gnomon, equant, compressed gnomonic, Ptolemaic coordinate, Foster point, and other varieties).

In 2000, Fred and his family instituted the Sawyer Dialing Prize awarded each year at the NASS conference to an individual for accomplishments in, or contributions to, dialing or the dialing community.
| | |
| --- | --- |
| Antique Sundial Treasures | |
Posted: Wednesday, 01 January 2014 12:51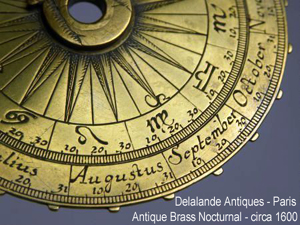 Gallerie Delalande, Louvre de Antiquaires, Paris
The Galerie Delalande, Louvre des Antiquaires in Paris is presenting an exhibition of 150 Pocket and Table Sundials. The exhibit will continue until January 19th, 2014. The gallery is now offering a book "Cadrans solaires / Sundials", written in French and English to illustrate these sundials:. http://www.delalande-antiques.com/exhibition-sundials-paris/book-sundials.html
The Louvre des Antiquaires opened in 1978 and has a beautiful collection of astrolabes and nocturnals, globes and armillary spheres, octants, sundials and equinoctial rings and much more. You can find photos of many of these dials following the link http://www.delalande-antiques.com/marine-sciences/
<<

Start

<

Prev

1

2 3 4 5 6 7 8 9 10 Next > End >>


Page 1 of 14