Fred Sawyer, in cooperation with the North American Sundial Society, established a continuing yearly award, the Sawyer Dialing Prize to be presented by NASS to an individual for accomplishments in or contributions to dialing or the dialing community. Each year a panel makes recommendations of those people who have significantly contributed to the art of dialing by their dialing art, their ability to teach and educate, their superb craftsmanship, their care in dial restoration, or in their gnomonic skills in design and computer programming tools for others.
At each North American Sundial Society conference since 2000, the winner is announced and awarded with a certificate of recognition, a small trophy sundial, and a cash award of $200. Many of the awardees have chosen to use their cash award to help further the art of dialing by donating it to others, increasing the scope of sundialing around the world. Funding for this award has come from the Sawyer family with a 50% matching donation by NASS.
The certificate and trophy dial presented to each recipient are inscribed with the Greek letters ZHΘI. The ancient Greeks used the letters of their alphabet as numerals. When the hours of a dial were to be numbered from dawn to sunset, the numerals used were A, B, Γ, Δ, E, S, Z, H, Θ, I, IA, and IB for the successive hour intervals. By chance, the sequence from the seventh through the tenth hour (i.e. noon through mid-afternoon) spells a Greek word ZHΘI, the second person singular imperative meaning: Live! The Greeks carried this thought further, and an epigram on the certificate, attributed to Lucian - a second century Greek satirist - exhorts: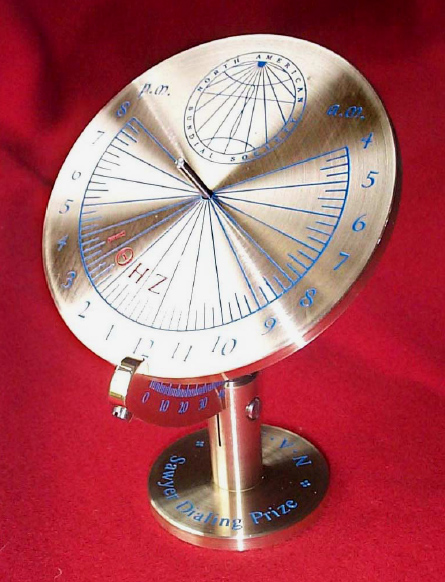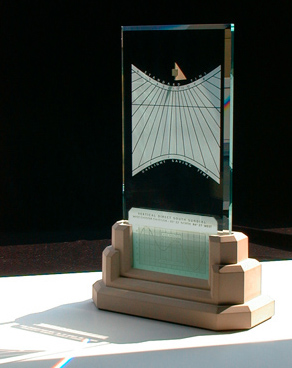 The first three Sawyer Dialing prize recipients received a Universal Equatorial Dials designed and crafted by Tony Moss of Lindisfarne Sundials, UK. [Tony is now retired and the last of the Lindisfarne Sundials has been made.] The dial can be set for any latitude and is a special edition containing the NASS logo and the imperative ZHΘI.
Since 2003, Sawyer Dialing prize recipients have received Spectra Sundials crafted by Jim Tallman. Hundreds of Spectra Sundials can be located around the world at The World of Artisan Sundials - Spectra Sundial Locations Worldwide . The unique design of each Sawyer Dial is given as an html link at the bottom of each award description.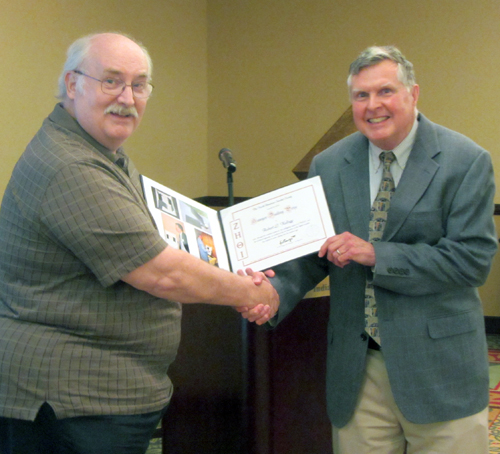 At the 2014 NASS Conference in Indianapolis, Indiana, Fred Sawyer announced this year's Sawyer Dialing Award is given to Robert Kellogg, "who, through his constant outreach, his unflagging support of NASS, and his technical ingenuity, as evidenced by his invention of the digital sundial, has helped to usher dialing into the modern age."
Bob designed and patented a digital sundial based on sunbeam projection, first considered when he was at the US Naval Postgraduate School. But it took more than a decade for those ideas to gel into a firm technical form and a US Patent.
Bob continues to write "Sundials for Starters", a regular column for NASS's Compendium. Over the last several years he has organized the joint NASS-Analemma Society outreach at the US Science and Engineering Festival and has brought sundialing to Montgomery County Schools in Maryland for the last 20 years.
Fred Sawyer presented Bob with an award certificate, the traditional cash prize of $200 and a custom made Spectra Sundial by Jim Tallman of Artisan Industrials.
http://www.artisanindustrials.com/world-of-sundials/spectra-sundial-potomac.html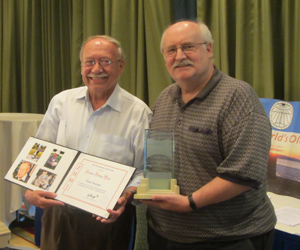 André Bouchard received the 2013 Sawyer Dialing prize at the Boston NASS Conference "In recognition of two decades of promoting, preserving, extending and exemplifying the pairimoine of Québecois of dialing and gnomonics."
During the first 15 years of the CCSQ (la Commission des Cadrans solaires du Québec) André made numerous presentations on gnomonics, adopting objective and descriptive ways in order to highlight the specific elements of particular dials and dialist styles. Now as editor of The Gnomonist / Le Gnomoniste, André is rediscovering the fundamentals of philosophy through sundials, showing that they merge both in time, place, casting symbolic meaning and beauty within their surrounding. André illustrated this by discussing the design of the 2008 sundial on the shore of the St. Laurence River at Point aux Outardes Park near Baie-Comeau, where the polar gnomon and its supports simulate bull rushes, augmented by a flight of geese.
Fred Sawyer presented André with an award certificate, the traditional cash prize of $200 and a custom made Spectra Sundial by Jim Tallman of Artisan Industrials.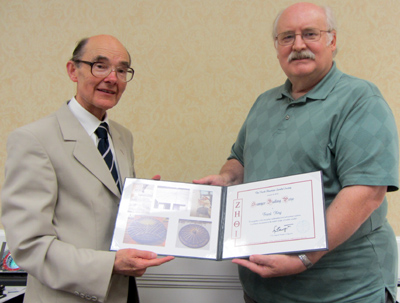 The 2012 Sawyer Dialing Prize was awarded to Frank King at the annual NASS Conference in Asheville, North Carolina.
The award is given "In recognition of his innovative mathematical and astronomical solutions to problems encountered in the modern design of notable sundials." Dr. King is Council Chairman of the British Sundial Society, Senior Lecturer of the Computer Laboratory at Cambridge University, and a Fellow of Churchill College where he is Chairman of the Churchill Archives Committee and Praelector. At Cambridge he also holds the responsibility of the University Bellringer, "one of the University's most ancient and unusual posts" with the job of keeping the University Clock telling correct time.
He has designed many sundials including the vertical dial with Italian and Babylonian hours for Selwyn College, Cambridge (a new dial for Old Court), the Pembroke College vertical sundial, the noon mark wall analemma at 10 Paternoster Square in London, the unusual near-horizontal gnomon sundial as a memorial dial for Margaret Stanier, the analemmatic dial for Queen Elizabeth II Jubilee (2002) and the circular analemmatic dial for the MetroTransit Authority (Metropolitana) of Naples.
Frank was presented with a cash prize of $200 and a custom made Spectra Sundial by Jim Tallman of Artisan Industrials.
http://www.artisanindustrials.com/world-of-sundials/spectra-sundial-cambridge-cambridgeshire-england.html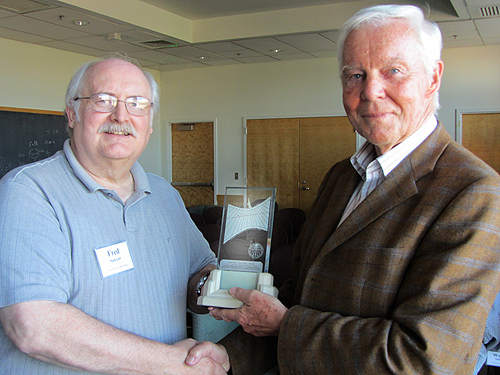 This year's Sawyer Dialing Prize awarded at the 2011 NASS Conference in Seattle Washington was given to Helmut Sonderegger, "In recognition of his ongoing development and support of the dialing software Sonne, and his many years of leadership in his national society." His acceptance talk was on one of the first Copernican followers, Rheticus.
For many years Helmut Sonderegger has been active in the German Sundial Association and was chairman of a team of dialist to produce the 3rd Editiion of the Austrian Sundial Catalogue. His most famous free sundial software, "Sonne" calculates about 20 different sundial types and his program "Alemma" is devoted to the calculation of analemmatic sundials. The software is available at his website, www.helson.at. He endeavors to help people who make sundials through his software and through articles in the NASS Compendium and the German Rundschreiben, and for local groups.
Helmut was presented with a cash prize of $200 and a custom made Spectra Sundial by Jim Tallman of Artisan Industrials.
http://www.artisanindustrials.com/world-of-sundials/spectra-sundial-feldkirch-austria.html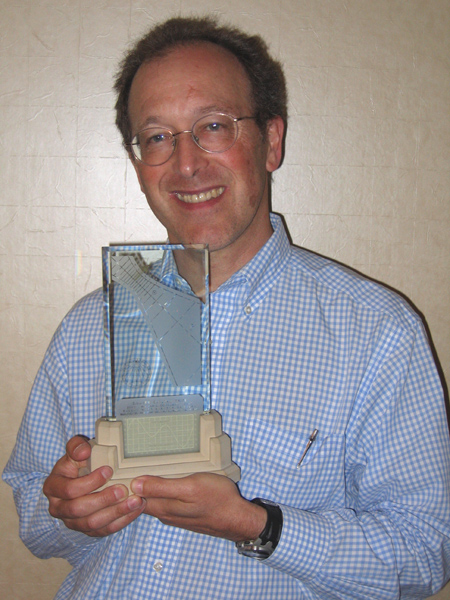 The 2010 Sawyer Dialing Prize goes to William L. Gottesman of Burlington, Vermont, "In recognition of his committment to innovation and high precision design in sundials which combine tradition with 21st century advances." Bill is designer of the Renaissance Sundial, a spiral sundial that uses curved mirrors to show the time to within 30 seconds. His dial is available at http://www.precisionsundials.com
Bill collaborated with Kate Pond to design the Equatorial Band Sundial, dedicated during the 2010 NASS conference at Champlain College with the title "Come Light, Visit Me." On a smaller scale, but with no less precision, Bill worked with Fred Sawyer to realize the Sawyer Equant Sundial that will show both solar and clock time. To "advertise" the 2010 NASS conference, Bill even designed the back end of his car as a sundial, using the radio antenna as a gnomon.
As in past years, Bill was presented with $200 to fund a sundial project of his choice and a custom made Spectra Sundial by Jim Tallman of Artisan Industrials:
http://www.artisanindustrials.com/world-of-sundials/spectra-sundial-burlington-3.html