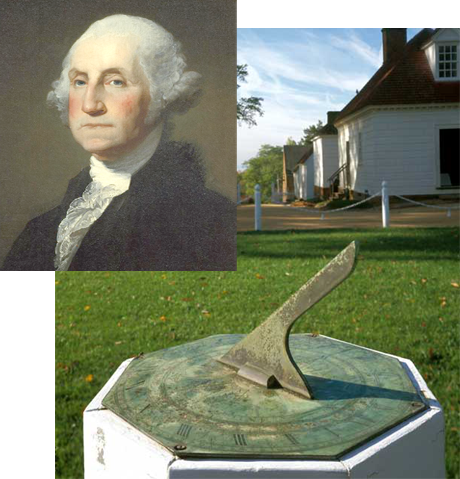 Founding Fathers - Washington Dial at Mt. Vernon, VA
In August, 2014, the North American Sundial Society had a terrific conference in Indianapolis, Indiana, discussing sundial topics from the sundials of Our Founding Fathers where Fred Sawyer talked about the sundials and stories of George Washington, Benjamin Franklin, and Thomas Jefferson.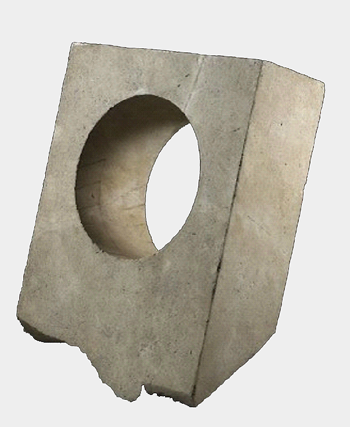 Greek Dial from Ai Khanum
Another highlight was Jack Aubert's talk on the mysteries of an ancient Greek sundial found at Ai Khanum in the northern of Afghanistan and computing the hour lines. Who built this dial more than 2000 years ago and what kind of mathematics did they use?
Peggy Gunnerson described the evolution of a modern sundial parallelpipeds sculpture, creating an artistic and unusal east-west sundial. And Stephen Lueking presented a series of modern sundial designs for DePaul University. These were just some of the presentations. Subscribe to the digital edition of The Compendium from NASS and receive them all. The annual Sawyer Dialing Prize went to Robert Kellogg for NASS outreach and the invention of a digital sundial. Read more about the presentations and the tour of Indianapolis by downloading the attachment below.
| | |
| --- | --- |
| Peggy Gunnerson Parallelpiped Dial | Stephen Luecking - Dial Design for DePaul University |
Hosting 46 people, the conference was coordinated by George and Betsy Wilson and Mark an Phyllis Montgomery. During the Friday Sundial tour NASS was welcomed by Eagle Elementary School, the senior high ability class and their teachers. All gathered in the school's courtyard to show a large horizontal sundial, dedicated as a memorial to a former teacher, Linda Eads.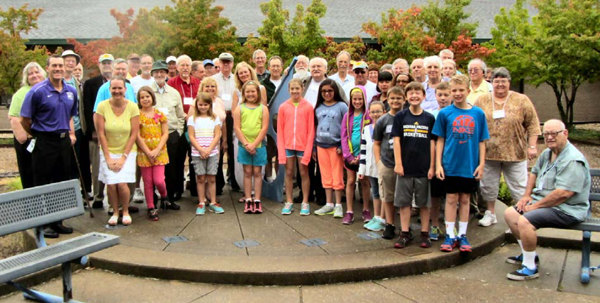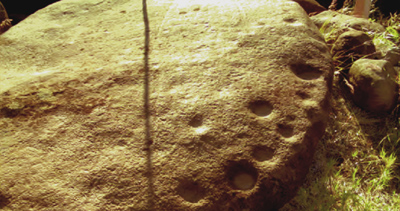 Kānaloa Stone Shadow Alignment
Photo: Kaho'olawe Island Reserve Commission
On Kaho'olawe, the smallest island of the Hawaiian island chain only 7 miles from Maui, sits an endangered and sacred rock, the Kānaloa, with petroglyphs and a row of 32 cupules (man-made depressions) along one edge. "It has significant celestial alignments with the rising and setting of the sun," said Michael Naho'opi'i, Executive Director of the Kaho'olawe Island Reserve Commission (KIRC). It appears that there is a relationship between the shadow of a stick held vertically along lines etched in the stone and the cupules.
Documented as Site 110 feature BU, the Kānaloa stone is relatively flat and rests on a natural pedestal that when tapped, resonates with a bell-like ring. But its petroglyphs and alignment cups may soon topple into a nearby and ever growing ravine. In 2010 the Commission approved "The Cultural Use Plan: Kūkulu Ke Ea A Kānaloa" with one of the recommendations to preserve and stabilize the stone. The first phase of the plan has been to document the stone's celestial alignments and quantify the erosion forces acting on its base.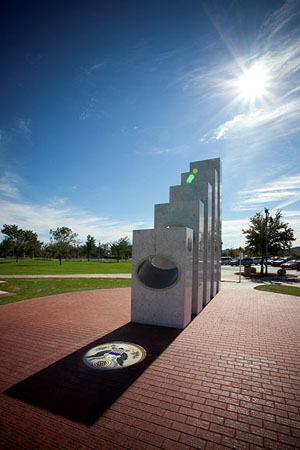 Anthem Veterans Memorial
Sun Alignment on Nov 11th
[photo: Anthem Veterans Memorial Committee and Mike Spinelli]
The Anthem Veterans Memorial in Anthem, AZ was dedicated on November 11, 2011 at 11am (11-11-11 11:11:11) to honor the service and sacrifice of the United States armed forces and to provide a place of honor and reflection for veterans, their family and friends. Veterans gather here annually on November 11th to watch a solar alignment at 11:11am when the sun precisely illuminates The Great Seal of the United States. The memorial was designed by Renee Palmer-Jones, and constructed under the guidance of Project Engineer Jim Martin and construction expert Steve Rusch.
In 1636 or 1637 Samuel Foster, a distinguished Professor of astronomy at Gresham College produced a manuscript that describes the construction and use of an analemmatic sundial, a vertical sundial, and a declining sundial.
The collection of 12 pages on four double leafs each measure 15 x 18 cm. This manuscript relates to Samuel Foster's most important invention, a computational device known as a dialling scale, and precedes the publication of his second and most significant book in 1638 "The Art of Dialling: by a New, Easie, and Most Speedy Way ..."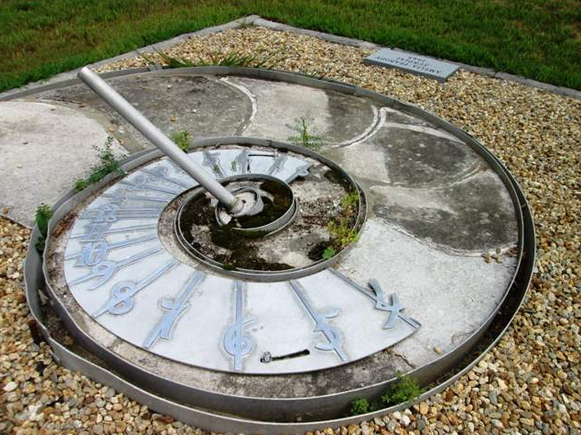 Amelia Peabody Sundial - Dover Town Library
photo: Maureen Sullivan (Wicked Local Dover)
Although Amelia Peabody died in 1984, her legacy and interest in sundials continues. In 1920 she moved to Dover, Delaware, and began raising thoroughbred horses. Ultimately she purchased more than 800 acres in Dover, becoming its largest land owner. She built three houses on her Powisset Farm, three other houses on other properties, and another called the Sun House at 145 Powisset St. in Dover.
As Eleanor Tedesco reports in the Wicked Local Dover on-line news, "The Sun House reflected her interest in heat generated by the power of the sun and was the first of its kind in New England. But the house failed to reach its goal of heating the building with the sun's heat." But true to its name, a graceful sundial in the shape of a Nautilus shell decorated her yard.
Larisa N. Vodolazhskaya of the Department of Space Physics at Southern Federal University (SFU), Rostov, has brought two ancient time keepers together with a new and startling result. The story starts at the turn of the end of the 19th century with the discovery of an L-shaped bar found in the tomb of Thutmose III (1479-1425 BCE). that appeared to be a sundial. In the 1930's a "user manual" of sort was found carved on the tomb ceiling of Seti I (1290-1279 BCE) at Abydos. The ideal L-shaped bar had lines engraved with distances from a starting mark of 3, 6, 9, and 12 units. The Seti I text describes these spacings as "an established procedure". But what is the procedure?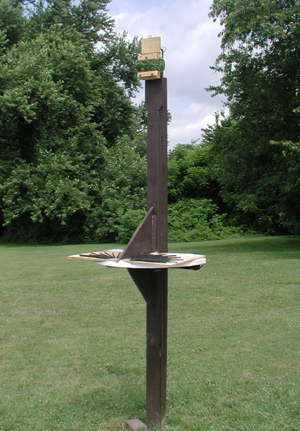 Westminster Dial with Analemma Casting Mirror on Top
Photo Credit: Robert Clark
How do you get the people of your town interested in astronomy? Robert (Bob) L. Clark a retired professor of mathematics and computer science and member of the Westminster Astronomical Society had the obvious answer: Build a unique sundial.
In the grassy field next to Hoffman's Ice Cream in Westminster, the Westminster Astronomical Society dedicated a simple horizontal dial attached to a pole with a unique "ornament" … a vertical south facing mirror.