As reported in the ArchDaily.com website on 23April 2016 by Patric Lynch, the design group Prescription in conjunction with Arup have developed a sophisticated sundial based on the analemmic path that the sun travels throughout the year. The classic "8" shaped analemma is made into a cone (think of someone stepping on an ice cream cone) and repeated with esthetic cutting of the cone top for each hour. At the bottom of the cone is a stenciled hour number and the angle of the analemmic cone only allows sunlight to poke through the stencil for the appointed hour.
The original prototype of this dial was made of flexible plastic through a 3D printing process. Prescription believes that "...the design is 100% scalable; the designers foresee applications for the design in both park and festival pavilions and home installations..."
A video of this analemmic sundial by Grisha Zotov can be seen at https://vimeo.com/161675472
The Daily Sabah reports a 2,400 year old mosaic discovered during excavations in Turkey's southern Hatay provice that shows a skeleton that according to archeologist Demet Kara fromthe Hatay Archeology Museum has an inscription that translates from ancient Greek to say "Be cherrful, and live your life."
Perhaps more interesting to sundialists is the mosaic further right. It is of a Roman attending the bath. Demet Kara explains, "...there is a sundial and a young clothed man run[s] towards it with a bare-headed butler behind. The sundial is between 9 and 10 am. 9am is the bath time in the Roman period. He has to arrive at supper at 10am. Unless he can, it is not well received. There is writing on the scene that reads he is late for supper and writing about time on the other."
Kara added, "[This is] a unique mosaic in Turkey. There is a similar mosaic in Italy but this one is much more comprehensive. It is important for the fact that it dates back to the third century BCE...Antiocheia was a very important, rich city. There were mosaic schools and mints in the city. The ancient city of Zeugma in [the southeastern province of] Gaziantep might have been established by people who were trained here. Antiocheia mosaics are world famous."
http://www.dailysabah.com/nation/2016/04/22/2400-year-old-mosaic-found-in-southern-turkey-says-be-cheerful-enjoy-your-life
http://www.hurriyetdailynews.com/be-cheerful-live-your-life-ancient-mosaic-meme-found-in-turkeys-south.aspx?PageID=238&NID=98201&NewsCatID=375

With all due respects to Shakespeare, time will always be with us, and signifies quite a lot. The Harvard-Smithsonian Center for Astrophysics is organizing a symposium dedicated to Time and Culture to be held 5-9 June 2016 at Harvard's Northwest Lab. According to the symposium organizers:
"The symposium aims to set the stage for future timekeeping standards, infrastructure, and engineering best practices for astronomers and the broader society. At the same time the program will be cognizant of the rich history from Harrison's chronometer to today's atomic clocks and pulsar observations. The theoreticians and engineers of time will be brought together with the educators and historians of science, enriching the understanding of time among both experts and the public."
The definition of the second has changed several times over the last 40 years and likely will change again before the end of this decade. Should timekeeping be decoupled from the rotation of the earth? We already abstract time with zone time (such as Eastern Standard Time) and minipulate it to fit our activities (using Eastern Daylight Saving Time). We no longer worry about the moment of sunrise or sunset, rather that we go to work at 9:00AM or have a class that lasts from 10:00-10:50AM. Indeed, "ante and post meridian" may be obsolete.
"The future of timekeeping is evolving with the development of optical frequency standars, the consideration of high-order relativistic effects, and the challenges of distributing trusted timescales at even higher preicision....A closer look at time in astronomy and other sciences, as a defining element of modern civilization, is needed." Read more and register for the symposium at: http://timesymposium.org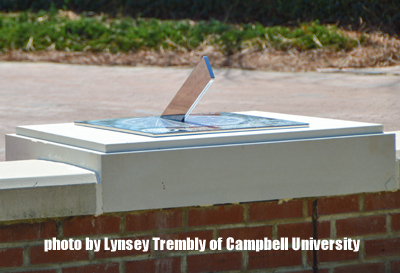 Mathematics professor Jerry Duncan Taylor passed away in 2013, but his 46 years of teaching lives on at Campbell University in Buies Creek North Carolina just south of Raleigh. A commemorative sundial in front of Taylor-Bott Rogers Fine Arts Building was dedicated on Wednesday, March 21, 2016.
The highly polished dial, approximately 12 inches square, with an inclined bar gnomon sits on a plinth embedded in a low brick wall for all to see. There are time marks for every 10 minutes, with standard time given as Roman numerals and daylight savings time one hour later given in larger Arabic numbers.
Professor and mathematics department chair Meredith Williams recalled the start of his teaching career at Campbell: "I'm not sure I would have made it through my first semester without Dr. Taylor. I had an extremely challenging group of students in a class who were determined to see how hard they could push the new professor. Dr. Taylor always had an encouraging word for me before I went to class."
Rachel Davis quoted Provost Mark Hammond from the sundial dedication (http://www.campbell.edu/news/item/sundial-dedicated-to-late-math-professor) "We wanted something physical that we could see, celebrate, and reflect on him and the good man that he is and the way he has touched many of the people here... [his] very inspired spouse, Louise Taylor, thought that perhaps we could memorialize Jerry through a sundial. It gives us the time to pause and reflect and think about Jerry."