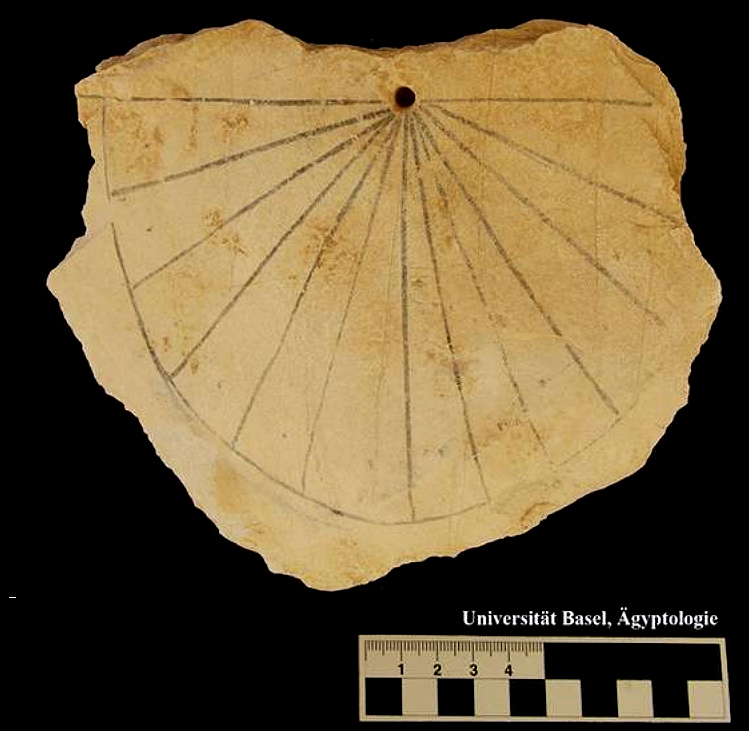 [photo Courtesy University of Basel]
Professor Dr. Susanne Bickel and her archeological team from the University of Basel found one of the oldest sundials in the world during this year's excavation in the Valley of the Kings. A limestone sundial was found near tomb KV61 during a survey of the surface rubble. The location of the dial corresponds to an area where there are remains of workmen's huts dating to the Ramesside Period of the 13th century BCE.
The dial was most likely a vertical, south facing sundial. The horizon line of the dial is about 16 cm across with a hole at the mid point to hold a simple horizontal metal rod or wood stick gnomon, indicating that the gnomon displayed shadows of temporal (seasonally uneven) hours. The limestone dial has a black painted semicircle. On each side of the vertical noon line are 6 segments of about 15 degrees each, representing morning and afternoon temporal (seasonally uneven) hours. Small dots in the middle of each hourly segment serve for even finer timing. Nevertheless, the hour lines are not drawn with precision.
Read more: 13th Century BCE Ancient Egyptian Sundial Discovered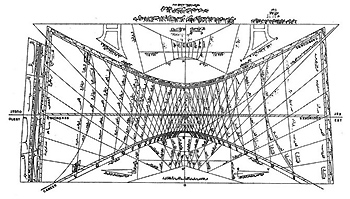 At 3pm on August 15th Roger Bailey of the North American Sundial Society will hold a public lecture on the historic Ibn al-Shatir sundial at the Great Falls Library in VA. The Analemma Society proposes to recreate the dial's design, adapted for the latitude of Observatory Park, The Turner Farm, in Great Falls, VA.
Hopefully this will be the second major dial at Observatory Park maintained by the Analemma Society in conjunction with the Fairfax County Park Authority. The first dial was a commemorative dial designed and built by Tony Moss for the 400th anniversary of Jamestown, VA.
"High on the minaret of the Great Mosque in Damascus is a remarkable sundial created by Ibn al-Shatir in 1371. Through the 10th to 14th centuries the science of astronomy, timekeeping and sundials had advanced in major Moslem centres like Cairo and Damascus. Based on the developing science of timekeeping, Ibn al-Shatir designed a unique instrument that was a breakthrough…The sundial features equal hours rather than the previous system of dividing the day into 12 hours regardless of the seasonal changes."