Portland Maine WCSH Channel 6 presents local and national news and the usual sports, weather and traffic. But on a recent 207 broadcast, they reported an invasion ... an invasion of sundialists coming to Portland, Maine for their annual conference and their search for a dial made over a century ago by Albert Crehore that might still be somewhere in Portland.
Members of the North American Sundial Society (NASS) take the art and science of sundials very seriously. Watch the video and consider joining NASS for even more sundial adventures. Visit Portland Channel 6 News:
> >
An analemmatic sundial was dedicated July 4th 2016 at noon in the Frontier Heritage Park at La Pine, Oregon. The Daniel and Crystal Richer Family Foundation created a simple but accurate sundial where one's own shadow tells the time. The sundial honors veterans and the unmentioned heros of our country. The plaque sums it all: "Always Remember".
The video is from KTVZ, Channel 21: http://www.ktvz.com/news/new-la-pine-sundial-to-honor-veterans/40269620
> >
News Item from the Wet Mountain Tribune on June 30th, 2016: Custer County courthouse is getting a new sundial. Using a true north line surveyed by county commissioner Kit Shy, Charlie French is cementing a rod anchored in obsidian rock, whose shadow will align with that of the courhouse flagpole. "Taking advantage of the summer solstice on June 20, he literally nailed down the farthest reach of the flagpole shadow."
While French happily proclaims, "thanks to Harrison [whose clock allowed longitude determination in 1761], and knowing where the time zone meridian is, and how distant we are from it, we are accurate to one minute and 51 seconds of Mountain Time here in the visible solar time at the courthouse." Well, that's almost correct. French's gnomon rod and courthouse flagpole shadows align at local solar time. Mountain Time like other clock times do not match solar time due to the tilt of the earth's axis and eccentric orbit around the sun, shifting solar and clock time by +/- 15 minutes throughout the year. Read more at: http://www.wetmountaintribune.com/home.asp?i=945&p=6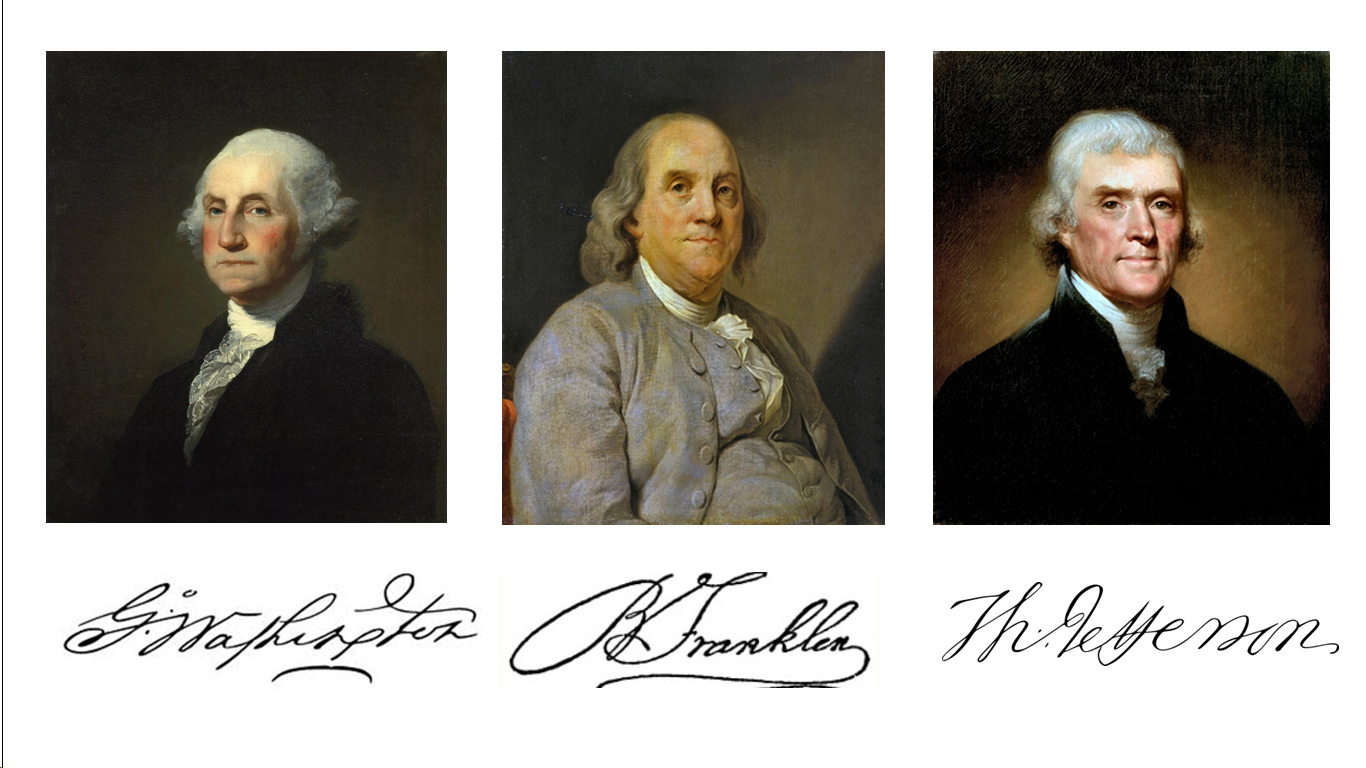 Did you know that Thomas Jefferson designed sundials and thought that a book of trigonometric tables was one of his most valuable books? And that Benjamin Franklin made a "modest" proposal for an extension of the noon-day sundial canon? Join Fred Sawyer, eminent sundialist and president of the North American Sundial Society as he explores sundial history with the United States founding fathers George Washington, Benjamin Franklin and Thomas Jefferson in three video presentations. The videos are taken from a presentation he made two years ago at the annual meeting of the NASS in Indianapolis. See these videos at: http://www.sundials.org/index.php/dial-links/videos/historic-sundials
Learn more about sundials, their construction and their history by joining the North American Sundial Society. Go to http://www.sundials.org/index.php/join-nass/join-nass and join now.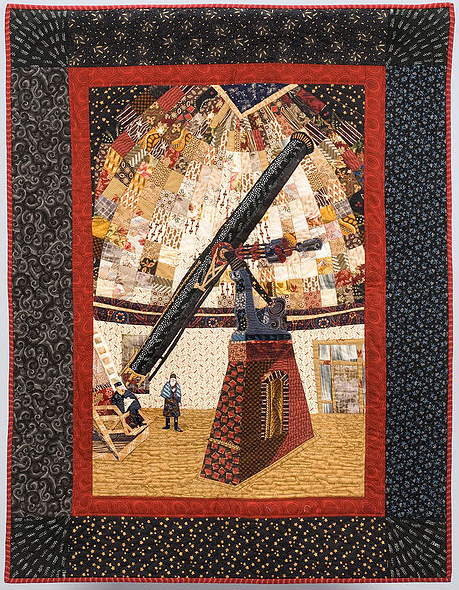 Sundials are often created at the instersection of science and art. Quilting has made its mark as well. For example in Burnsville North Carolina is the Quilt Block Sundial, painted in bright quilt blocks on a 8x8 foot board above the entrance to the Yancy Common Times Journal Building.
Now comes Altazimuth Arts, an enterprise established by Sara Schechner, well-know historian of science who is curator of Harvard's Collection of Historic Scientific Instruments. But Schechner is also active in the Studio Art Quilt Associates, Quilters' Connection of Watertown MA, and member of Quinobeguin Quilters guild. As she explains, "Recent quilts are inspired by history and the night sky, the built environment wet within nature, and by the many-faceted meanings of tangible things."
Illustrated is the US Naval Observatory 26-inch refractor made by Alvan Clark & Sons in 1873. "The inspiration for my quilt was an engraving from a newspaper story celebrating the work of the telescope. The print shows astronomer Simon Newcomb (at the eyepiece) and Superintendent Rear Admiral Benjamin F. Sands (standing) in the dome with the brand new telescope in late fall 1873. The engraving was based on a photograph of the same scene." Visit Schechner site at www.altazimutharts.com
As reported in the ArchDaily.com website on 23April 2016 by Patric Lynch, the design group Prescription in conjunction with Arup have developed a sophisticated sundial based on the analemmic path that the sun travels throughout the year. The classic "8" shaped analemma is made into a cone (think of someone stepping on an ice cream cone) and repeated with esthetic cutting of the cone top for each hour. At the bottom of the cone is a stenciled hour number and the angle of the analemmic cone only allows sunlight to poke through the stencil for the appointed hour.
The original prototype of this dial was made of flexible plastic through a 3D printing process. Prescription believes that "...the design is 100% scalable; the designers foresee applications for the design in both park and festival pavilions and home installations..."
A video of this analemmic sundial by Grisha Zotov can be seen at https://vimeo.com/161675472
The Daily Sabah reports a 2,400 year old mosaic discovered during excavations in Turkey's southern Hatay provice that shows a skeleton that according to archeologist Demet Kara fromthe Hatay Archeology Museum has an inscription that translates from ancient Greek to say "Be cherrful, and live your life."
Perhaps more interesting to sundialists is the mosaic further right. It is of a Roman attending the bath. Demet Kara explains, "...there is a sundial and a young clothed man run[s] towards it with a bare-headed butler behind. The sundial is between 9 and 10 am. 9am is the bath time in the Roman period. He has to arrive at supper at 10am. Unless he can, it is not well received. There is writing on the scene that reads he is late for supper and writing about time on the other."
Kara added, "[This is] a unique mosaic in Turkey. There is a similar mosaic in Italy but this one is much more comprehensive. It is important for the fact that it dates back to the third century BCE...Antiocheia was a very important, rich city. There were mosaic schools and mints in the city. The ancient city of Zeugma in [the southeastern province of] Gaziantep might have been established by people who were trained here. Antiocheia mosaics are world famous."
http://www.dailysabah.com/nation/2016/04/22/2400-year-old-mosaic-found-in-southern-turkey-says-be-cheerful-enjoy-your-life
http://www.hurriyetdailynews.com/be-cheerful-live-your-life-ancient-mosaic-meme-found-in-turkeys-south.aspx?PageID=238&NID=98201&NewsCatID=375