Details

Hits: 10297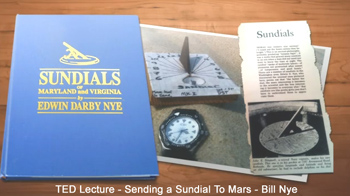 Bill Nye, The Science Guy gives a 7 minute TED-ED talk describing the excitement of creating sundials on Mars. http://ed.ted.com/lessons/sending-a-sundial-to-mars-bill-nye
TED stands for Technology, Entertainment, and Design, a nonprofit organization devoted to spreading ideas of worth. Conferences are held each year with more than 50 guest speakers to motivate the audience on many different fields and now through YouTube, you can share the excitement of sundialing.
Details

Hits: 9395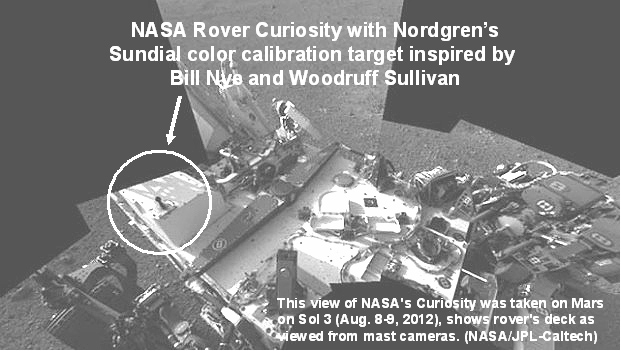 With the successful landing of the NASA rover Curiosity, another sundial is on planet Mars. Turning the color calibration target into a sundial was the idea of Bill Nye, the Science Guy, and Professor Woodruff Sullivan at the University of Washington, originally hailed by "Two Worlds – One Sun"
THese two sundial enthusiasits have been encouraging people around the world to make their own sundials and collectively participate using webcams to tell solar time around the earth. See: http://sundials.org/index.php/features/168-curiosity-sundial-launched and read the details of the sundial with the following PDF download: MarsDialReport.pdf
Curiosity's calibration target was created by Tyler Nordgren at the University of Redlands. However Nordgren and a group of six scientists, astronomers, educators, and artists (including Nye and Sullivan) went further. Said Nordgren, "But we thought, why not use this very dry boring technical piece of equipment, and turn it into something beautiful and evocative?"
The calibration target turned sundial is actually a leftover from NASA's Mars Exploration Rover (MER) Spirit. Along the edges of the sundial MARS is written out in 16 different languages. The sundial's center represents the sun with a concentric grey ring for the earth's nearly circular orbit and a displaced white ring for Mars eccentric orbit. The positions of Earth and Mars, shown respectively by a blue and red dot are placed for the date of impact at 10:32 pm Aug 5th PDT. Every MARS sundial has a date and motto. "It's sundial tradition," says Nordgren. Curiosity says "MARS 2012" and "TO MARS TO EXPLORE."
Each home-plate color slice has a phrase describing what the mission means for human exploration. It reads:
"For millennia, Mars has stimulated our imaginations. First we saw Mars as a wandering red star, a bringer of war from the abode of the gods. In recent centuries, the planet's changing appearance in telescopes caused us to think that Mars had a climate like the Earth's. Our first space age views revealed only a cratered, Moon-like world, but later missions showed that Mars once had abundant liquid water. Through it all, we have wondered: Has there been life on Mars? To those taking the next steps to find out, we wish a safe journey and the joy of discovery."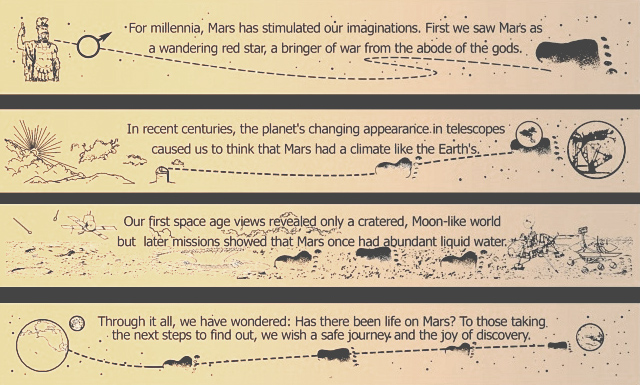 Dr. Woody Sullivan discussed the history of the Mars Dials on a recent Sundial Digest forum (11 Aug 2012, Vol. 80, Issue 8) https://lists.uni-koeln.de/mailman/listinfo/sundial
"[Above] is the first image of the latest "Mars Dial", which indeed is the calibration device for the main camera ("Mastcam") on Curiosity Rover, which landed safely in Gale Crater on Mars 5 days ago (hurrah!)."
"The Mars Dials were originally fabricated in 1999 for the Mars Rovers Spirit and Opportunity, which landed in 2004, and the latter of which is STILL working over 8 years later. To date over 35,000 images have been taken of the two Mars Dials - the most photographed thing on Mars! As mentioned below, I was intimately involved in all aspects of making these calibration devices into working sundials - design, fabrication, operations, etc. However, because of other commitments I chose not to be part of any Curiosity efforts, so my report in the following paragraph is that of a (very) interested observer."
"In order to save some money, the Curiosity Mars Dial is a slight modification of one of the 6 copies that we made in 1999. A couple of magnets were added (to try to repel dust), new plates were put on it to change various wording such as the date and, in particular, the motto. The motto is now "To Mars To Explore" rather than the previous "Two Worlds One Sun". But the biggest difference is that, as far as I know, no one is ever going to superimpose the hour/date lines so that it can actually be used as a sundial! And yet NASA's publicity continues to call it a sundial.....But I'm still very happy to see the first images of it…."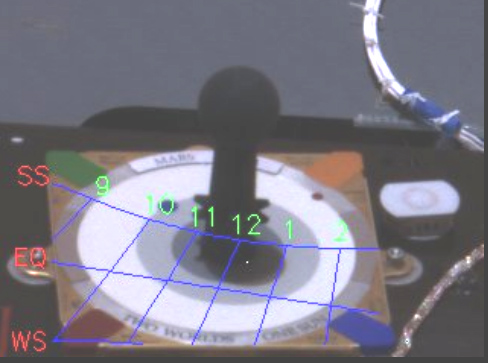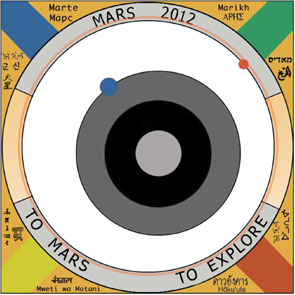 The image here is from the Mars Exploration Rover Spirit (look carefully for the motto "Two Worlds One Sun") and according to a NASA news release, "was processed by students in the Red Rover Goes to Mars program to impose hour markings on the face of the dial. The position of the shadow of the sundial's post within the markings indicates the time of day and the season, which in this image is 12:17 p.m. local solar time, late summer. A team of 16 students from 12 countries were selected by the Planetary Society to participate in this program. This image was taken on Mars by the rover's panoramic camera." [Image was produced at Cornell University - Image Nr: PIA05017]
For more details of the Curiosity sundial, read an interview with Tyler Nordgren: http://www.popsci.com/science/article/2012-08/mars-rover-curiosity and http://wtvr.com/2012/08/03/nasa-mars-rover-curiosity-will-land-early-monday/
Read more about Curiosity's instruments at http://www.nasa.gov/mission_pages/mars/main/index.html
Details

Hits: 9103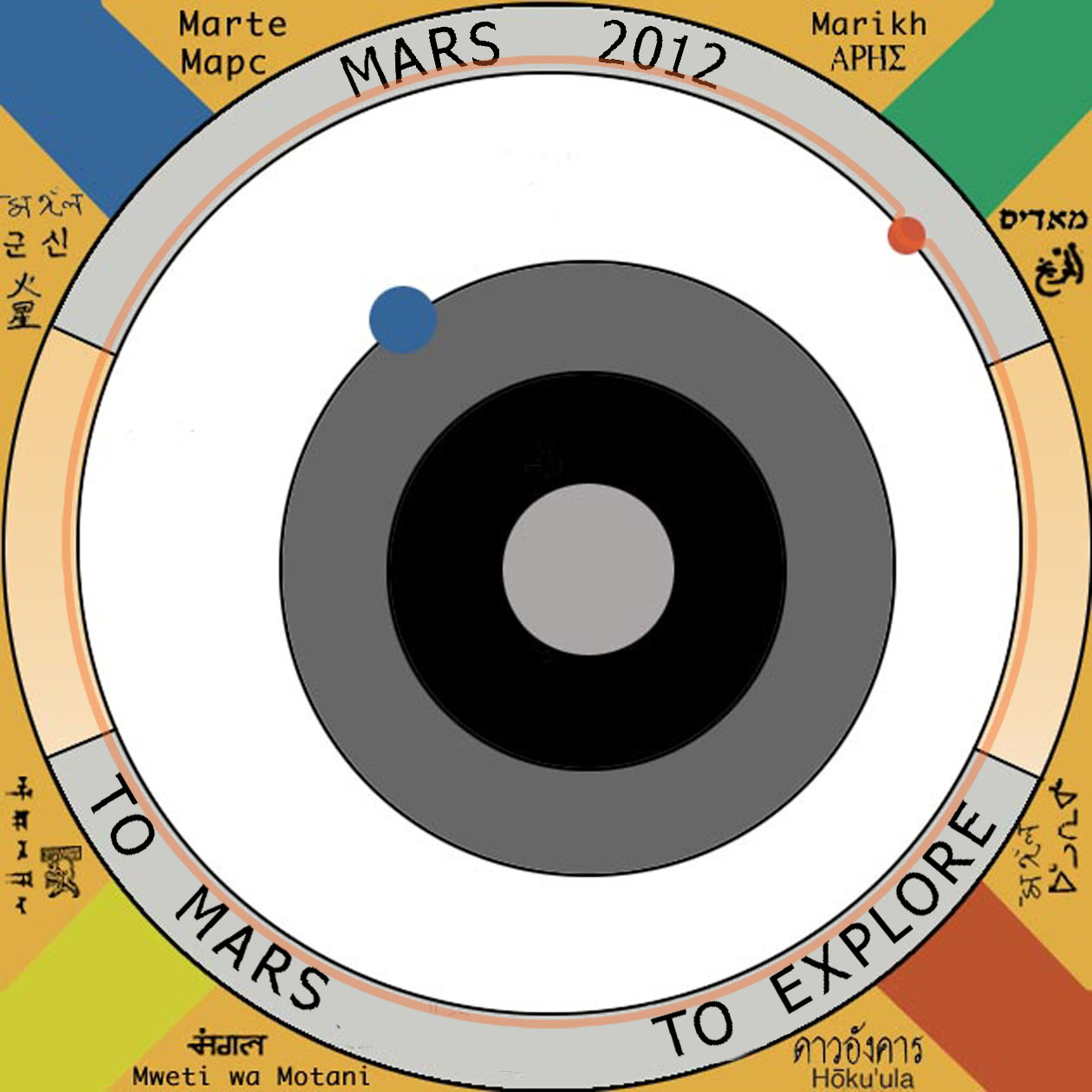 [photo courtesy of NASA]
"Two Worlds One Sun" lives on as the Mars Science Lander called Curiosity makes its way to Mars, once again carrying a camera color calibration target that will be used as a sundial. The original Mars sundial was the idea of Bill Nye, the Science Guy, and designed by Professor Woody Sullivan of University of Washington.
The spacecraft was launched toward Mars on 26 Nov 2011. Onboard Curiosity the camera calibration sundial has four edges each containing a panel of text and image, written by Jim Bell, planetary scientist from Arizona State University and the Mars Exploration Rover team with graphics designed by artist Jon Lomberg.
The digital camera and calibration target was created by Tyler Nordgren from the University of Redlands and a group of six scientists, astronomers, educators and artists worked together to create a digital camera that is calibrated to photograph the climate on Mars. On the team was Bill Nye and Professor Sullivan.
Dr. Bell now executive Director of the Planetary Society and Lomberg were both on the team that designed the similar sundials for the the Spirit and Opportunity Martian rovers. Artist Jon Lomberg has a long history in spacecraft graphics, starting with Design Director for NASA's Voyager Golden Record and a long-time collaborator of Carl Sagan. He won an Emmy Award for his work as Chief Artist of the TV series COSMOS. Read more at http://www.redlandsdailyfacts.com/news/ci_19476230 and http://citizenofthegalaxy.com/wordpress/?p=169
Details

Hits: 5784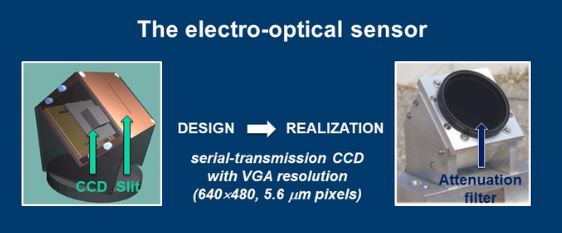 The National Agency for New Technologies, Energy and Sustainable Economic Development (ENEA) is an Italian Government sponsored research and development agency. In 2017 Sara Bollanti and her team at ENEA in Frascati developed a solar compass that "is 100 times more precise than magnetic compasses..." with applications for surveying, civil engineering, and for us, sundial alignment. The heart of the device is a combination of GPS receiver for determining both time and geographic position and a solar collector consisting of a narrow slit and a CMOS image detector. Essentially this is an electronic solar azimuth compass. A smallArduino computer uses the UTC time plus geographic coordinates to compute the local sun azimuth and then compares it to the position of the sun's projection of a slit on a CMOS detector. According to ENEA, the "...electronic solar compass is compact, completely automatic, cheap, and reaches an accuracy better than 1 arcmin. The latter is one of the best currently available values, comparable to those achievable by means of much more expensive and sophisticated devices, like coupled GPS systems (see for example U.S. patent 5,617,317A, 1997) or gyrocompasses. Furthermore, the ENEA compass provides the orientation in a few seconds, a time extremely shorter than that necessary for gyrocompasses."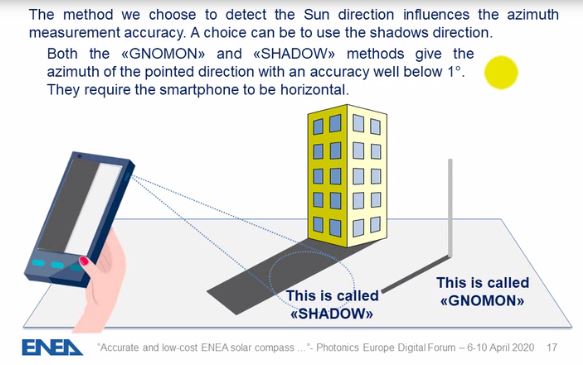 By 2018 this was tested in Antarctica and now the mathematics has been reduced to fit into your smart phone. In April 2020 the ENEA team announced the developed the smartphone app i called "SunPass". It is currently in beta testing and will soon be available at the Play Store. In basic form, the app allows you to acquire the sun azimuth by pointing toward the shadow of a vertical object such as a building ("shadow method") or the shadow of a vertical pole ("gnomon method"). A more accurate appraoch is to construct a box with a slit on the front and hole on top such that the smartphone can observe the illuminated sun line on the floor of the box ("Slit method"). For the advanced, one can construct a precision holder from a kit that mounts on a tripod.
ENEA's goal of a low cost, simple method of precision alignment is now accessible to all. This new technology implements the mathematics of determining the sun's azimuth in elegant ways. But of course it only works on sunny days.
Read more at:
http://eai.enea.it/archivio/anno-2017/astana-italy/the-enea-solar-compass-how-to-catch-more-sun-by-using-the-sun
And watch the video:
https://www.spiedigitallibrary.org/conference-proceedings-of-spie/11352/1135216/Accurate-and-low-cost-ENEA-solar-compass-for-precision-metrology/10.1117/12.2555747.full?SSO=1
Details

Hits: 6578
Whether it be Delhi or Las Vegas, artist Daku brings shadows to life, creating words that slowing change their shape but never lose their meaning through the course of the day. As reported by mymodernmet.com, "As part of the St.Art festival, which curates public art in Delhi's Lodhi district, Daku's carefully realized [shadow] installation demonstrates the power of words. The artist, whose name means 'bandit' in Hindi, had been thinking about executing this project for several years when finally given the opportunity by the festival." The anonymous artist Daku told CNN, "I had to decide the size of the letters, the length of the pieces, and the angle I could place them in so pedestrians could easily see it." mymodernmet.com concluded "The artist carefully selected which words to include—balance, order, reflection, future, seasons, space—each a reflection on movement, time, and change. Reaching its apex at mid-day, the letters slowly blur and dissolve, put to rest each evening before beginning anew."

The making of shadow writing in Las Vegas by Daku
Daku's cut-out words on the south facing walls of buildings is a clever implementation of sundial and involves a lot of subtle mathematics. Daku's lettering is placed on the wall horizontal to the ground, usually with very little change in the scale of the lettering. Mathematically the noonday lettering on the wall is lengthened by the tangent of the latitude plus solar declination. But the visible size of the lettering is foreshortened by the cosine of the upward look angle of the pedestrian on the ground.
Read more at: Daku's installation in Las Vegas and Daku's installation in Delhi
Details

Hits: 10060
As reported in the ArchDaily.com website on 23April 2016 by Patric Lynch, the design group Prescription in conjunction with Arup have developed a sophisticated sundial based on the analemmic path that the sun travels throughout the year. The classic "8" shaped analemma is made into a cone (think of someone stepping on an ice cream cone) and repeated with esthetic cutting of the cone top for each hour. At the bottom of the cone is a stenciled hour number and the angle of the analemmic cone only allows sunlight to poke through the stencil for the appointed hour.
The original prototype of this dial was made of flexible plastic through a 3D printing process. Prescription believes that "...the design is 100% scalable; the designers foresee applications for the design in both park and festival pavilions and home installations..."
A video of this analemmic sundial by Grisha Zotov can be seen at https://vimeo.com/161675472
Details

Hits: 15009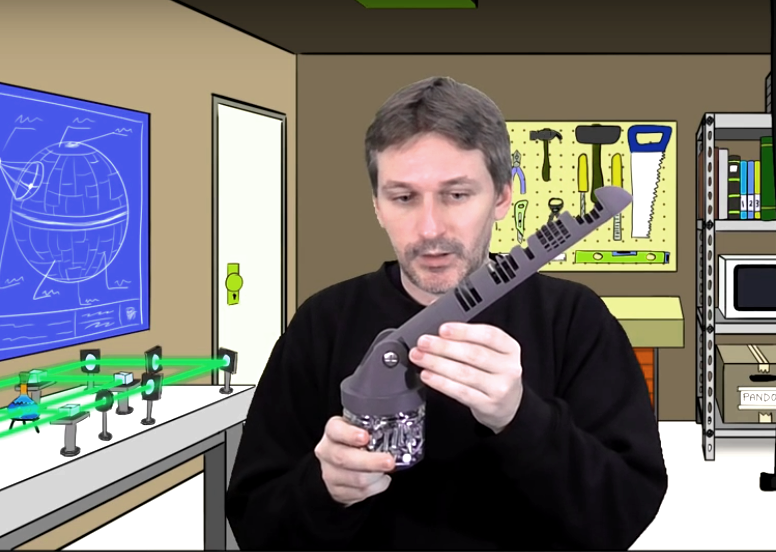 French inventor and maker of things Julien Coyne of Mojoptix has created an intriguing digital sundial gnomon that can be 3D printed. His software design (dated 13 October 2015) uses the 3D open software OpenSCAD described as "The Programmers Solid 3D Computer Aided Design Modeller".[http://www.openscad.org/about.html].
In a Mojoptix video [http://www.mojoptix.com/fr/2015/10/12/ep-001-cadran-solaire-numerique] (available in both French and English) the inventor describes how the digital gnomon shows digital time by making virtual "light tunnels" that burrow through a half-cylinder 3D software object. He accurately describes how a sundial works good (except of course for placing a penguin at the north pole) and how the "tiny tunnels" generate "a complicated Swiss Cheese" of holes and grooves that result in a gnomon that casts sunlight in a dotted pattern of numbers that change promptly every 20 minutes running from 10am (10:00) to 4pm (16:00).
The sundial is adjustable for any latitude and rotates slightly to accommodate daylight savings time, site longitude, or the date's equation of time (though no markings are made so making these angles are guesswork). His free, open software script allows 3D printing for either the Northern or Southern hemisphere.
For those who do not have a 3D printer, he makes the digital dial available from his on-line store for $54 USD plus shipping. Even with a fast 3D printer, the dial takes about 35 hours of printer time. This digital gnomon is a wonderful addition to both the world of dialing and 3D printing. The only down-side is that the dotted numerals have light tunnels placed too close together, resulting in an entrance angle of only +/- 15 deg. Since the sun annually moves +/- 23.5 deg in declination, this digital gnomon sadly won't work when the sun heads toward the summer solstice from about 1 May to 10 Aug and likewise blanks out in the winter from about 5 Nov to 5 Feb.
Details

Hits: 12559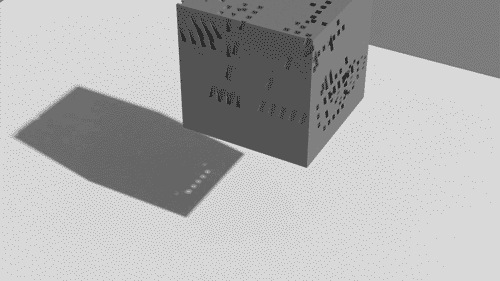 Voshart's Digital Cube
Chindōgu is the Japanese art of inventing ingenious things that are, well, Rube Goldberg. Daniel Voshart from Toronto has designed a solar time-telling cube from 59 stacked millboard plates. [See: Voshart Cube ] The result is a digital sundial, though not as universal as those patented Hines [USP 4,782.472], Scharstein [USP 5,590,093] or Kellogg [USP 05,596,553] but still, it is an interesting dial.
Select Sundials by State/Province
Who's Online
We have 263 guests and no members online
Copyright © 1995-2022-2023 North American Sundial Society - All Rights Reserved