Kevin Murphy, artist and photographer, set up a time-lapse camera on the roof of the San Francisco Exploratorium to record the sky every 10 seconds, 24 hours per day for an entire year. The camera points due north at and elevation of 45 degrees, which means that you won't see any dramatic sunrise or sunset, nor will you see a burning image of the sun. Even with the wide-angle lens, the sun is always kept just out of view. But what a wonderful view of the sky: Look closely at the video and you'll see moving clouds, fog, rain, and differing colors of the sky.
Most stunning is the changing length of the day. Summer morning twilight begins about 4:10am (Pacific Standard Time) and evening twilight ends about 8:10pm, but you must be patient for the winter sky to appear. Winter morning twilight begins about 6:50am (PST) and evening twilight ends about 5:30pm. (There's a small running clock in the bottom right corner to chart your progress). You'll see the dramatic difference between summer and winter with days in darkness patiently waiting their turn at sunrise and conversely, the fast quenching of the blue sky into darkness well before the summer frames show any sign of paling.
Each frame is digitally photographed at 1024x768 pixels, that with compression, requires about half a terabyte storage per year. Kevin Murphy has been creative with the sky display: Thumbnail videos of each day of the year are collectively represented in a tiled mosaic 20 days wide by 18 days tall, showing 360 days of sky all at once. The images are arranged chronologically, and are synchronized by time of day, beginning before summer sunrise. Time is compressed in playback at 24 frames/second so that each second represents 4 minutes of time.
This is still a work still in progress: As the camera on the Exploratorium roof continues to collect images of the sky, they will be integrated into the daily montage. Therefore the video will vary from day to day, always displaying the most recent 365 days.
Visit http://www.murphlab.com/hsky/ for more information. Below is his video. It's best played in full-screen HD resolution. Click the middle arrow to start, then click the bottom right frame box.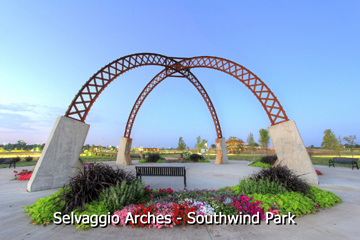 Southwind Park in Springfield Illinois is a National Model Park. It got its start in October 2004 when trustees accepted the donation of 80 acres of land just off South Second Street. Their website states "Our unique state-of-the-art park serves as a national model by proving a new dimensions of inclusion for all people." A park without boundaries that accomodates people in wheelchairs and visitors with special needs.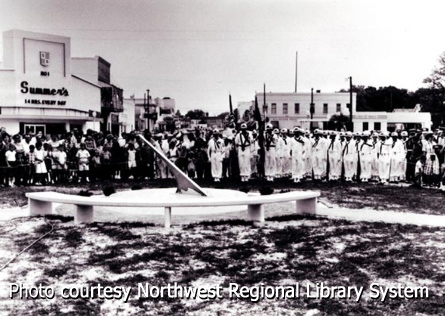 Many sundials do not survive the raveges of time. Buildings are destroyed and the sundial goes to oblivion. However, Panama City Commissioners had a different view of the sundial once located across from the Marina Civic Center.
Read The Seattle Times article of May 14, 2013: http://seattletimes.com/html/localnews/2020985468_sundialxml.html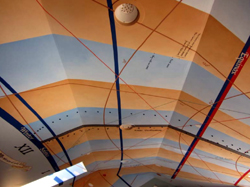 In the May 14, 2013 edition of The Seattle Times University of Washington professor Woody Sullivan was honored as 'Mr. Sundial' for his persistence in declaring Seattle as the Sundial Capital of North America. Dr. Sullivan has worked on more than a dozen dials in Seattle, including the large 20x30 foot vertical dial on southwest wall of the Physics and Astronomy building at UW and the elegant 11x17 foot reflection sundial painted on the ceiling of his garage at N 47° 41.232, W 122° 21.562. A small circular mirror outside the south facing window reflects a spot of light onto the ceiling.
The reflection sundial was a labor of love taking over 3 years to create. Woody marked over 700 locations on the ceiling that allowed him to draw the local solar time, dates, hours of daylight, solar azimuth and altitude, analemma, and even hours to dawn. And being a radio astronomer, he marked the transit sidereal time for two radio sources. The dial was painted with marvelous beauty by a local mural artist, Jim Noonan. The sundial is very personal to Woody, showing time marks for the date he married to the birthdays of himself, his wife, and two daughters. The zodiac painted along the ecliptic has a local touch, representing Pisces by a pair of sockeye; Cancer by a Dungeness crab; and Capricorn as a mountain goat. There is even a compass rose.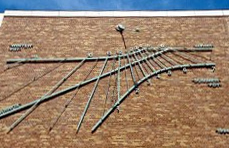 Fred Sawyer, president of the North American Sundial Society (NASS) is quoted by Erik Lacitis, Seattle Times staff reporter, saying "it's likely true that Sullivan's garage sundial is one of the best in North America." When the NASS visited Seattle for the 2011 annual sundial conference, they visited Woody's Reflection Dial and a marker was added to it for the date and time of itsofficial dial dedication held on Saturday 22 August 2011. "We toasted the sundial with an appropriate wine, 'Wehlener Sonnenuhr' by Joh. Hos. Prum, the fine Mosel Kabinett from the German vineyard with a large vertical sundial." said Roger Bailey, the society's secretary.
Among Dr. Sullivan's accomplishments in the world of sundials began in the early 1990's when the University of Washington's Physics and Astronomy Building was being designed. He suggested a large vertical (southwest declining) sundial. The dial was completed in 1994 and Woody was hooked. He also helped design sundials used on the Mars exploration rovers Sprit and Opportunity that landed ion the Martian surface in 2004. A campaign to build sundials all around our world ensued with the motto "Two Worlds One Sun". [photos from NASS]
[photo courtesy of Kathleen Gust, Terman Engineering Library, Stanford Univ]
In 1995 Professor Emeritus Bracewell designed a vertical declining dial for the south face of the Terman Engineering Building at his Stanford University home campus in Palo Alto. But the building was torn down in 2011 and by March 2012 nothing but landscaping of the new Terman Park remained. Fortunately Prof. Ronald Bracewell's sundial once again casts its solar time on the south wall of the Stanford Jen-Hsun Huang Engineering Center. Both the Huang and old Terman building have similar south-south-west alignments allowing the dial to be remounted without adjustment. [http://library.stanford.edu/blogs/stanford-libraries-blog/2013/04/sundial-returns-engineering-center].
Need a small sundial for your display or science project? Want to show how different sundials cast shadows? Need a simple cut-out science exercise for your students? Fabio Savian of Milan Italy has the solution. For a number of years he has managed the Sundial Atlas website, ever increasing the number of sundial photos from around the world. Over the last several years he has worked very hard to create the gnomolab that includes a solar compass map of the earth, cloud software for creating analemmatic (human shadow) sundials, and a section for making paper sundials to your specification. The analemmatic dial measurements and papger dial designs are created as download PDF files. Four of those dials were created by the North American Sundial Society. Enjoy. Sundial Atlas Paper Sundials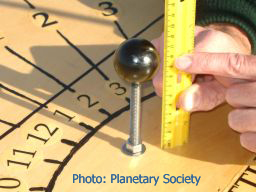 The Planetary Society and Bill Nye, The Science Guy, are bringing back the Earth Dial, which is a simple to make gnomonic horizontal sundial reminiscent of the sundial incorporated into the Mars rovers Spirit, Opportunity and now Curiosity. Their original and fundamental purpose is to serve as test patterns for the rover cameras, but they also provide an opportunity as unique shadow casting sundials.
"Since we had shadows being cast on Mars, I suggested it be a sundial… I admit I was quite enthusiastic about it. Steve Squyres, the Principle Investigator on the Spirit and Opportunity missions, made the call, and the Mars Dials were created. He received the [Planetary] Society's Cosmos medal a few years ago, for his wonderful leadership of the project."