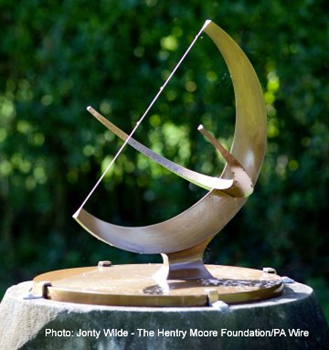 Update: On Saturday July 22nd, less than two weeks after the Henry Moore sundial was stolen, it was recovered by detectives after receiving tips from the British Crimewatch television series. Three young men, all from Essex, have been arrested on suspicion of two counts of theft and are currently in police custody.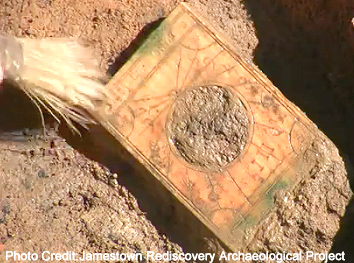 [photo courtesy of the Jamestown Rediscovery Archaeology Project]
At historic Jamestown, Virginia, the first successful English colony in the New World, a rare 17th century ivory sundial was found during recent excavations. You can read about it in Popular Archaeology June-2012
A small ivory diptych sundial was discovered during the Jamestown Rediscovery Archaeological Project dig of soil where a cellar stood as part of the early James Fort. The pocket dial was crafted by Hans Miler, most probably of Nuremberg, Germany. You can see a similar Nuremberg Diptych Sundial from Metropolitan Museum of Art made by Hans Troschel the Elder. http://www.metmuseum.org/toah/works-of-art/03.21.38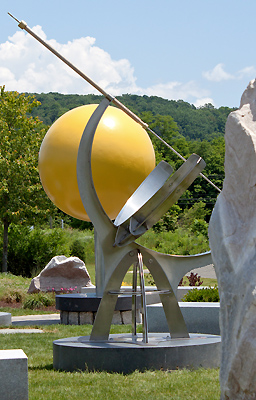 [photo courtesy of volunteers at the McCarthy Observatory ]
On Saturday, June 9th 2012, the volunteers of the John J. McCarthy Observatory in New Milford, CT, dedicated a 9-foot stainless steel sundial as the centerpiece of "Galileo's Garden" adjacent to the John J. McCarthy Observatory. The sundial was built and dedicated in memory of Kathleen Fischer, a sixth-grade science teacher who inspired many students to pursue science.
The sundial is an open armillary, with an adjustable hour band for standard and daylight time. At the tip of the gnomon is a bronze and brass true-size rendering of Galileo's first telescope, honoring the 400 years since Galileo explored the heavens. The North American Sundial Society was privileged to donate to this effort.
NASA has taken outstanding video of the June 6th 2012 transit of Venus. Images were recorded by the NASA Solar Dynamics Observatory Satellite that records the sun's surface and corona at a number of visible light and ultraviolet wavelengths. [See sdo.gsfc.nasa.gov] These images showing the 2012 transit of Venus were recorded at a wavelength of 171 Angstroms (AIA 171) (Extreme Ultraviolet). This channel is especially good at showing coronal loops - the arcs extending off of the Sun where plasma moves along magnetic field lines. The brightest spots seen here are locations where the magnetic field near the surface is exceptionally strong.
NASA video source and images may be found at http://svs.gsfc.nasa.gov/vis/a010000/a010900/a010996/index.html
Don't miss the Solar Eclipse this Sunday, May 20th. Times of the eclipse can be found at http://eclipse.gsfc.nasa.gov/OH/OHtables/OH2012-Tab02.pdf
For those of you in the San Francisco – San Mateo California area, Bill Gottesman, NASS dialist, has created an "eclipse clock", a new type of paper sundial made specifically for the partial solar. You need a simple pin-hole projector (a card with a small hole in it) to cast a shadow of the eclipsed sun. The angle of the moon's shadow tells accurate time (at least for San Mateo California). Bill will discuss how he made this dial at the NASS Sundial Conference in Asheville this August. Come find out how he did it.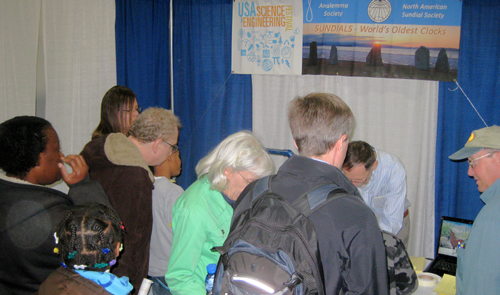 On April 28-29, the North American Sundial Society and Analemma Society participated in the USA Science & Engineering Festival in Washington DC, presenting "Sundials – The world's oldest clocks" at the Walter E. Washington Convention Center in Washington D.C.
Photo shows opening day with Ken Clark and Jeff Kretsch helping students learn about sundials while parents look on. A great first day at the Science and Engineering Festival. And the second day was equally exciting.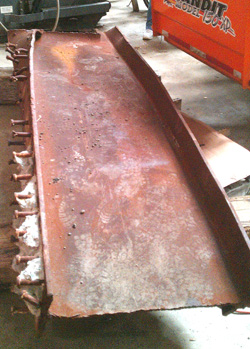 Todd Petty reported in the Hunterdon County Democrat that Tom Carpenter, a member of Fire Company 13 for forty-three years, presented plans to the city council for a 9/11 memorial in Veteran's Park located in Hampton Borough, New Jersey.
The park has memorials honoring local veterans from The Great War to those of the conflicts in Iraq and Afghanistan. During the twin tower collapse of 9/11 Tom Carpenter recalled, "Thank God we didn't have anyone from Hampton Borough, but Lebanon and Bethlehem did. We did respond to Ground Zero within hours …and spent two days there. Hampton does have a direct connection [to 9/11] and we're proud of it."