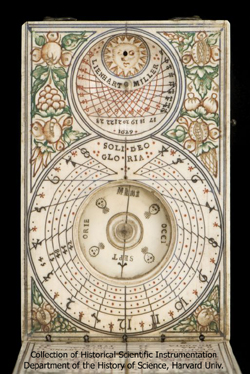 [CHSI - Harvard Collection]
Appropriate to NASS' visit, Harvard had just recently completed a new major exhibit entitled "Time and Time Again" offering conference members a unique view on the changes in time keeping and the social impact of timekeeping technology. On Friday afternoon, NASS members followed the Time Trails through the Harvard campus, locating historical sundials "in the wild" and timepieces in the Semitic, Peabody, and Natural History Museums.
The day was finished by two presentations "Trading in Time: European Pocket Sundials Designed for Colonial Use in American Territories by Sara Schechner and "Portable Sundials in Austrian Museums" by Ilse Fabian.
During Saturday a plethora of sundial talks were presented by NASS members, including "Counting the Sunny Hours" by Roger Bailey to a new "Wandering Gnomon Sundial Designn" by Fred Sawyer. Bob Kellogg presented the making of an animation illustrating the Ibn al-Shatir sundial proposed for Observatory Park in Virginia for the Analemma Society. One of the most color presentations was Art Paque's update on Solargraphy, illustrating the technique of forming daily images of the sun a photographic paper that at the last is digitally scanned and preserved.
> >
Eight years ago the University of Western Australia (UWA) commissioned a talented graduate, artist Shaun Tan, to create an impressionistic sundial for the 100th anniversary of UWA. The fundamentals of the west-facing sundial were delineated by UWA Professor Peter Kovesi of the Geophysics and Image Analysis Group.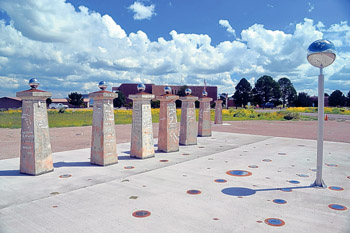 Bracewell Memorial Sundial at VLA
Photo Credit: NRAO/AUI/NSF
In 1961 Professor Ronald Bracewell at Stanford University created an X shaped array (called a "Chris-Cross array" for W.R. "Chris" Christiansen) using 32 10-foot diameter dish antennas to form a radio spectroheliograph nestled in the hills of Palo Alto, California.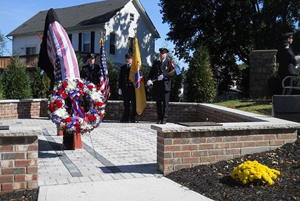 Tom Carpenter, a member of the Hampton fire company for 44 years, presented plans for a 9/11 memorial to the Borough Council at the beginning of 2012 and Councilman James Cregar began designing the memorial as a sundial using beams recovered from Ground Zero of the Twin Towers.
> >
The Battle Point Astronomical Association, founded in 1992, provides astronomical observing for science education and public enjoyment at Ritchie Observatory and Planetarium in Battle Point Park on Bainbridge Island, Washington.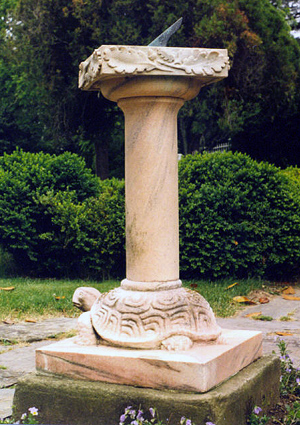 Photos Courtesy of Oatlands Historic House and Garden
Sitting peacefully in the garden of the Oatlands Historic House and Garden near Leesburg VA, is a beautiful, but sadly in need of repair sundial. Each year the Virginia Association of Museums, comprising over 500 museums and historical sites within the state, receives nominations for conservation of Endangered Artifacts.
Kevin Murphy, artist and photographer, set up a time-lapse camera on the roof of the San Francisco Exploratorium to record the sky every 10 seconds, 24 hours per day for an entire year. The camera points due north at and elevation of 45 degrees, which means that you won't see any dramatic sunrise or sunset, nor will you see a burning image of the sun. Even with the wide-angle lens, the sun is always kept just out of view. But what a wonderful view of the sky: Look closely at the video and you'll see moving clouds, fog, rain, and differing colors of the sky.
Most stunning is the changing length of the day. Summer morning twilight begins about 4:10am (Pacific Standard Time) and evening twilight ends about 8:10pm, but you must be patient for the winter sky to appear. Winter morning twilight begins about 6:50am (PST) and evening twilight ends about 5:30pm. (There's a small running clock in the bottom right corner to chart your progress). You'll see the dramatic difference between summer and winter with days in darkness patiently waiting their turn at sunrise and conversely, the fast quenching of the blue sky into darkness well before the summer frames show any sign of paling.
Each frame is digitally photographed at 1024x768 pixels, that with compression, requires about half a terabyte storage per year. Kevin Murphy has been creative with the sky display: Thumbnail videos of each day of the year are collectively represented in a tiled mosaic 20 days wide by 18 days tall, showing 360 days of sky all at once. The images are arranged chronologically, and are synchronized by time of day, beginning before summer sunrise. Time is compressed in playback at 24 frames/second so that each second represents 4 minutes of time.
This is still a work still in progress: As the camera on the Exploratorium roof continues to collect images of the sky, they will be integrated into the daily montage. Therefore the video will vary from day to day, always displaying the most recent 365 days.
Visit http://www.murphlab.com/hsky/ for more information. Below is his video. It's best played in full-screen HD resolution. Click the middle arrow to start, then click the bottom right frame box.