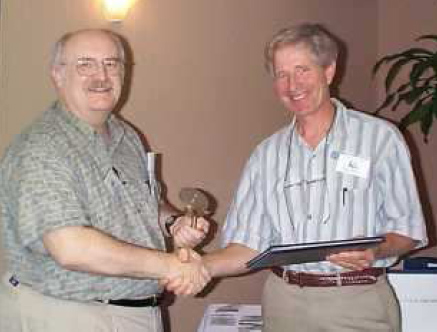 At the 2001 NASS Conference in Montreal, Canada, Fred Sawyer presented the Sawyer Dialing Prize to Robert Adzema, with the award given "in recognition of his demonstrations, in sculpture and in print, that with a sundial we can experience light as a tangible form and "time and place" as inseparable." Fred presented Robert with the certificate of recognition and a beautiful trophy equatorial by Tony Moss. Robert will donate the Sawyer cash prize to a worthy cause.
Robert describes "my sundials are abstract sculptures that measure the apparent motion of the sun throughout the day, the seasons and even the year. These mostly large, public works are carefully laid out, accurate both mathematically and geometrically, cast or fabricated in bronze, steel or stone and permanently set for their exact location. They are about sunlight and shadow."
For more of Adzema's work, read about the Suffern Free Library Sundial in The Compendium [Vol. 8 No. 4] December 2001 or visit http://www.robertadzema.com/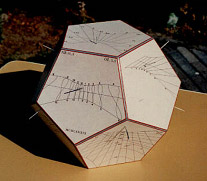 At the 2000 NASS Conference in San Francisco, CA, Fred Sawyer announced the presentation of the first annual Sawyer Dialing Prize to Fer J. de Vries "in recognition of his many years of dedication to dialing, and in gratitude for his development of Zonwvlak and his always helpful encouragement and support of the global dialing community."
Fer could not attend the conference, but he sent a letter of appreciation asking that the cash award be donated in his name to the University of California Regents for use as a one-time prize fund for U.C. Berkeley's Architecture 140 course where students are required to make a sundial.