At North American Sundial Society (NASS), a not-for profit organization, we respect your privacy. As a not for profit organization we accept no advertising and have no third-party vendors. NASS is committed to protecting the privacy of its members, volunteers, and sundial supporters. This privacy policy applies to all personal data processed by NASS.
What information do we collect?
NASS collects the following personal data in line with the use purposes explained in a subsequent section:
Your name, address and email contact address
Registration and participation information for attendees of the NASS annual conference
How do we use your information?
NASS uses your personal information for the following purposes:
Subscription transactions to receive the NASS journal The Compendium.
Contact information provided by you to report new/existing sundials for the NASS Sundial Registry.
Registration and participation information for the NASS annual conference.
Authors making Email exchanges with the NASS editor for article publication in the NASS journal, The Compendium.
Processing Transactions: NASS uses PayPal for electronic transfer of funds and does not nor is able to collect financial information such as credit card number, expiration date, and CSC number. NASS does record name and amount tendered. Those paying for subscription by check are deposited in NASS bank accounts. NASS retains name, address, amount, and email address if provided.
Registration of Sundials: NASS may contact you to get more information about your reported sundial. This is to insure the quality of sundial information provided to the public on the NASS website sundial registry of dials in North America.
Participation in the NASS annual conference: Occasionally NASS will use your address to determine your approximate latitude for conference favors. It is normal for participants to register their conference dinner preferences.
Authoring of Compendium Articles: If you choose to submit an article for publication in The Compendium the NASS Editor exchange email with you and through email, may provide you a galley proof of the article. Author's name and contact information is published with The Compendium article.
What Information do we Retain?
Record Retention: NASS maintains a policy on Document Retention available on the NASS website at: http://www.sundials.org/index.php/home/policies-finance/227-policy-on-document-retention
Cookie Information: NASS website does not use tracking and does not collect any personal information. NASS only uses anonymous session-based cookies that last only for the duration of the user's session. You may find our Cookie Policy at: http://www.sundials.org/index.php/home/policies-finance/257-policy-on-cookies
What are my protections?
To protect your data against third parties: NASS does NOT share your personal data with any third parties in connection with services other than NASS volunteers that directly perform NASS functions such as addressing, mailing, or preparing The Compendium. If you are a NASS member and subscriber to The Compendium, you can review, revise, and correct the personal data that you have provided to NASS by contacting the This email address is being protected from spambots. You need JavaScript enabled to view it..
To protect NASS content and services: We may use your information to prevent potentially illegal activities and to enforce our terms and conditions. We also use a variety of technological systems to detect and address anomalous activity and to screen content to prevent abuse, such as spam. These efforts may, on occasion, result in a temporary or permanent suspension or termination of some functions for some users.
Personal data about minors and children: NASS does not knowingly collect data from or about children under 16 without the permission of parent(s)/guardian(s). If we learn that we have collected personal information from a child under 16, we will delete that information as quickly as possible. If you believe that we might have any information from or about a child under age 16, please contact us.
How will you know if the Privacy Policy is changed?
NASS may update its Privacy Policy from time to time. If we make any changes, we will post the updated Privacy Policy and post notice on this website prior to the change becoming effective. We encourage you to periodically review this page for the latest information on our privacy practices.
Responses to legal requests: NASS reserves the right to share your information to respond to duly authorized information requests of governmental authorities or where required by law. In the event of reorganization your information may be transferred as part of that transaction. The promises in this privacy policy will apply to your information as transferred to the new entity.
Your European Union privacy rights: Under the General Data Protection Regulation (Regulation EU 2016/679) (also known as GDPR), if you are an individual protected by the GDPR you may have certain rights as a data subject. To request information about or avail yourself of those rights, please send an email to This email address is being protected from spambots. You need JavaScript enabled to view it. with "GDPR Request" in the subject line. In the email please describe, with specificity, the GDPR right you are requesting assistance with. Please note additional information may be requested prior to initiation of a request. Upon NASS completion of its review you will be notified if your request has been granted, denied, or exemptions apply.
Your California privacy rights: Under California Civil Code Section 1798.83 (also known as S.B. 27), if you are a California resident and your business relationship with NASS is primarily for personal, family, or household purposes, you may request certain data regarding NASS disclosure, if any, of personal information to third parties for the third-parties' direct marketing purposes. Please note that NASS does NOT provide your information to third parties for any purpose. If you believe NASS has violated this policy, you have the right to make such a request. Please send an email to This email address is being protected from spambots. You need JavaScript enabled to view it. with "Request for California Privacy Information" in the subject line. You may make such a request up to once per calendar year.
How do I contact you if there is an issue? If you have any questions or concerns about this Privacy Policy or about the use of your personal information, please feel free to contact us by email at Please send an email to This email address is being protected from spambots. You need JavaScript enabled to view it.
Date : 20 May 2018
Ver 1.0
Contact information:
This email address is being protected from spambots. You need JavaScript enabled to view it.
4-7059 Ash Crescent,
Vancouver, BC, V6P 3K6
Canada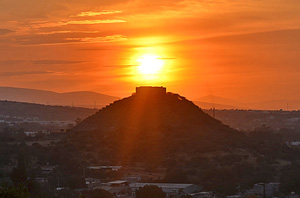 Pyramid of El Pueblito, Corregidora,Mexico
photo by Ruben Nohuitol
See the world in a new light:
Join or Renew your membership in NASS and receive your quarterly issues to The Compendium and keep up with sundial construction, history, and events.
Annual membership in the North American Sundial Society includes four issues of The Compendium, available in print, CD-R discs, or down-loadable digital editions. Since June 2010, the print edition comes in full color, while the CD-R and digital editions not only come in digital color, but from time to time offer software features and other bonus material not available in print. The Digital Compendium is available in PDF format by Internet download or on a CD-R disc sent via postal mail. PDF documents can be read using Adobe Reader® or other PDF applications such as PDF Complete. NASS membership and subscription can be made for one or two years, with North American and rest of world rates.
New Membership Rates
We offer 1 and 2 year subscriptions when you join or renew NASS membership. You may use PayPal with one of the following pull-down tabs with Compendium subscription option. If you do not want to use PayPal, download the subscription form (see below).
REMEMBER TO PROVIDE NAME, ADDRESS, and EMAIL
NORTH AMERICAN RATE
MEMBERSHIP Plus COMPENDIUM NASS Rates Effective December 1, 2016
INTERNATIIONAL RATES BEYOND NORTH AMERICA
MEMBERSHIP Plus COMPENDIUM NASS Rates Effective December 1, 2016
Or, you can use the membership form and pay US Dollars sent to NASS Vice President Art Paque or for those in the United Kingdom pay in GB Pounds sent to Graham Aldred. If paying by check, include your subscription option, address and email address: DOWNLOAD SUBSCRIPTION FORM BELOW
In North America In the United Kingdom
Make Check Payable to: NASS Make Check Payable to: NASS UK
Send Check & Form to: Send Check & Form to:
Art Paque Graham Aldred
4229 South Coventry Court 4 Sheardall Avenue, Disley
New Berlin, WI 53151, USA Stockport SK12 2DE, UK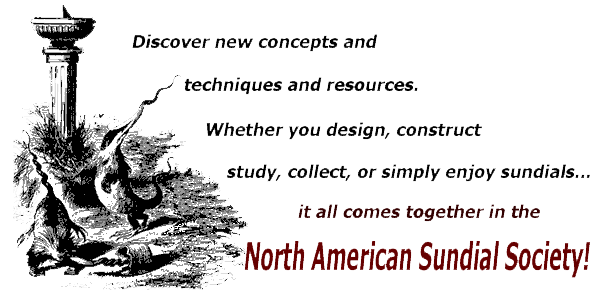 The North American Sundial Society operates with transparency. Attached are Statement of Financial Position and Statement of Financial Activity and filings with the Internal Revenue Service and the State of Maryland, where the North American Sundial Society is incorporated.
What is a cookie?
A cookie is a small field of letters and numbers that we temporarily store on your browser and will be remembered by your computer and stored on your hard drive.
What does our cookie do?
Our website uses cookies, as do almost all modern websites, to distinguish you from other users and remember you during your visit. These are sometimes called session cookies. This helps us to provide a good experience when you browse our website. Our cookies:
Provide an anonymous code to distinguish you from other users
Remember website settings such as font sytle, font size, and primary lanuage
Temporarily use technical information such as browser and operating system to format window content
Improve the speed of paging through our website and to anonymously record volume of data transferred
Increase security by reducing the potential of hacks
Is our cookie safe?
We do not use tracking cookies nor targeting cookies for advertising. We do log the pages visited and articles selected as part of our evaluation of analytic performance. Our server logs the number of visits per hour and network domains (.net, .com, .uk, etc.) Here is an example of the long term visit statistics we keep at www.sundials.org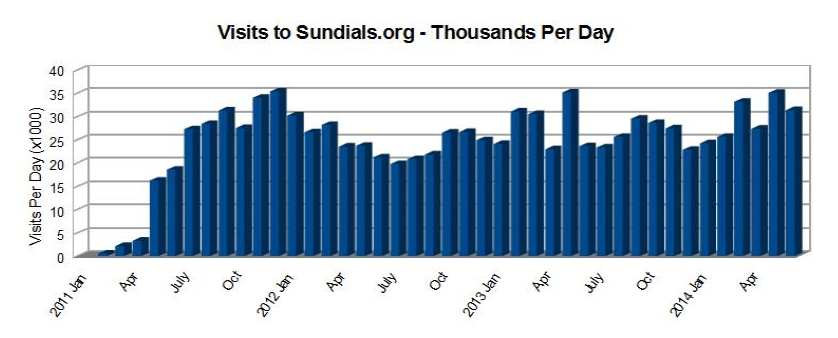 How to protect yourself from malicious cookies
When you transfer to an outside website, you are leaving the NASS domain, and NASS information management policies no longer apply. NASS encourages you to read the privacy statement of each external website that you visit before you provide any personal data. Some of those sites may have tracking cookies that NASS does not control.
You can block cookies by activating the setting on your browser that allows you to refuse the setting of some or all cookies. We suggest consulting the Help section of your browser or visiting About Cookies website or The Security Skeptic which offer guidance for protecting modern browsers and operating systems. However, if you use your browser settings to block all cookies (including essential session cookies such as ours) you may not get full functionality from our website. By using the site you agree to our use of cookies.
It may be that your concerns of cookies relate to so called "spyware" and "tracking". Rather than switching off cookies in your browser you may find that anti-spyware software achieves the same end by automatically deleting cookies considered to be invasive. Anti-spyware software is available from sources such as Spy Bot - Search and Destroy and Norton-Symantec. Cookie management extensions for the Firefox browser (highly recommended) that destruct cookies after browsing sessions are available at Mozilla Firefox Addons.
North American Sundial Society
Conduct Policy
The North American Sundial Society (NASS) is a not-for-profit, 501(c)(3) organization registered in the state of Maryland. Not-for-profits are able to receive federal and state tax- exempt status. This means NASS is not required to pay federal or state income taxes during the fiscal year. To receive tax-exempt status, NASS must:
Operate exclusively for the purposes set forth in the NASS charter.
None of the NASS funds may inure to any individual.
NASS cannot attempt to influence legislation nor participate in any campaign activity for or against political candidates.
To ensure that NASS provides sufficient transparency, checks and balances, we will conduct all of our business in conformance to the following:
NASS operation is done transparently amongst all board members via email exchanges wherein NASS operations are discussed and, when necessary, voted upon by the board. Emails of the board transactions are maintained by the Secretary. The Annual General Meeting is held in accordance with NASS By Laws, with minutes of proceedings recorded and formally approved by the board. Minutes of the Annual General Meeting are published to all NASS members.
The Annual General Meeting is held in accordance with NASS By Laws, with minutes of proceedings recorded and formally approved by the board. Minutes of the Annual General Meeting are published to all NASS members.
NASS fiduciary responsibilities are distributed amongst the board and are transparent. Subscription income designated to the society is received by the Membership chair. Income is forwarded to the Treasurer for deposit in NASS accounts. The Treasurer also reviews on-line payment systems (e.g. PayPal) to ensure transactions match NASS bank account transfers. Receipt and transfer of funds are announced via email. Subscriptions are confirmed by the Vice President..
All legitimate expenses by members on behalf of NASS are recorded by the Treasurer and verified by retained documentation. Monthly summaries of financial transactions are electronically published to all Board members. The Treasurer makes the financial books of NASS available to members and the public upon request. Statements of Financial Position are published in accordance with By Laws and are presented yearly at the Annual General Meeting and published to all NASS members.
This policy shall be reviewed annually.
Approved: 21 Oct 2013
Updated: 18 June 2015