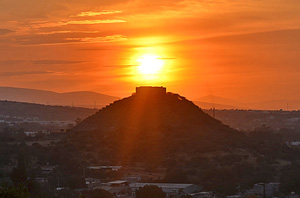 Pyramid of El Pueblito, Corregidora,Mexico
photo by Ruben Nohuitol
See the world in a new light:
Join or Renew your membership in NASS and receive your quarterly issues to The Compendium and keep up with sundial construction, history, and events.
Annual membership in the North American Sundial Society includes four issues of The Compendium, available in print, CD-R discs, or down-loadable digital editions. Since June 2010, the print edition comes in full color, while the CD-R and digital editions not only come in digital color, but from time to time offer software features and other bonus material not available in print. The Digital Compendium is available in PDF format by Internet download or on a CD-R disc sent via postal mail. PDF documents can be read using Adobe Reader® or other PDF applications such as PDF Complete. NASS membership and subscription can be made for one or two years, with North American and rest of world rates.
New Membership Rates
We offer 1 and 2 year subscriptions when you join or renew NASS membership. You may use PayPal with one of the following pull-down tabs with Compendium subscription option. If you do not want to use PayPal, download the subscription form (see below).
REMEMBER TO PROVIDE NAME, ADDRESS, and EMAIL
NORTH AMERICAN RATE
MEMBERSHIP Plus COMPENDIUM NASS Rates Effective December 1, 2016
INTERNATIIONAL RATES BEYOND NORTH AMERICA
MEMBERSHIP Plus COMPENDIUM NASS Rates Effective December 1, 2016
Or, you can use the membership form and pay US Dollars sent to NASS Vice President Art Paque or for those in the United Kingdom pay in GB Pounds sent to Graham Aldred. If paying by check, include your subscription option, address and email address: DOWNLOAD SUBSCRIPTION FORM BELOW
In North America In the United Kingdom
Make Check Payable to: NASS Make Check Payable to: NASS UK
Send Check & Form to: Send Check & Form to:
Art Paque Graham Aldred
4229 South Coventry Court 4 Sheardall Avenue, Disley
New Berlin, WI 53151, USA Stockport SK12 2DE, UK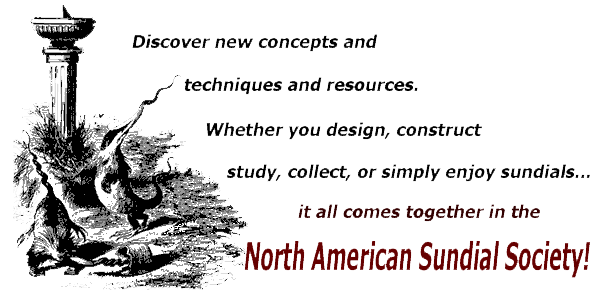 The North American Sundial Society operates with transparency. Attached are Statement of Financial Position and Statement of Financial Activity and filings with the Internal Revenue Service and the State of Maryland, where the North American Sundial Society is incorporated.
What is a cookie?
A cookie is a small field of letters and numbers that we temporarily store on your browser and will be remembered by your computer and stored on your hard drive.
What does our cookie do?
Our website uses cookies, as do almost all modern websites, to distinguish you from other users and remember you during your visit. These are sometimes called session cookies. This helps us to provide a good experience when you browse our website. Our cookies:
Provide an anonomous code to distinguish you from other users
Remember website settings such as font sytle, font size, and primary lanuage
Improve the speed of paging through our website
Increase security by reducing the potential of hacks
Is our cookie safe?
We do not use tracking cookies nor targeting cookies for advertising. We do log the pages visited and articles selected as part of our evaluation of analytic performance. Our server logs the number of visits per hour and network domains (.net, .com, .uk, etc.) Here is an example of the long term visit statistics we keep at www.sundials.org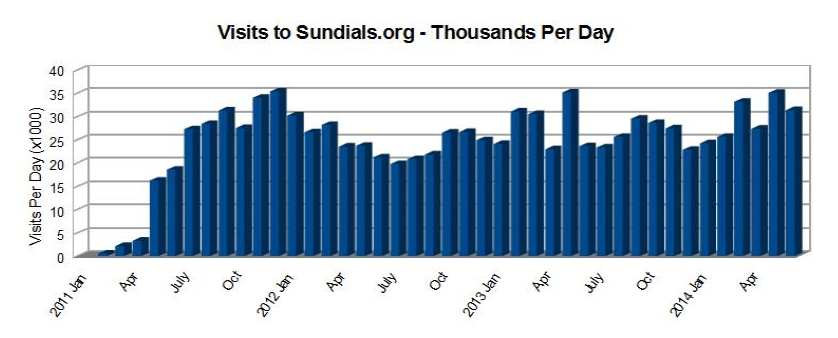 How to protect yourself from malicious cookies
You can block cookies by activating the setting on your browser that allows you to refuse the setting of some or all cookies. We suggest consulting the Help section of your browser or visiting About Cookies website or The Security Skeptic which offer guidance for protecting modern browsers and operating systems. However, if you use your browser settings to block all cookies (including essential session cookies such as ours) you may not get full functionality from our website. By using the site you agree to our use of cookies.
It may be that your concerns of cookies relate to so called "spyware" and "tracking". Rather than switching off cookies in your browser you may find that anti-spyware software achieves the same end by automatically deleting cookies considered to be invasive. Anti-spyware software is available from sources such as Spy Bot - Search and Destroy and Norton-Symantec. Cookie management extensions for the Firefox browser (highly recommended) that destruct cookies after browsing sessions are available at Mozilla Firefox Addons.
North American Sundial Society
Conduct Policy
The North American Sundial Society (NASS) is a not-for-profit, 501(c)(3) organization registered in the state of Maryland. Not-for-profits are able to receive federal and state tax- exempt status. This means NASS is not required to pay federal or state income taxes during the fiscal year. To receive tax-exempt status, NASS must:
Operate exclusively for the purposes set forth in the NASS charter.
None of the NASS funds may inure to any individual.
NASS cannot attempt to influence legislation nor participate in any campaign activity for or against political candidates.
To ensure that NASS provides sufficient transparency, checks and balances, we will conduct all of our business in conformance to the following:
NASS operation is done transparently amongst all board members via email exchanges wherein NASS operations are discussed and, when necessary, voted upon by the board. Emails of the board transactions are maintained by the Secretary. The Annual General Meeting is held in accordance with NASS By Laws, with minutes of proceedings recorded and formally approved by the board. Minutes of the Annual General Meeting are published to all NASS members.
The Annual General Meeting is held in accordance with NASS By Laws, with minutes of proceedings recorded and formally approved by the board. Minutes of the Annual General Meeting are published to all NASS members.
NASS fiduciary responsibilities are distributed amongst the board and are transparent. Subscription income designated to the society is received by the Membership chair. Income is forwarded to the Treasurer for deposit in NASS accounts. The Treasurer also reviews on-line payment systems (e.g. PayPal) to ensure transactions match NASS bank account transfers. Receipt and transfer of funds are announced via email. Subscriptions are confirmed by the Vice President..
All legitimate expenses by members on behalf of NASS are recorded by the Treasurer and verified by retained documentation. Monthly summaries of financial transactions are electronically published to all Board members. The Treasurer makes the financial books of NASS available to members and the public upon request. Statements of Financial Position are published in accordance with By Laws and are presented yearly at the Annual General Meeting and published to all NASS members.
This policy shall be reviewed annually.
Approved: 21 Oct 2013
Updated: 18 June 2015
North American Sundial Society
Conflict of Interest Policy
The purpose of this policy is to prevent the interests of North American Sundial Society (NASS) Board Members, Officers, and others in specific appointed roles, from interfering with the performance of their NASS duties and to prohibit that performance from resulting in personal financial or professional gain on the part of such persons at the expense of NASS.
It is the policy of the North American Sundial Society that:
Board Members and others designated by the Board of Directors, shall annually complete and sign a Conflict Disclosure Form (in substantially the format appended to this policy statement). Failure of any individual to sign the form does not nullify this policy.
A NASS member who becomes aware of a potential conflict of interest should disclose it as soon as possible to a Board Member.
Following disclosure of a possible conflict of interest, the Board of Directors shall determine whether an actual conflict of interest exists and, if so, the Board shall vote to authorize or reject any related transaction or take any other action deemed necessary to address the conflict and protect the North American Sundial Society's best interests. Both votes shall be by a majority vote without counting the vote of any interested director.
An officer of the Board of Directors who believes he/she may be in a conflict of interest may recuse himself or herself from voting or taking actions on behalf of the Society.
Note: Participation in credit card or routine merchant loyalty programs shall not be considered as a conflict of interest as long as transactions reflect reasonable payment for goods and services.
Note: The North American Sundial Society Conflict of Interest Disclosure Form is included as an attachment
This policy shall be reviewed annually.
Date Approved: 21 Oct 2013