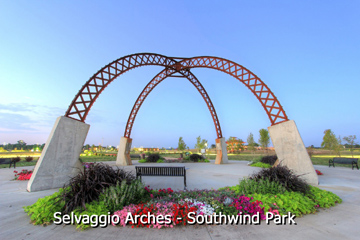 Southwind Park in Springfield Illinois is a National Model Park. It got its start in October 2004 when trustees accepted the donation of 80 acres of land just off South Second Street. Their website states "Our unique state-of-the-art park serves as a national model by proving a new dimensions of inclusion for all people." A park without boundaries that accomodates people in wheelchairs and visitors with special needs.
Along the 2 1/2 miles of concrete paths are accessible playgrounds, fishing piers and even a tree house. One of the more striking features is the Selvaggio Arches, remounted in the park from the 1892-1893 Columbian Exposition of the Chicago World's Fair. This structure alone would make an interesting sundial.
The Rotary Club chapters throughout Springfield raised $60,000 for a 20-foot tall sundial. As reported by John Reynolds in the State Journal-Register, "Brian Barstead, past president of the Rotary Club of Springfield-Sunrise Club, said the sundial will be at the center of a garden and will be topped with a flower with a giant bumblebee. At noon, the shadow of the bee will mark the date of the year."
It appears that the sundial will be a horizontal dial using the bee as a nodus and the date marks placed on the north noon line. In addition to the main sundial in the garden, an analemmatic or "human" sundial will be constructed to allow interactive participation by children and their parents to tell time using their own shadow.
According to the State Journal-Register, "The five Springfield Rotary chapters are marking 100 years of service in Springfield this year. The sundial donation is part of that celebration." Barstead continued "If you look at what Rotary is all about, it's about people using their time to do good things. If you look at the sun dial, it's a symbol of time that goes back forever."
The dials should be completed by the end of the summer. Read more at:
http://www.sj-r.com/top-stories/x373359352/Follow-up-file-Work-to-start-soon-on-Southwind-Park-sundial#axzz2Vy5HWmxN