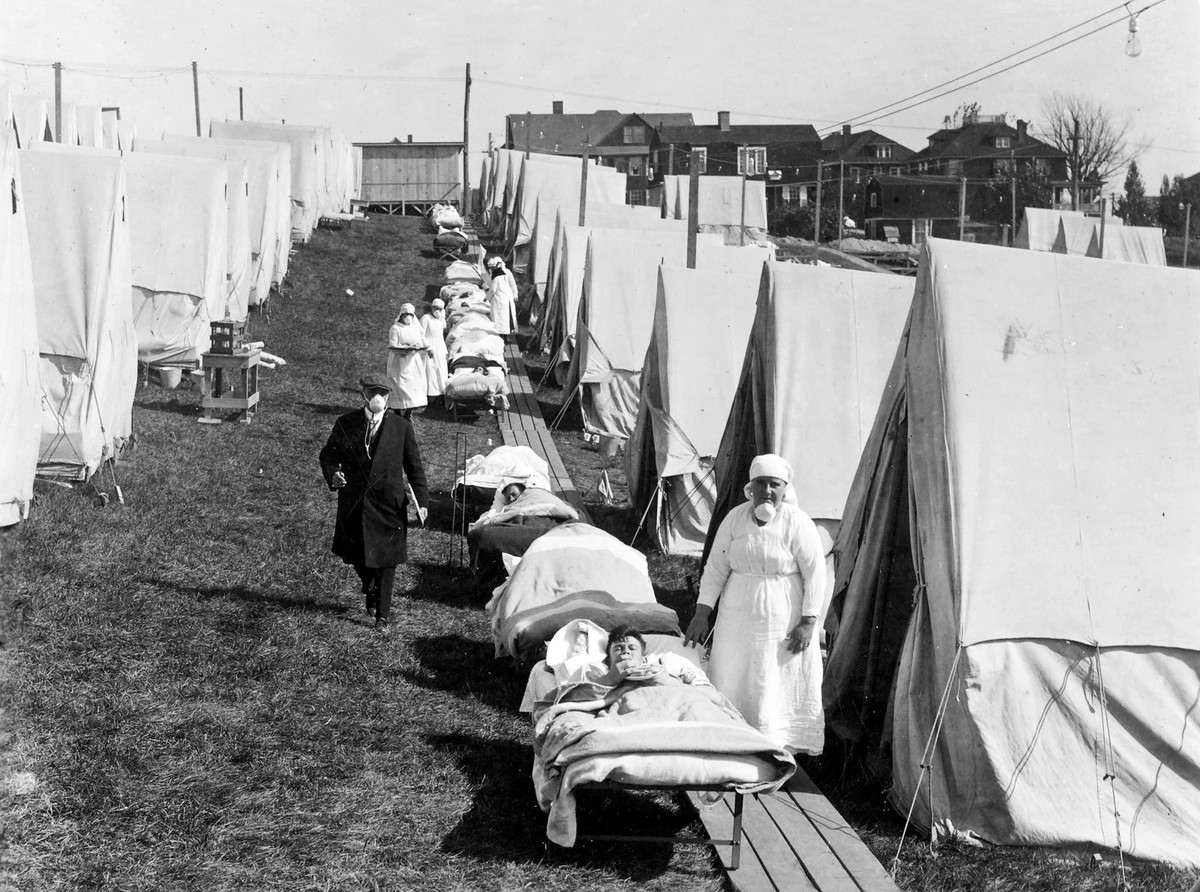 1918 Photo of Camp Brooks Open-Air Hospital Boston - Nat'l Archives
We feel the menance of the Corona Virus (Covid-19) and the imposed social isolation. Although worse than the typical annual flu, the Corona Virus pales to the worldwide pandemic of the Spanish Flu (isolated as the H1N1 virus). What does this have to do with sunlight? I am indebted to Richard Hobday's well researched article:
Here is his paragraph on "Sunlight and Influenza Infection"
"Putting infected patients out in the sun may have helped because it inactivates the influenza virus.[7] It also kills bacteria that cause lung and other infections in hospitals.[8] During the First World War, military surgeons routinely used sunlight to heal infected wounds.[9] They knew it was a disinfectant. What they didn't know is that one advantage of placing patients outside in the sun is they can synthesise vitamin D in their skin if sunlight is strong enough. This was not discovered until the 1920s. Low vitamin D levels are now linked to respiratory infections and may increase susceptibility to influenza.[10] Also, our body's biological rhythms appear to influence how we resist infections.[11] New research suggests they can alter our inflammatory response to the flu virus.[12] As with vitamin D, at the time of the 1918 pandemic, the important part played by sunlight in synchronizing these rhythms was not known."
[7] Schuit M, Gardner S, Wood S et al. The influence of simulated sunlight on the inactivation of influenza virus in aerosols. J Infect Dis 2020 Jan 14;221(3):372–378. doi: 10.1093/infdis/jiz582.
[8] Hobday RA, Dancer SJ. Roles of sunlight and natural ventilation for controlling infection: historical and current perspectives. J Hosp Infect 2013;84:271–282. doi: 10.1016/j.jhin.2013.04.011.
[9] Hobday RA. Sunlight therapy and solar architecture. Med Hist 1997 Oct;41(4):455–72. doi:10.1017/s0025727300063043.
[10]Gruber-Bzura BM. Vitamin D and influenza-prevention or therapy? Int J Mol Sci 2018 Aug 16;19(8). pii: E2419. doi: 10.3390/ijms19082419.
[11] Costantini C, Renga G, Sellitto F, et al. Microbes in the era of circadian medicine. Front Cell Infect Microbiol. 2020 Feb 5;10:30. doi: 10.3389/fcimb.2020.00030.
[12] Sengupta S, Tang SY, Devine JC et al. Circadian control of lung inflammation in influenza infection. Nat Commun 2019 Sep 11;10(1):4107. doi: 10.1038/s41467–019–11400–9.