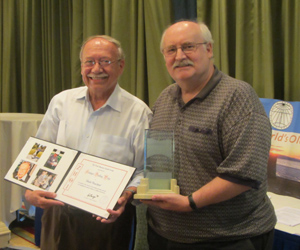 André Bouchard received the 2013 Sawyer Dialing prize at the Boston NASS Conference "In recognition of two decades of promoting, preserving, extending and exemplifying the pairimoine of Québecois of dialing and gnomonics."
During the first 15 years of the CCSQ (la Commission des Cadrans solaires du Québec) André made numerous presentations on gnomonics, adopting objective and descriptive ways in order to highlight the specific elements of particular dials and dialist styles. Now as editor of The Gnomonist / Le Gnomoniste, André is rediscovering the fundamentals of philosophy through sundials, showing that they merge both in time, place, casting symbolic meaning and beauty within their surrounding. André illustrated this by discussing the design of the 2008 sundial on the shore of the St. Laurence River at Point aux Outardes Park near Baie-Comeau, where the polar gnomon and its supports simulate bull rushes, augmented by a flight of geese.
Fred Sawyer presented André with an award certificate, the traditional cash prize of $200 and a custom made Spectra Sundial by Jim Tallman of Artisan Industrials.