Details

Hits: 6059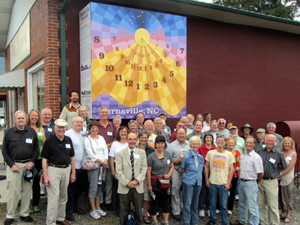 The North American Sundial Society held its 2012 conference in Asheville NC, August 16-19. Alice Io Oglesby and Hugh Munro, local hosts and sundial enthusiasts, took NASS members on a sundial tour through Asheville and the rolling hills of western North Carolina to see the vertical dials at Sunny Point Café and the analemmatic dial of the "kitchen garden" at the Biltmore Estate. In Burnsville, NASS members saw the Quilt Block Sundial, one of over 200 colourful quilt block paintings along the North Carolina Quilt Block Trail. NASS was welcomed by the Mayor of Burnsville and had the Quilt Block sundial explained by Bob Hampton, astronomer designer and Martin Weaver artist. The Quilt Block Sundial in Burnsville was a most impressive example of teamwork and community support. Travelling further, Brian Leonard showed the armillary sundial he fabricated and installed in Marshall, NC.
The NASS conference included exciting talks on a colourful "Parallel Time East West Sundial" presented by new NASS member Peggy Gunnerson and shadow alignments at Toshogu Shrine by Barry Duell of the Tokyo International University. Frank King talked about a most unusual circular analemmatic dial he designed for the Metropolitana of Naples (an Italian job). Dr. King was also this year's recipient of the Sawyer Dialing Prize. Roger Bailey discussed dials of Mallorca and the "Box of Sapphires", a compendium designed by Ibn al-Shatir in the 14th century. Fred Sawyer gave a most interesting talk on "Projected Refraction Sundials with Ambigram", and at the NASS dinner on Saturday, he distributed a special gift to NASS participants: a location specific projected refraction sundial with the ambigram showing "CARPE" on the dial and "DIEM" in the projected shadow. Other speakers with interesting presentations included Alice Io Oglesby, Bill Gottesman, Dudley Warner and Ken Clark. Next year's conference is being planned for Boston.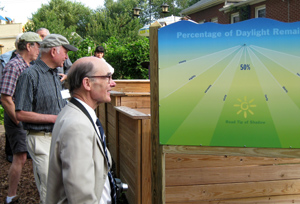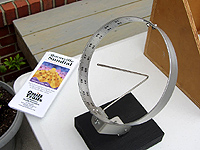 Photos shown: (Top) NASS conference participants underneath Bob Hampton's Quilt Block Dial; (Bottom Left) NASS members examine Alice Oglesby and Hugh Munro's vertical dial at Sunny Point Cafe; and (Bottom Right) Bob Hampton's Equatorial Dial made from a bent yardstick.
Details

Hits: 4940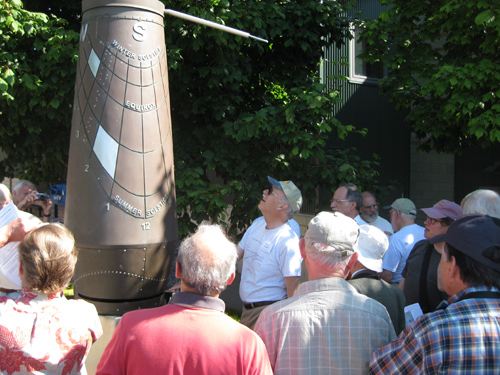 Seattle: Sundial Capital of the United States? The 2011 North American Sundial Society had perfect blue-sky weather for its annual conference held in August 2011. Professor Woodruff "Woody" Sullivan, conference host at University of Washington started the fest by showing off the large vertical sundial built in 1994 on the side of the Physics and Astronomy Building.
The conference covered a wide range of topics including two presentations on stained glass sundials, the 17th work of La Hire and his successful "La Gnomonique ou L'art de tracer Des Cadrans" ("Gnomonicks or The Art of Shadows of Sundials") and dialist-surveyor and one of the founding members of the Acadamie Royale, Jean Picard. The methods of taking photos of the sun over months of time, called Solargraphy, was presented by Art Paque, and then there were talks on the operation of cylindrical sundials, sundials that can show standard time, an update on the Mars sundial, and discussions on solar alignments, heliodons and stair shadows.
Helmut Sonderegger, this year's recipient of the Sawyer Dialing Prize discussed the Rheticus Memorial sundial designed for Georg Joachim Rheticus, the first Copernican.
Download the PDF and read about the conference in detail, including the bus tour of Seattle dials visiting the Pillar Dial of University Prep Academy, Epiphany School Vertical Dial, and Rebecca Cummins analemma and colored skylights in the ceiling of the Montrose Public Library.
Details

Hits: 4873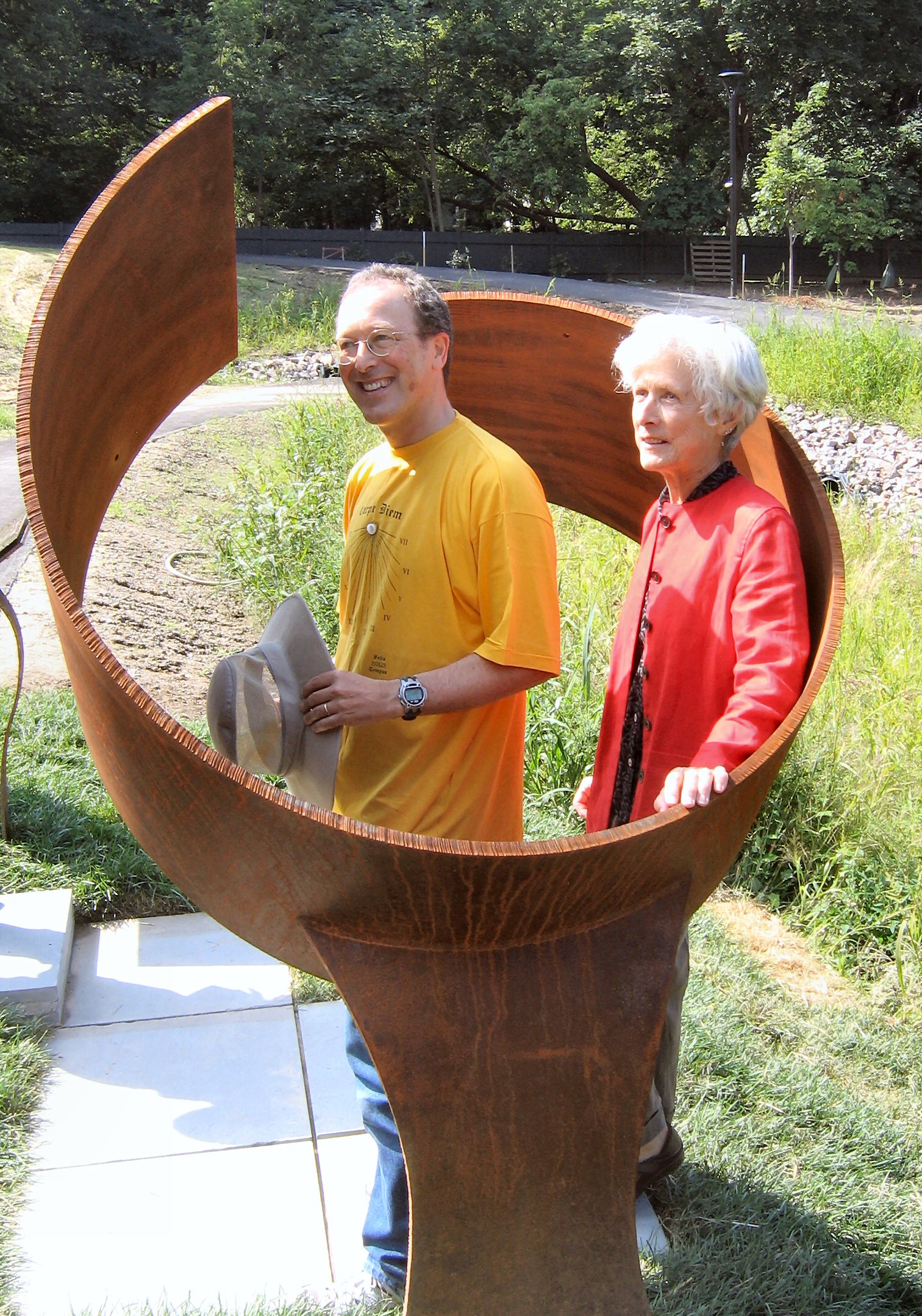 From paper sundials to street side sundials, NASS celebrated its annual conference in Burlington, VT. Kate Pond's "Come Light, Visit Me" sundial, in collaboration with Bill Gottesman, was dedicated at Champlain College. The sundial uses the properties of an equatorial ring, casting the shadows of time upon itself.
Fred Sawyer talked about Antique Hour Lines, showing finally that the lines are amazingly complex, but come very close, but not exactly to the traditional notion of a straight line. André Bouchard discussed Le Gnomoniste, a review of the Quebec sundial society 1993-2010. Roger Bailey gave a short presentation on the solstice points on analemmatic sundials that can be used as sight lines for summer and winter solstice. Roger Bailey gave a detailed talk on the Ibn Al-Shatir Sundial, whose design he studied in detail to produce the Ottoman Garden dial in Missouri.
Bert Willard, the Springfield Telescope makers Historian and Curator described the sundials and sunclocks from James Hartness and Russell Porter. Porter is also know for his leadership in amateur astronomy. Jack Aubert probed into the question of who was first to describe the Equation of Time and the figure "8" analemma. Finding that the first to draw it with reference to a mean time meridian was Grandjean de Fouchy at the Palace de Petit Luxembourg in Paris sometime before 1741.
Details

Hits: 5435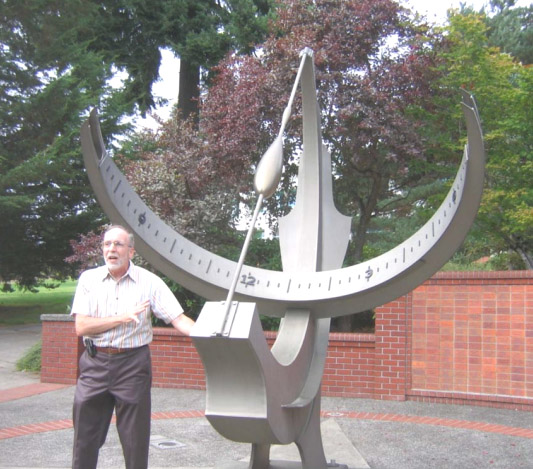 The Portland tour of sundials included Colby Lamb's Sundial and workshop, a patio sundial of Rob and Julie Brown that also served as a water sprinkler, a vertical mosaic dial at Stephenson Elementary School, the analemmatic sundial at Marylhurst University designed by John Schilke of NASS and Jan Dabrowski, and across the Willamette River to Reed College and a 1912 vertical sundial designed by Dr. F. L. Griffin. Then more sundials at the National History Site, Fort Vancouver, and ending with the Clark College Equatorial Sundial with a new analemmic gnomon. Roger Bailey outlined how he helped Soap Lake's monumental sculpture become a summertime sundial. Bill Gottesman showed a realization of Fred Sawyer's Horizontal Equant Dial that adjusts by simple rotation for the Equation of Time. And most interesting was Silvio Magnani's presentation on an interactive reflecting heliochronometer in Milan, Italy. Read about this and much, much more by downloading the PDF.
Details

Hits: 5113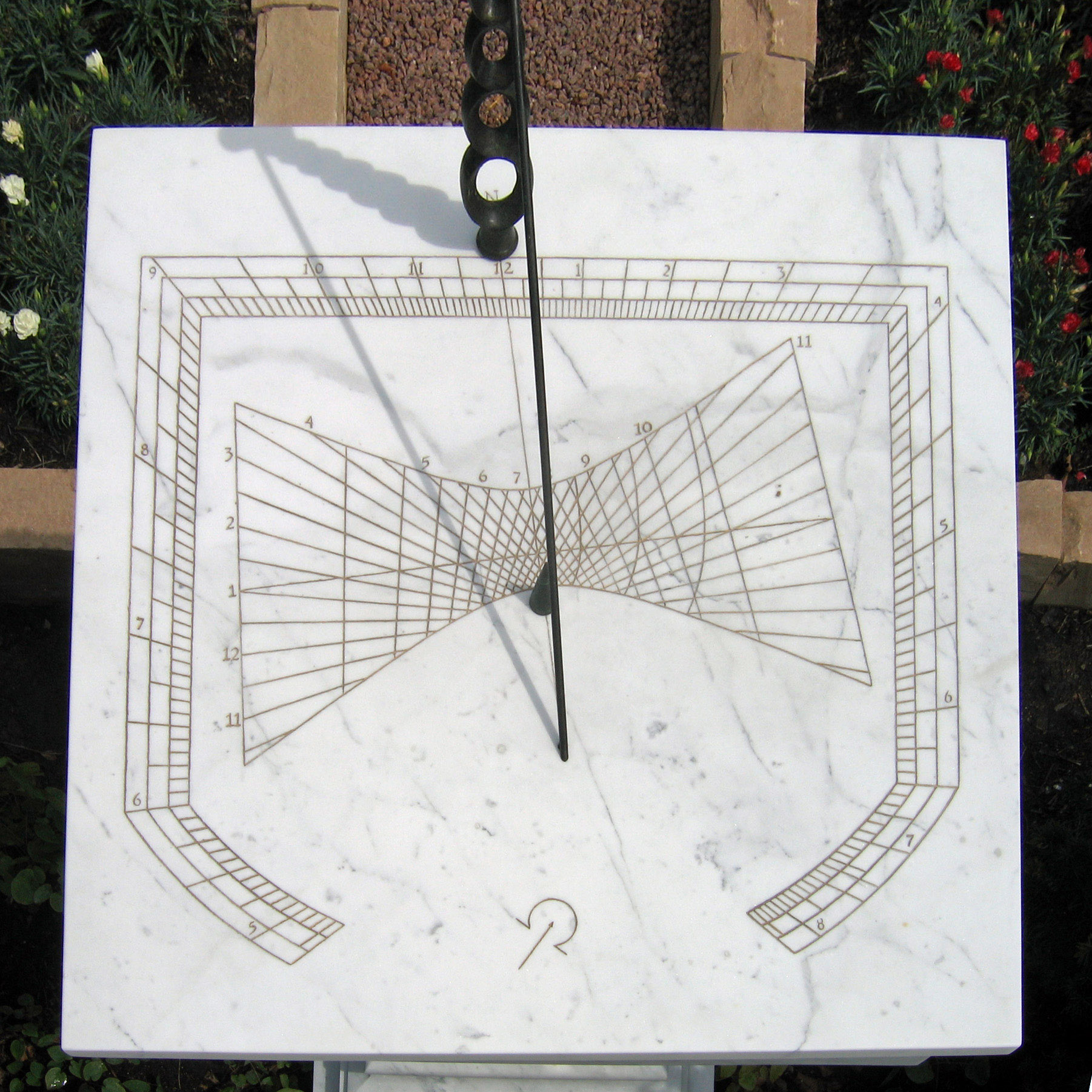 Don Snyder was a superb host for the St. Louis conference. He organized an interesting tour that included the Jefferson Barracks 1817 sundial (now part of the National Geospatial Intelligence Agency), the angel holding a vertical sundial on the wall of the St. Louis University Hospital, and the several dials at the Jewel Box in Forest Park. At the Missouri History Museum, conferees saw the "Forgotten Sundial" designed by Thomas Jefferson. At Danforth Campus of Washington University was the 1908 Cupples Dial, and finally at the Missouri Botanical Gardens two dials were dedicated: Ron Rhinehart's cross-gnomon equatorial and Roger Bailey's "Ottoman Garden" sundial, based on Ibn Al-Shatir's dial carved at the Great Mosque in Damascus in 1371. At the conference, the major talk was on the Cahokia Woodhenge, presented by Michael Friedlander, professor of physics and astronomy at Washington University." And of course there were NASS speakers in abundance talking of dials, dialing scales, and new approaches to the Equation of Time.
Details

Hits: 4754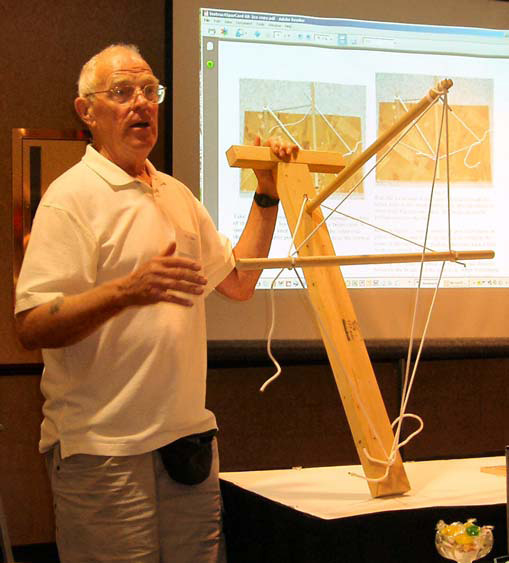 In McLean, Virginia close to Washington, D.C. NASS held its 13th annual conference. At the Analemma Society's site in Observatory Park, Tony Moss' dial, the "Jamestown Commemorative Dial," was dedicated in front of over 50 school children and twice as many adults. This is the first sundial installation in what is planned to be an International Sundial Garden. Other highlights of the sundial tour included the Lyman Briggs Memorial Dial at the National Institute of Science and Technology, the Latitude Observatory (once used to study the daily variation in the earth's wobble and rotation rate), the Vernon Walker Education Center dial, and the vertical dial on the wall of Jack and Kate Aubert. The conference talks included Roger Bailey on "God's Longitude and the Lost Colony," Woody Sullivan's "Ten Tons of Basalt and Tenths of Degrees," Fred Sawyer's discussion on the 17th century battle over the priority of inventing the stereographic quadrant dial, Kevin Karney's "Variability in the Equation of Time" over geological epoch periods (well, for at least 500 years), and much more. Most impressive was Julian Chen's "Omnidirectional Lens in Sundials and Solar Compasses" using spheres filled with solution of copper sulfate to focus the sunlight onto a dial.
Details

Hits: 4362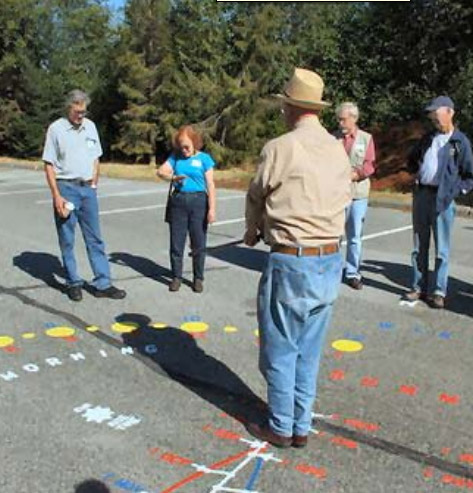 Art meets science: John Carmichael held a workshop on DeltaCAD, a flexible computer aided design program for designing sundials and later in the conference with "Some New Sundials I" showed the result of such designs in beautiful stain glass sundials. From the history domain, Fred Sawyer told the story of Captain Sturmy, a 17th century mariner and author of "Gnomonical Scales," now part of the Shadow Catchers series. Len Berggren discussed the sundials of Geminos of Rhodes in his text "Introduction to the Phenomena," written about the first century BCE. Chuck Nafziger showed his light concentration sundial with Braille markings to show time-telling to the vision impaired, and Professor Woody Sullivan displayed a prototype of the One-World-Two-Suns Mars sundial. On the pavement of the parking lot, Brian Albinson drew out the split-analemma analemmatic sundial. See these sundials and more … download the PDF.
Details

Hits: 4414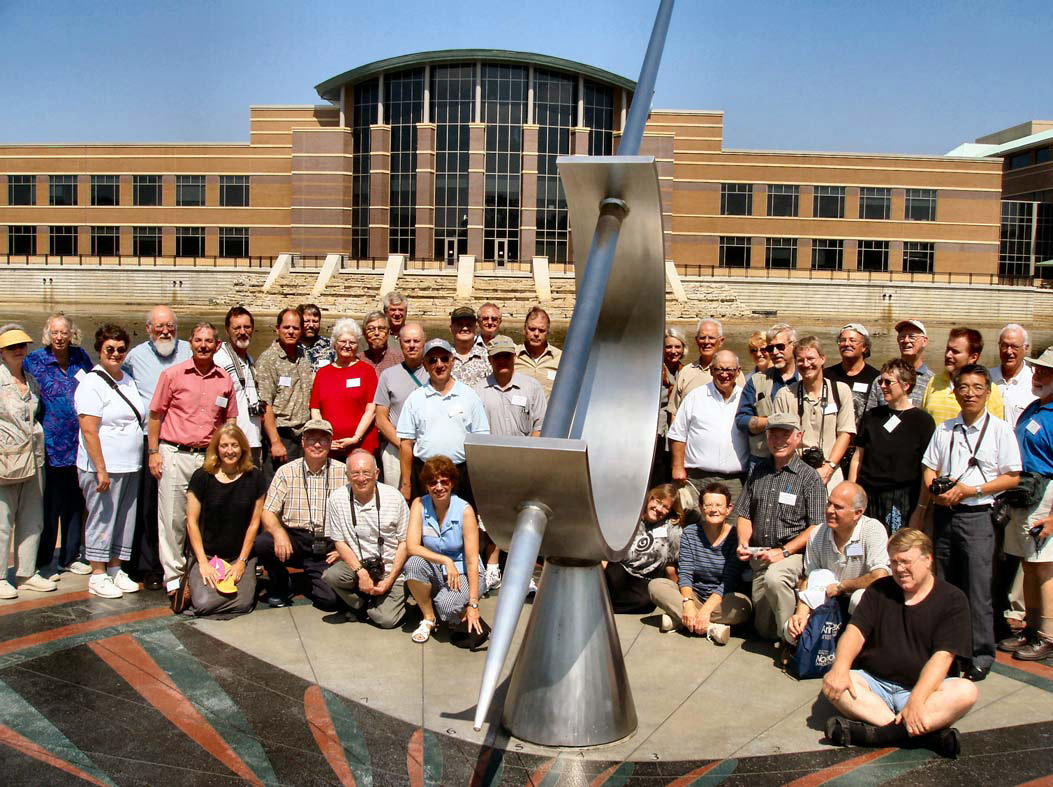 This conference contrasted the old and the new. Steve Luecking presented "Rope Geometry", an outdoor exercise to draw an ellipse on the ground and draw a horizontal dial using only a knotted cord and stakes in the fashion of ancient Egyptian "rope pullers" (civil engineers). When the conferees visited the Museum of Science and Industry, they were able to see a collection of dials, including a fine example of a first century AD dial, a slight variant of a hemisphaerium. Klau Eichholz talked about Fr. Franz Xaver Josef Bovius and the restoration of his 1716 dial at Solnhofen. On the modern fron, Mike Shaw led the group carefully through the steps of understanding and creating the ingenious Universal Diallist's Companion. By special arrangement, Fred Sawyer distributed copies of this very useful device to everyone in attendance. Fred then introduced another new dial of his devising, the Hectemoros Dial. Tony Moss discussed two power point presentations "Using and Understanding Sundials" and "Concepts for Students of Sundialling". A highlight of the conference was the announcement that the North American Sundial Society had been asked to be technical advisor on sun shadows for an episode of the television series "NUMB3RS." Plus many other presentations by Larry McDavid, Don Petrie, Roger Bailey and a workshop on 3D CAD by SteveLuecking.
Details

Hits: 5345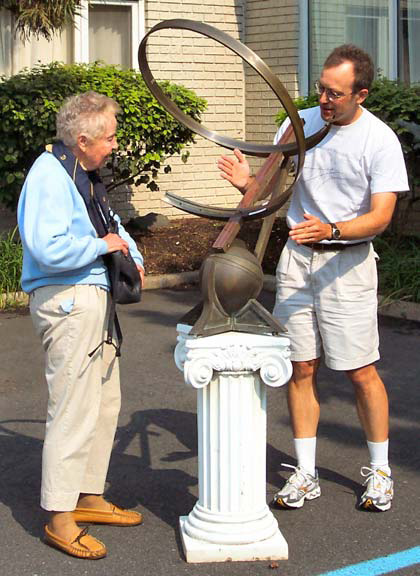 At Tenafly, New Jersey NASS conferees once again to discuss sundials and sundial making. Larry McDavid began the conference with "Sundials: Prehistory to the Digital Age" intended as an instructional power point that can be given to a wide spectrum of adult audiences. A companion presentation, "Beauty in Dialing" is also released for educational use. Bob Kellogg discussed construction and alignment of the Freedom High School 9-11 memorial Dial. Bob Terwilliger "in a blaze of entertaining wizardry" described Bion's 17th and 18th century techniques for dial construction usin his laser trigon "sciatorium." Bob showed how his precision instrument that can "draw a sundial on a Buick" also can design a dial on his garden hot-tub. Steve Luecking demonstrated programs for deriving hour lines and day lines from shadow planes and other CAD techniques. Plus many more interesting presentations by Bill Gottesman, Robert Adzema, Martin Jenkins, John Carmaichael, and Sara Schechner.
Select Sundials by State/Province
Copyright © 1995-2022-2022 North American Sundial Society - All Rights Reserved