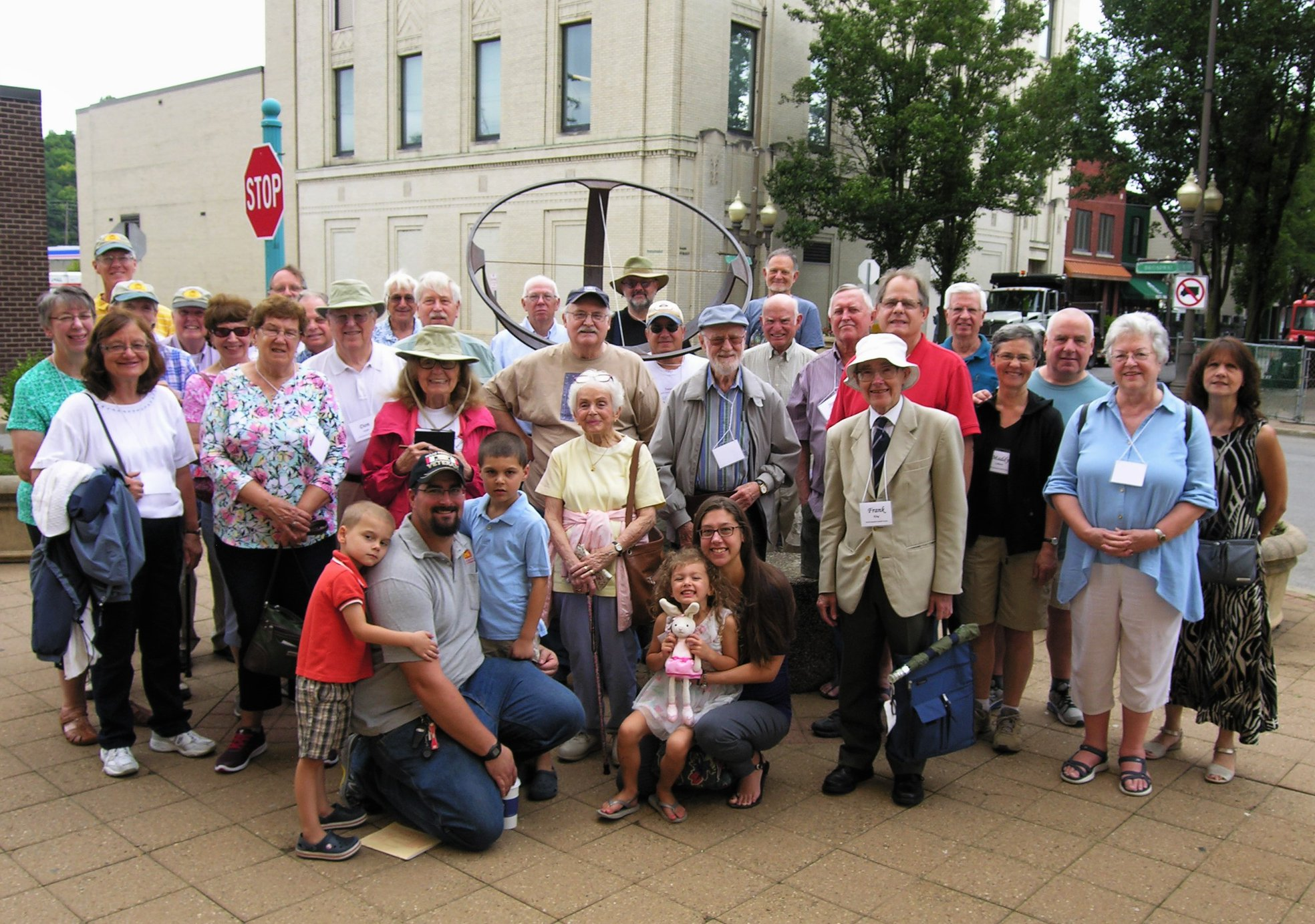 The North American Sundial Society held their annual sundial conference in Pittsburgh, a four day affair for gnomonists to convene and share their enthusiasm for all things sundials. This conference was special as the NASS celebrated the society's 25th anniversary. Starting in 1993 with only a handful of dialing enthusiasts, the society has grown to over 250 members extending from North America to all parts of the globe. For this conference NASS members convened from around the world representing countries of Canada, the United Kingdom, Brazil and Australia. Scheduled to attend but intervened by last minute issues preventing their attendance were dialists from Mexico and Italy. All came with one objective - to share their enthusiasm for sundials.
On Thursday evening Aug 16th the dialists gathered at the Garden Hilton in downtown Pittsburgh to participate in drawings for assorted door prizes including sundials and books on dialing. On Friday all boarded a charter bus to view the sundials of Pittsburgh, taking a tour that included a large steel equatorial designed and built by Anthony Vitale, a multi-faced dial at Old Economy Village dating to 1825, and a dial commemorating the battle at Bushy Run in 1793 that was found at the site of the Fort Pitt Block House during its 1894 restoration by the Pittsburgh Chapter of the Daughters of the American Revolution who still own and preserve the structure and the sundial. The tour included the dial at Frick Fine Arts Museum (near the geenhouse), the Riverfron Park Sewickley analemmatic (human) sundial, and the large octagonal horizontal sundial at Homewood Cemetery.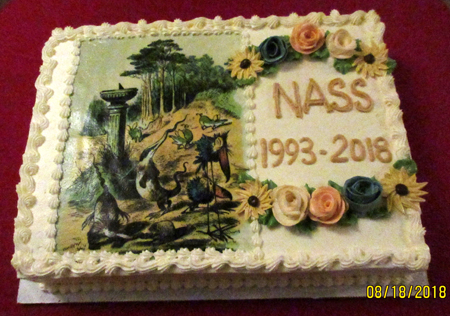 On Saturday and Sunday attendees listed to presentations on ring dials (with a diverson into the history of solving cubic equations), helical sundials (and 3D printing), viking sunstones (with a description of the birefracting material calcite), lunar sundials (Sciathericum Seleniacum), van Schooten and Dialing Scales (published in 1657), Time for Rita's (a vertical declining dial designed for an ice cream store in Elizabethtown, PA), and zenith days below the Tropic of Capricorn (and a year-long photograph of the analemma over the El Cerrito pyramid in Querétaro, Mexico),and much, much more. On Saturday evening the Sawyer Dialing Prize was awarded this year to Gianpiero Casalegno from Italy for his achievements in harnessing modern ditital technology to the benefit of tradional dialists around the world. The prize includes an elegant Spectra Sundial by Artisan Industrials (Jim Tallman) and a cash award. Gian has chosen to given the cash award as a donation to the Bellingham Mural Project lead by Sasch Stephens. The dial will be dedicated on the coming equinox, Sept. 22.

NASS members enjoyed this year's conference and are now planning for next year's convening, tentatively to be held in Denver, Colorado.