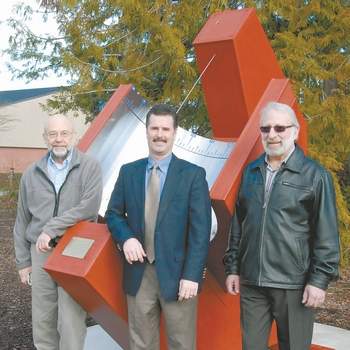 [all photos courtesy of Dennis Sanford,
3Peninsula College
Located in Port Angeles, Washington, Peninsula College recently dedicated a sundial measuring eight feet in height. The dial is notable for its unusual design: the basic construction is one of a polar dial, but also includes the sun's analemma so dial viewers can correct for the equation of time.
The dial was designed by the late Ben Davis and donated to the school in his honor by Honey Davis, his mother. Installed on campus near the Science and Technology Building, Dr. Tom Keegan perhaps expressed sentiments the best when he said, "Honey Davis' very generous gift to Peninsula College is deeply appreciated. It's fitting that it be placed by our Science and Technology Building so that Ben's amazing engineering skills serve as an inspiration to our students and encourage them to stop and look and study his sundial."
Even though he lacked formal education and training, Ben Davis was highly regarded by those who knew him as a gifted fellow whose talents were many.