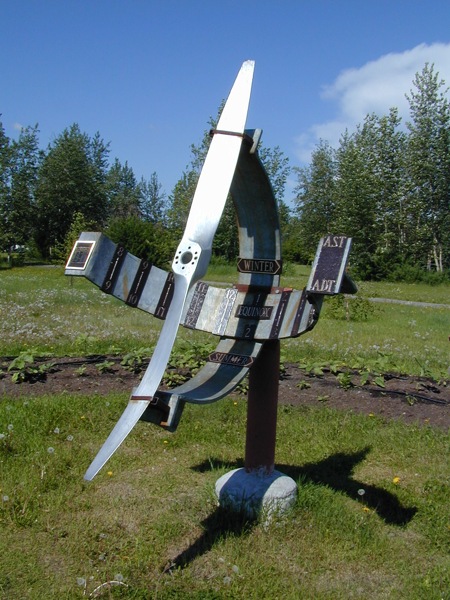 [photo courtesy of Martin Gutoski]
A nearly twenty year project to build a sundial near the Arctic Circle in Fairbanks, Alaska was finished this year by Martin Gutoski, a professional surveyor. Gutoski conceived the idea in 1992 when he reviewed a survey for the local library in Fairbanks' North Star Borough. Originally out of concern for safe-guarding survey corners, he got in contact with a local club whose members saw to the landscaping of the library and other public buildings. One thing lead to another and so began the odyssey that ended just recently.
One interesting aspect that will appeal to anyone who has ever built or contemplated building a sundial is that the dial location is only about one and one-half degrees south of the Arctic Circle. This is an aspect which Gutoski fully explored with models, first a small one and later a full-scale wooden one, before committing the design to its final form, which uses an airplane propeller for the gnomon.
Click on "Read More" below to see more photos of this sundial.