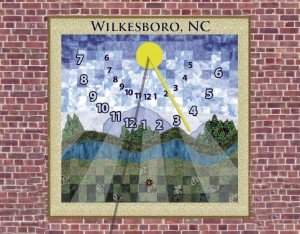 [photoCourtesy of the Wilkes Journal-Patriot]
Some sundial artisans and their work are instantly recognizable. Back in 2010 on the wall of the Yancey Times Journal building in Burnsville, North Carolina, astronomer Bob Hampton and artist Martin Weaver created the Quilt Block Sundial, an 8x8 foot vertical dial colorfully painted by volunteers from the Quilt Trails of North Carolina.
Now in Wilkesboro is another wonderful sundial created by the Hampton-Weaver team. The new sundial, done as another block-quilt montage (this time in cerulean blues and mountain greens) was dedicated on 19 December 2012 at a ceremony at the south wall of the Wilkesboro Police Department building where the 8x8 foot vertical dial was unveiled.
The new dial is sponsored by the Cultural Arts Council of Wilkes County to promote and increase art awareness of literary, performing and visual arts. Mrs. McKenzie of the Arts Council said "I had heard about the about the new dial in Burnsville, so I asked my husband, Reid, if we could make a side trip on the way home [to see the Quilt Block Sundial]…the rest is history." Read more about how this dial inspired the Wilkesboro dial and the importance of this new sundial for Wilkes County. This is made possible through the partnership of the Cultural Arts Council and the Wilkes County Quilt Guild. You never know where a good quilt will lead you. Read more: Wilkesboro Sundial in the Wilkes Journal-Patriot