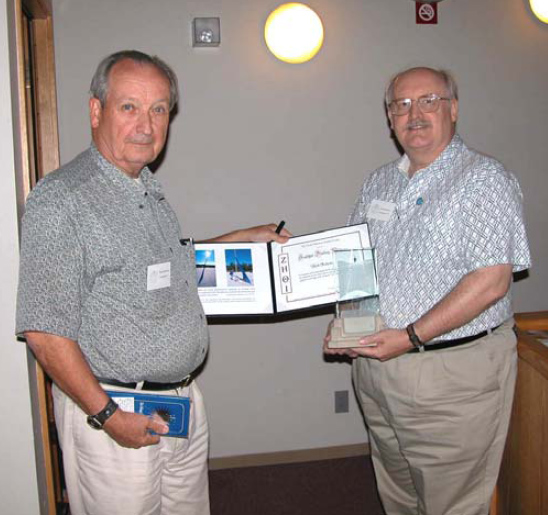 At the 2003 NASS Conference in Banff, Alberta Canada, Fred Sawyer presented the fourth Sawyer Dialing Prize to Helm Roberts for his design and construction of the Kentucky Vietnam Veterans' Memorial. http://www.kyvietnammemorial.net/
The certificate read in part: "In recognition of his understanding that the spirit of a sundial can not only stir the imagination but also help to heal the heart and preserve fond memory, as evidenced in his design of the Kentucky Vietnam Veteran's Memorial." Helm also received the Sawyer Prize cash award and a beautiful special edition of Jim Tallman's Spectra Sundial in etched glass.
Helm Roberts then gave an intriguing and moving presentation, "Making the Memorial – the Design, Theory, and Construction of the Kentucky Vietnam Veterans Memorial" at Frankfort, KY. The gnomon is made of stainless steel, and the end point of its shadow annually touches the engraved name of each of over 1100 soldiers on the anniversary of the day of death. The political and mechanical issues are fascinating, resulting in a truly artistic triumph.
http://www.artisanindustrials.com/world-of-sundials/spectra-sundial-frankfort.html