In 2000 the North American Sundial Society held its annual conference in San Francisco and visited the Ingleside Terraces Sundial. A century ago the site was a racetrack and as it turned into a housing development in 1913, a promotion sundial was installed with the advertisement "largest sundial in the world". Michael Callahan of "This Forgotten Day in San Francisco" talks about this historic dial and the developer Joseph A. Leonard of Urban Reality Improvement Company on November 15, 1913.
French inventor and maker of things Julien Coyne of Mojoptix has created an intriguing digital sundial gnomon that can be 3D printed. His software design (dated 13 October 2015) uses the 3D open software OpenSCAD described as "The Programmers Solid 3D Computer Aided Design Modeller".[http://www.openscad.org/about.html].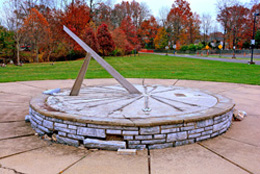 The North American Sundial Society likes to record public sundials that are in good or excellent condition. Dial #797 in Cranford, New Jersey is a sad exception. In 1972 the Kiwanis Club of Cranford presented a 15-foot diameter sundial to Union College as an expression of interest in the college and the youth of Cranford. But the years have taken a toll where it sits adjacent to the William Miller Sperry Observatory. The dais stonework mortar has given way and the concrete dial face has deteriorated.

A plan to restore the dial is underway. Dr. Stephen D. Nacco, of Union County College, Vice President, Administrative Services & Executive Assistant to the President set up a Sundial Fund under the Union County College Foundation, a 501(C ) 3 not-for-profit organization. Donations can be made online via the Web Site, http://www.uccfoundation.org/give.html with the donor selecting GIVE ONLINE NOW. Choose Donation Type "Other", and then put "Sundial" in the Additonal Comments Area as the reason for the donation.
Checks can be made out to:
Union County College
Sundial Fund
1033 Springfield Avenue
Cranford, NJ 07016