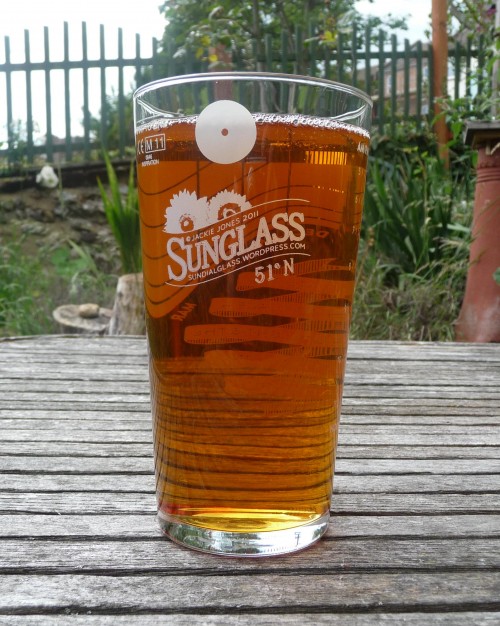 [photo courtesy of
Jackie Jones]
All right mate, have a pint of golden sun. You can pick up a sundial beer glass designed by Jackie Jones for 51o North at The Greys Pub in Southover Street Brighton, or if you're out of the country, the dial will work in Banff, Canada, the European cities of Calais, Brussels, and Dresden, and in Kazahstan or other points of equal latitude
The sundial glass motto? "Campaigning for real time". The sundial glass is a sun altitude type of dial using a frosted ring on one side of the glass to cast a spot of light onto the far side of the glass, calibrated with hour lines for the date of year. Not a bad way to contemplate the time while having a sip. You can get your own sundial glass at http://sundialglass.wordpress.com/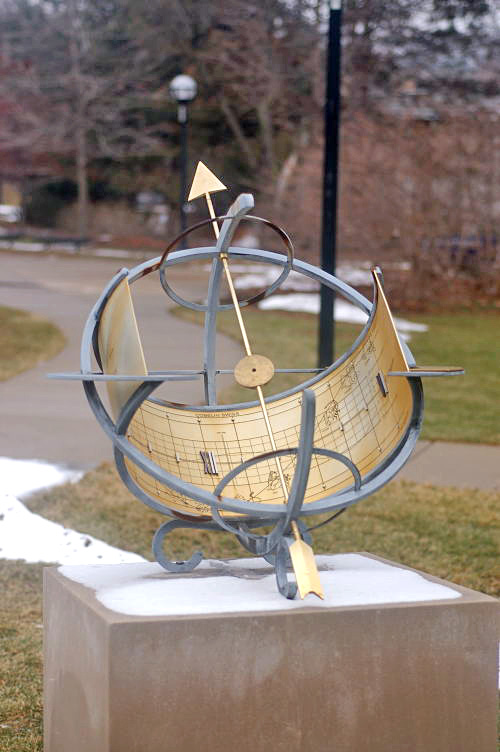 If you look in the NASS Sundial Registry at Dial #617 from Ann Arbor Michigan you will see a lovely equatorial sundial on the grounds of the University of Michigan North Campus near the College of Engineering buildings. The dial exists only as a photo and a memory. Last April between the 13th and 15th it was stolen according to the Detroit Free Press.
The bronze equatorial dial has a circular nodus on the polar gnomon arrow to mark the seasons on the broad equatorial band.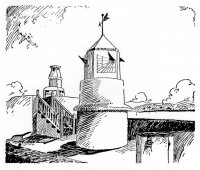 Where would you look for the oldest dials in the Western Hemisphere? One is attributed to the Pilgrims in Salem in 1620. Earlier slate dials were used by Newfoundland fisherman. But La Fortaleza, in San Juan, the oldest Executive Mansion in the New World may lay claim to the oldest sundial.
The story starts around 1645 under the rule of Fernando de la Riva y Aguero when a sundial was installed on a tower of la Fortaleza. Download the attachment and read the story for yourself.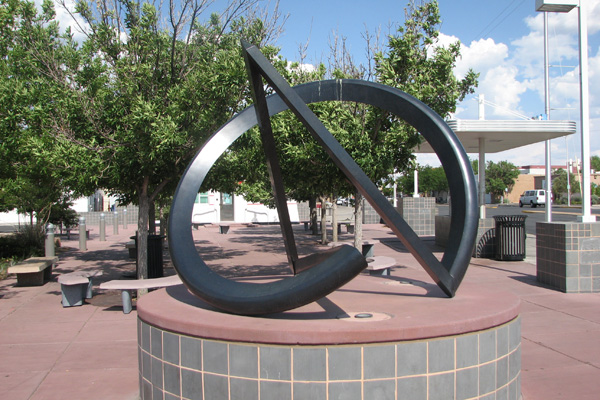 Thanks to Andy Robertson
Recent examination of our Sundial Registry revealed dials that no longer exist and have been replaced with something else that might resemble a sundial, but isn't. Consider the brief entry of Dial 56 that may have once existed in Albuquerque, New Mexico on 9 Mimosa Road:
"5.5' stile, hour lines marked by 1/2' wire rope on grade. Total area is about 1000 square feet. Analemmatic Dial" The description comes from a typed letter explaining that the dial was "built for research and marketing purposes".