We're sorry to announce that the NASS Board has decided to cancel the 2020 conference due to the Covid-19 pandemic. August is still some months away, but even if the economy opens up by then, we expect that there will still be a need for social distancing, gatherings may be discouraged, and many people will be more focused on trying to get their savings back in order than in traveling around the country. So all in all we thought it best to cancel now and minimize cancellation fees. For those that registered, you will get a 100% refund.
We hope to see you for the NASS Conference next year. Start planning now. Nothing definite yet, but we are expecting that we will be back in Philadelphia at about the same time of year. Please join us - we can celebrate getting through this unsettling time and become reinvigorated with the world of sundials. There is light at the end of the tunnel.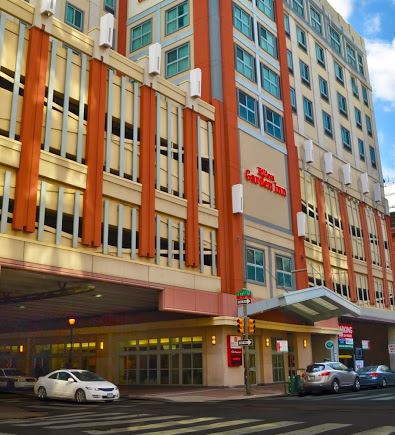 Register now for the 26th Annual North American Sundial Society Conference. This conference has been two years in the making. The conference will convene in Philadelphia on Thursday afternoon (4:30 - 6:30) Aug 5th, with the opening reception, introductions and door prizes. Friday, we will tour local sundials via coach bus – please plan to be masked. Saturday is slated with a full day of speakers. We will continue on Sunday (until about 1:00pm) with more speakers and the NASS annual general meeting. Stay for the entire agenda Aug 5th-8th.
The conference will be held at the Hilton Garden Inn, Philadelphia Center City, 1100 Arch Street, Philadelphia PA 10107. You may want to plan to spend an extra day or two in Philadelphia as the hotel is within walking distance of Independence Hall, The Liberty Bell, The Benjamin Franklin Museum, The Museum of the American Revolution, Declaration House, The National Constitution Center and the Betsy Ross House – just to highlight a few of your options, assuming they have reopened by August.
As always, we will have a full schedule of interesting talks and exhibits and a day of touring local sundials. We have planned a route to see a dozen or so sundials, but some are on college campuses that may not yet have reopened to the public! We're working on it. If you have sundials, photos, books, etc. that you would like to display, please let NASS know (This email address is being protected from spambots. You need JavaScript enabled to view it.) so that we can arrange to have table space available. We will try to allocate ½ table per display. Plan to bring your interesting sundial projects for others to see and become inspired.
We have two registration plans: Full and Partial. Note that meals on the Partial Option are only for the Thursday Reception refreshments, Friday Tour Lunch and Saturday Conference Dinner. The Partial Option does not include admission to the general sessions.
Interested? Download the Registration Form below. Register now and get a discount until June 1st. Instructions for making reservations at The Hilton Garden Inn are included in the Registration Form.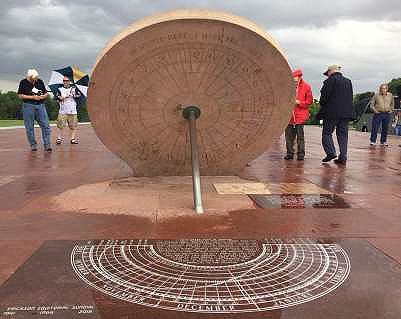 Visiting Cranmer Park and Sundial in the Rain
The North American Sundial Society convened in Denver, CO from June 20th - 23rd. Atendees tour the city for sundials including the Kent Denver School's astrometric tower that shows a pinhole image of the sunthroughout the year. And of course there was a stop at Cranmer Park to see the new plaza and restored Equatorial sundial. Does it matter that we toured this dial in the pouring rain? At the Hyatt Hotel safely indoors from the weather NASS speakers presented a wide range of topics including "Is there room for Sundials in Modern Pop Culture by Shelby and Will Grant. Take a look at your next favorite British TV show and see if you can find a sundial. Bill Gottesman talked about a sculpture concept based on shadow cones and was kind enough to present to each of the attendees with their own "Shadowstice" 3D printed sculpture.
The theme of conference talks seemed to center around the shape of sundial gnomons. Frank King, chairman of the BSS, discussed a range of consequences of using gnomons with various cross sections, while Steve Lelievre presented his latest version of a Foster Lambert dial witha self-supporting gnomon of elliptical cross section, showing an example that he 3D printed. Then Fred Sawyer described a new polar envelope dial that casts a very wide shadow, showing that for a range of latitudes you can create a gnomon where both shadow edges can be used to tell the time. Both the Foster Lambert and Polar Envelope dials have simple rotational adjustment allowing easy and precise correction for the Equation of Time.
This year's Sawyer Dialing Prize went to Denis Savoie for his long career in education, research and publications related to in gnomonics and his outstanding portfolio of public sundial designs and restorations.

Attendees of the June 2019 NASS Conference in Denver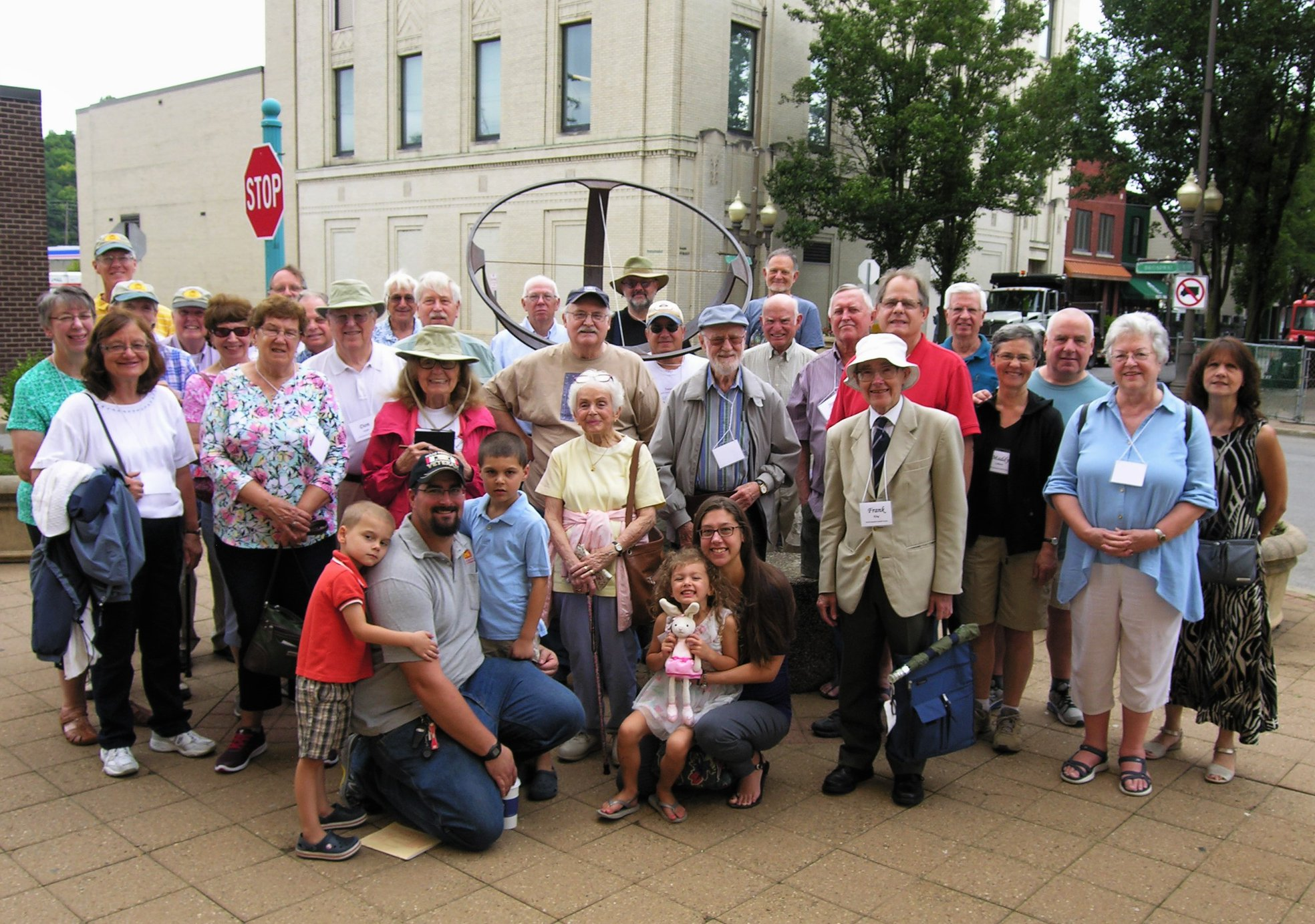 The North American Sundial Society held their annual sundial conference in Pittsburgh, a four day affair for gnomonists to convene and share their enthusiasm for all things sundials. This conference was special as the NASS celebrated the society's 25th anniversary. Starting in 1993 with only a handful of dialing enthusiasts, the society has grown to over 250 members extending from North America to all parts of the globe. For this conference NASS members convened from around the world representing countries of Canada, the United Kingdom, Brazil and Australia. Scheduled to attend but intervened by last minute issues preventing their attendance were dialists from Mexico and Italy. All came with one objective - to share their enthusiasm for sundials.
On Thursday evening Aug 16th the dialists gathered at the Garden Hilton in downtown Pittsburgh to participate in drawings for assorted door prizes including sundials and books on dialing. On Friday all boarded a charter bus to view the sundials of Pittsburgh, taking a tour that included a large steel equatorial designed and built by Anthony Vitale, a multi-faced dial at Old Economy Village dating to 1825, and a dial commemorating the battle at Bushy Run in 1793 that was found at the site of the Fort Pitt Block House during its 1894 restoration by the Pittsburgh Chapter of the Daughters of the American Revolution who still own and preserve the structure and the sundial. The tour included the dial at Frick Fine Arts Museum (near the geenhouse), the Riverfron Park Sewickley analemmatic (human) sundial, and the large octagonal horizontal sundial at Homewood Cemetery.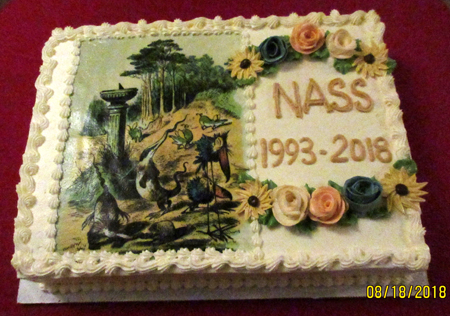 On Saturday and Sunday attendees listed to presentations on ring dials (with a diverson into the history of solving cubic equations), helical sundials (and 3D printing), viking sunstones (with a description of the birefracting material calcite), lunar sundials (Sciathericum Seleniacum), van Schooten and Dialing Scales (published in 1657), Time for Rita's (a vertical declining dial designed for an ice cream store in Elizabethtown, PA), and zenith days below the Tropic of Capricorn (and a year-long photograph of the analemma over the El Cerrito pyramid in Querétaro, Mexico),and much, much more. On Saturday evening the Sawyer Dialing Prize was awarded this year to Gianpiero Casalegno from Italy for his achievements in harnessing modern ditital technology to the benefit of tradional dialists around the world. The prize includes an elegant Spectra Sundial by Artisan Industrials (Jim Tallman) and a cash award. Gian has chosen to given the cash award as a donation to the Bellingham Mural Project lead by Sasch Stephens. The dial will be dedicated on the coming equinox, Sept. 22.

NASS members enjoyed this year's conference and are now planning for next year's convening, tentatively to be held in Denver, Colorado.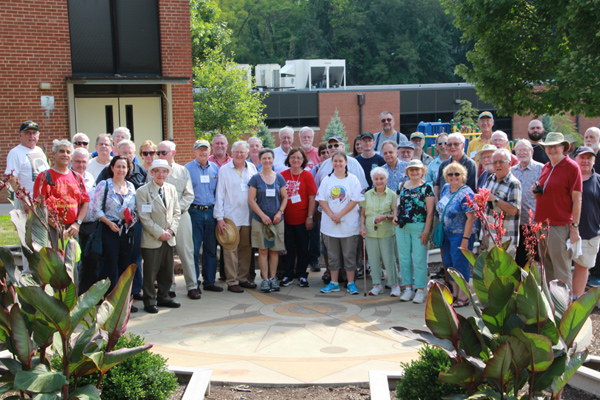 In August 2017 the North American Sundial Society held its annual conference in St. Louis Missouri with a series of well attended talks on the mathematics of sundials, software tools to design sundials, and even videos on YouTube that are about sundials. NASS participants visited local astronomical sites of interest, including the War Memorial Dial in Forest Park. Don Snyder worked with Perry County and Perryville, a town on the eclipse path, to creat a new sundial for the courthouse gardens. Local craftspeople created the dial following Don's design. It, as other significant dials, is in the NASS Sundial Registry available on the web. At the Missouri Botanical Garden attendees saw the Schmoyer Sundial with its analemma shaped gnomon to tell civil time. It was made by Bill Gottesman and donated to the Garden by Don Synder and Bill. Also at the Botanical Garden is the Ottoman dial designed by Roger Bailey, following the design of the horizontal dial at Topkapi Palace in Istanbul. A presentation from Bill Iseminger on the Cahokia Woodhenge discussed the astronomical alignments such as solstice sunrise and sunset. Wood Henge was on the sundial tour itinerary, but due to heavy traffic, was excluded to reach the eclipse viewing site on time (the sun and moon had their schedules that were not subject to change).

The highlight was a visit to Jefferson Barracks to watch the total solar eclipse on August 21, 2019. All participants were given special safe viewing glasses to protect their eyes before and after totality. With cooperating weather, the eclipse was viewed with devices ranging from a pinhole camera obscura to telescopes with solar filters. A truly spectacular event. Bill Gottesman demonstratee his eclipse "sundial" that used the orientation of the eclipsed sun's cusp orientation as an indicator of time.
Portland Maine WCSH Channel 6 presents local and national news and the usual sports, weather and traffic. But on a recent 207 broadcast, they reported an invasion ... an invasion of sundialists coming to Portland, Maine for their annual conference and their search for a dial made over a century ago by Albert Crehore that might still be somewhere in Portland.
Members of the North American Sundial Society (NASS) take the art and science of sundials very seriously. Watch the video and consider joining NASS for even more sundial adventures. Visit Portland Channel 6 News: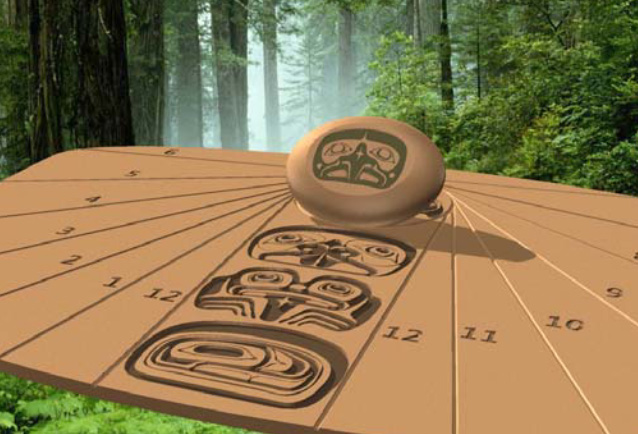 The 2015 NASS Sundial Conference was held in Victoria, B.C. Roger Bailey organized the conference and provided a sundial tour in Victoria, stopping at the BC Legislature Rose Garden dial, the St. Ann's Academy dial, Christ Church Cathedral vertical dial, the BC Government House totem sundial, and more, including a visit out to the Dominion Astrophysical Observatory to see the 1.8 meter telescope.
Steve Luecking discussed spherical and elliptical gnomons where tangent points are dropped to a circle circumscribing the ellipse and hour lines are then drawn as tangents from the points on the circle. Steve used this technique to design a sundial using an elliptical gnomon with symbolic native art for Victoria. (Illustration at right)
Len Berggren described the design and building of a sundial that can show both solar and mean time, done with a $1000 grant from NASS. Presentations included John Schilke discussing the Heliotrope and Heliograph. Barry Duell outlined the history of a sundial at Willamette University donated by the Class of 1916. The dial was dedicated to Prof. Matthews and engraved with his motto of "Sagacity, Audacity, Holiness, Chairty."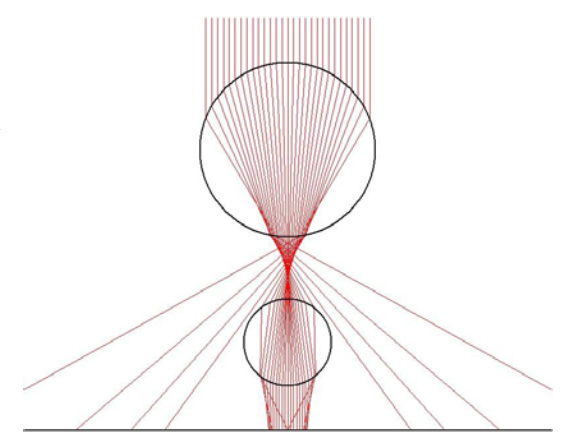 Prof. Woody Sullivan described 3 new dials. The first two, an Oculus table and a Solar Hour Benches are at the San Francisco Exploratorium. The third dial at the Very Large Array Radio Telescope in New Mexico is the world's first and only sundial made from one of the original radio telescopes. It was constructed in memory of Prof. Ron Bracewell of Stanford Univ. a pioneer in radio astronomy.
Jackie Jones, Doug Bateman, Sasch Stephens, Fred Sawyer, and Mark Montgomery presented a wide range of topics from reflecting dials, elliptical dials and moon dials, to ancient Egyptian shadow clocks. Bob Kellogg, unable to attend, sent along a video on a new digital gnomon sundial, while Frank King and Steve Luecking discussed optical geometries and illusions. (Read more in the attached dowloadable PDF)
This year's Sawyer Dialing Prize was awarded to Ing. Gianni Ferrari "for his long career educating the dialing community about the nearly forgotten heritage of ancient Islamic gnomonics and the wide variety of modern analytically developed sundial." (Read more about the Sawyer Dialing Prize)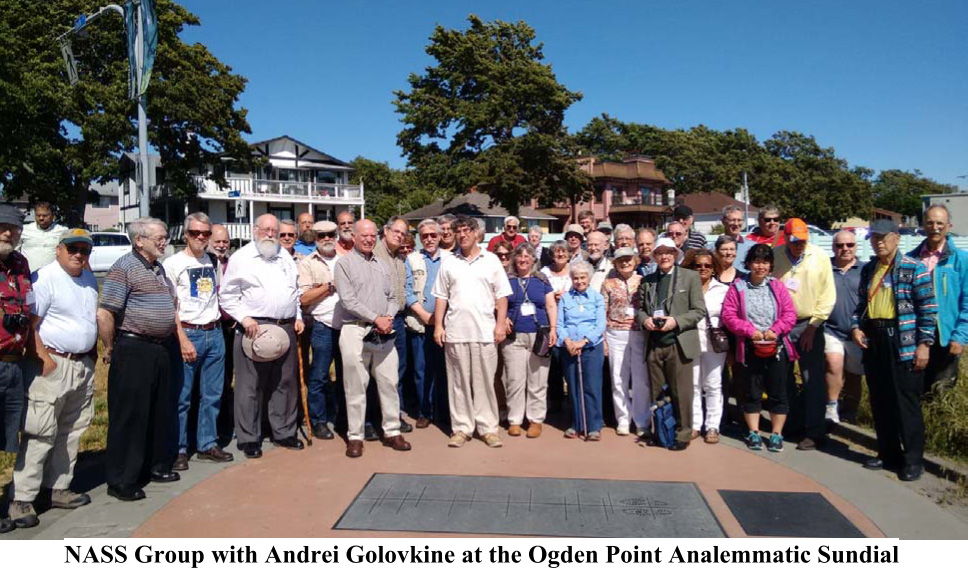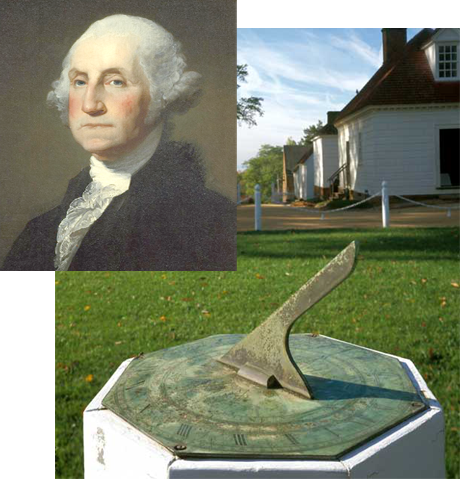 Founding Fathers - Washington Dial at Mt. Vernon, VA
In August, 2014, the North American Sundial Society had a terrific conference in Indianapolis, Indiana, discussing sundial topics from the sundials of Our Founding Fathers where Fred Sawyer talked about the sundials and stories of George Washington, Benjamin Franklin, and Thomas Jefferson.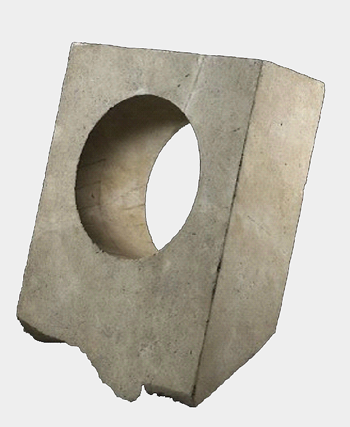 Greek Dial from Ai Khanum
Another highlight was Jack Aubert's talk on the mysteries of an ancient Greek sundial found at Ai Khanum in the northern of Afghanistan and computing the hour lines. Who built this dial more than 2000 years ago and what kind of mathematics did they use?
Peggy Gunnerson described the evolution of a modern sundial parallelpipeds sculpture, creating an artistic and unusal east-west sundial. And Stephen Lueking presented a series of modern sundial designs for DePaul University. These were just some of the presentations. Subscribe to the digital edition of The Compendium from NASS and receive them all. The annual Sawyer Dialing Prize went to Robert Kellogg for NASS outreach and the invention of a digital sundial. Read more about the presentations and the tour of Indianapolis by downloading the attachment below.
| | |
| --- | --- |
| Peggy Gunnerson Parallelpiped Dial | Stephen Luecking - Dial Design for DePaul University |
Hosting 46 people, the conference was coordinated by George and Betsy Wilson and Mark an Phyllis Montgomery. During the Friday Sundial tour NASS was welcomed by Eagle Elementary School, the senior high ability class and their teachers. All gathered in the school's courtyard to show a large horizontal sundial, dedicated as a memorial to a former teacher, Linda Eads.