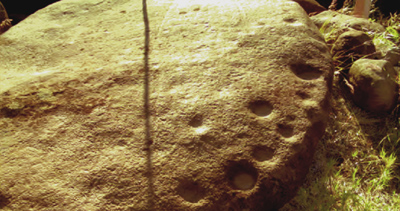 Kānaloa Stone Shadow Alignment
Photo: Kaho'olawe Island Reserve Commission
On Kaho'olawe, the smallest island of the Hawaiian island chain only 7 miles from Maui, sits an endangered and sacred rock, the Kānaloa, with petroglyphs and a row of 32 cupules (man-made depressions) along one edge. "It has significant celestial alignments with the rising and setting of the sun," said Michael Naho'opi'i, Executive Director of the Kaho'olawe Island Reserve Commission (KIRC). It appears that there is a relationship between the shadow of a stick held vertically along lines etched in the stone and the cupules.
Documented as Site 110 feature BU, the Kānaloa stone is relatively flat and rests on a natural pedestal that when tapped, resonates with a bell-like ring. But its petroglyphs and alignment cups may soon topple into a nearby and ever growing ravine. In 2010 the Commission approved "The Cultural Use Plan: Kūkulu Ke Ea A Kānaloa" with one of the recommendations to preserve and stabilize the stone. The first phase of the plan has been to document the stone's celestial alignments and quantify the erosion forces acting on its base.
Larisa N. Vodolazhskaya of the Department of Space Physics at Southern Federal University (SFU), Rostov, has brought two ancient time keepers together with a new and startling result. The story starts at the turn of the end of the 19th century with the discovery of an L-shaped bar found in the tomb of Thutmose III (1479-1425 BCE). that appeared to be a sundial. In the 1930's a "user manual" of sort was found carved on the tomb ceiling of Seti I (1290-1279 BCE) at Abydos. The ideal L-shaped bar had lines engraved with distances from a starting mark of 3, 6, 9, and 12 units. The Seti I text describes these spacings as "an established procedure". But what is the procedure?