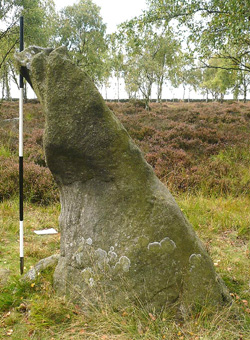 Gardom Edge Monolith
[photo courtesy of Dan Brown, Nottingham Trent University]
A two meter standing stone at Gardom's Edge may be an astronomically aligned monolith set up during the Neolithic period 2,500 – 1,500 BCE to recognize the summer solstice. According to Dan Brown, Andy Alder and Elizabeth Bemand of Nottingham Trent University, "Such an astronomically aligned stone could be described as a seasonal sundial … However it is not intending to mark local time during a day or measure exact dates during a year. Rather the seasonal shadow casting allows for the display of cosmological knowledge such as the 'death' and 'rebirth' of the Sun"…
The upward facing north slope of the stone remains in shadow until near the time of Summer solstice. Today the stone points south at an upward tilt of 58.3° +/- 2.9°, seemingly aimed at the highest rise of the summer sun, computed for the Gardom Edge latitude of 53.26° as 60.7° in Neolithic times.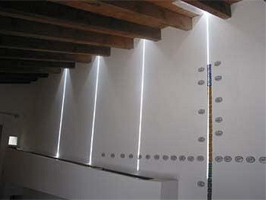 [photo courtesy of Ruben Nohuitol]
Ruben Nohuitol of Queretaro, Mexico has a unique solarium or "cosmic room" to observe the rays of the sun throughout the year. He has patiently constructed a wonderful time-lapse video following the sun every day at 12:45 pm. His construction has a vertical meridiana beam of light descending and then ascending the wall as time passes throughout the year. A second sky-light gnomon creates a classical analemma on the floor.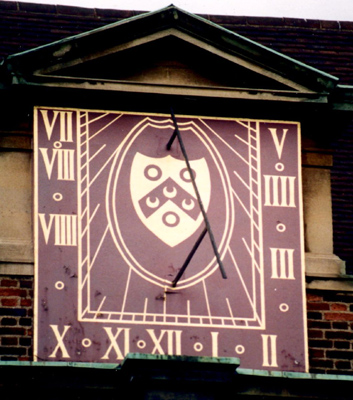 [photo courtesy of John Foad]
Many have been following the Prime time Emmy Award winning series Downton Abbey on PBS. This British World War I period drama was filmed on location at Highclere Castle in Hampshire, which represents the fictional Downton Abbey. Many outdoor scenes were filmed in the village of Bampton, Oxfordshire. (See http://en.wikipedia.org/wiki/Downton_Abbey )
As you follow the lives of aristocrats and servants in this acclaimed series, keep an eye out for sundials. Attached is a photo noticed by NASS member John Foad. Want to search for yourself? Look for the dial in front of the hospital. The complete set of the series can be found on Amazon and Shop PBS.
And while you're at it, look for sundials in Foyle's War, Midsomer Murders, and Father Brown. You'll be surprise how many sundials you will find.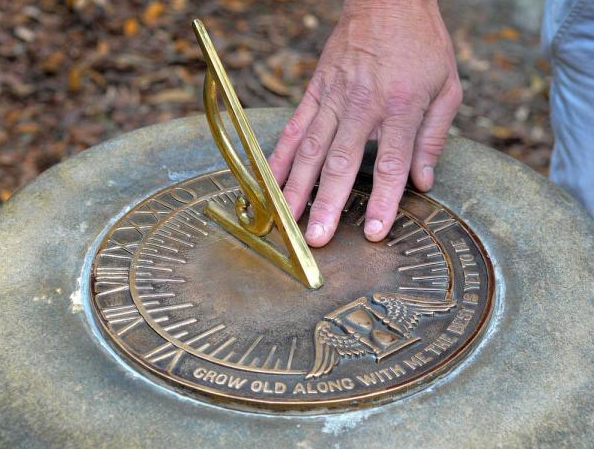 [photo credit: Steve Bisson -
Savannah Morning News ]
Lesley Conn reports in the Savannah Morning News the restoration of its vandalized sundial. This is no college prank, but a malicious and repetitive attack on the Louis B. Toomer sundial in Chatham Square in the historic district of Savannah, Georgia. Conn reports that "City officials are adding new elements to the repair process – a public plea for help and a reminder to the monument marauder that destruction of public property is a felony. They made their case Tuesday after sealing a new sundial to the stone base."