> >
Eight years ago the University of Western Australia (UWA) commissioned a talented graduate, artist Shaun Tan, to create an impressionistic sundial for the 100th anniversary of UWA. The fundamentals of the west-facing sundial were delineated by UWA Professor Peter Kovesi of the Geophysics and Image Analysis Group.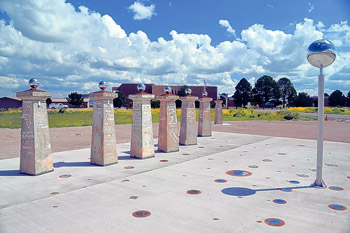 Bracewell Memorial Sundial at VLA
Photo Credit: NRAO/AUI/NSF
In 1961 Professor Ronald Bracewell at Stanford University created an X shaped array (called a "Chris-Cross array" for W.R. "Chris" Christiansen) using 32 10-foot diameter dish antennas to form a radio spectroheliograph nestled in the hills of Palo Alto, California.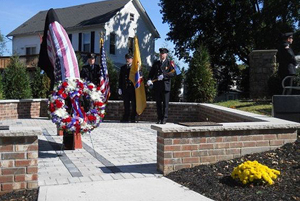 Tom Carpenter, a member of the Hampton fire company for 44 years, presented plans for a 9/11 memorial to the Borough Council at the beginning of 2012 and Councilman James Cregar began designing the memorial as a sundial using beams recovered from Ground Zero of the Twin Towers.
> >
The Battle Point Astronomical Association, founded in 1992, provides astronomical observing for science education and public enjoyment at Ritchie Observatory and Planetarium in Battle Point Park on Bainbridge Island, Washington.