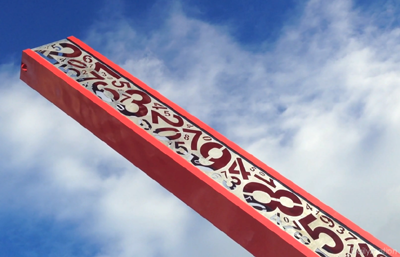 SOLART2 by artist MA2F
UNESCO has declared 2015 the International Year of Light and Light-Based Technologies (IYL-2015). For sundialists, the inauguration of SOLART2 on the June 2015 solstice may be the highlight. SOLART2 is the largest IYL-2015 artistic sundial project in Europe. It is located in Rivesaltes at the northern entrance of Perpignan, France. It was initiated in 2013 as a strong symbol of sustainable development. Artist MA2F (Marc-Andre 2 Figuères) is constructing the sundial with an incredibly large gnomon created from a double metal bar with numbers silouhettes cut into the structure. The dial is meant to illustrate the flow of matter and energy, projecting a continually changing shadow of numbers onto the dial face during the progression of solar time. The edges of the gnomon are painted red "as a visual value and mastery of light". You can see a video of the dial at: http://ma2f.com/pages/solart2.php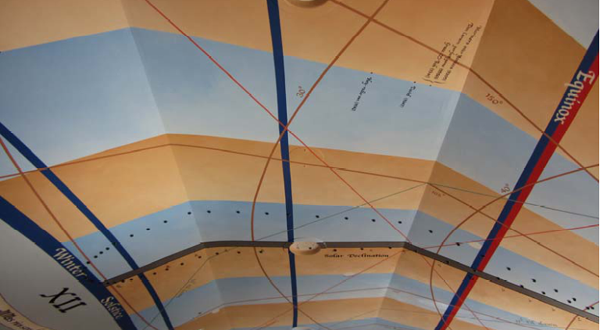 Professor Woody Sullivan's Reflection Dial
[photo - NASS Conference 2011]
Professor Woody Sullivan of the University of Washington in Seattle, whose long time motto has been "Seattle, sundial capital of North America", received a tribute from local television station King5 for sundials that he has designed or brought to light around Seattle. His pride and joy is his ceiling reflection dial [photo at left] As related by Joan Kinsey from King5 news, "It took Sullivan and an artist three years to chart hundreds of reflected dots across the top of Sullivan's remodeled garage..." The celestial view includes hour lines, solar declination lines of the equinox and the soltices, and a variety of transit dots that represent special dates and times to the Sullivan family.
Sullivan, a professional astronomer, has helped design a number of Seattle dials. As Joan Kinsey notes, "His first one [a declining vertical dial] went up in 1994 on the side of the astronomy building at the university ...The huge wall sundial ignited Sullivan's passion to make more and research the ones that already exist in town." Woody has created a Sundial Trail of prominent Seattle dials ranging from several vertical dials increasing the educational value at local schools to a large Shepard's dial and an occulus gnomonic dial.
Of course being Seattle, Woody scribed an appropriate sundial motto, "I thrive in the sun, Can't work in the rain. So, if I'm beclouded, please come back again. "
Read about it at: king5 news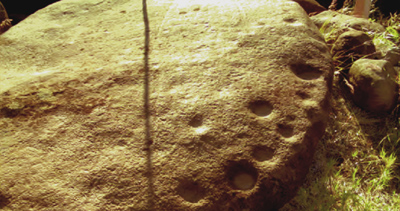 Kānaloa Stone Shadow Alignment
Photo: Kaho'olawe Island Reserve Commission
On Kaho'olawe, the smallest island of the Hawaiian island chain only 7 miles from Maui, sits an endangered and sacred rock, the Kānaloa, with petroglyphs and a row of 32 cupules (man-made depressions) along one edge. "It has significant celestial alignments with the rising and setting of the sun," said Michael Naho'opi'i, Executive Director of the Kaho'olawe Island Reserve Commission (KIRC). It appears that there is a relationship between the shadow of a stick held vertically along lines etched in the stone and the cupules.
Documented as Site 110 feature BU, the Kānaloa stone is relatively flat and rests on a natural pedestal that when tapped, resonates with a bell-like ring. But its petroglyphs and alignment cups may soon topple into a nearby and ever growing ravine. In 2010 the Commission approved "The Cultural Use Plan: Kūkulu Ke Ea A Kānaloa" with one of the recommendations to preserve and stabilize the stone. The first phase of the plan has been to document the stone's celestial alignments and quantify the erosion forces acting on its base.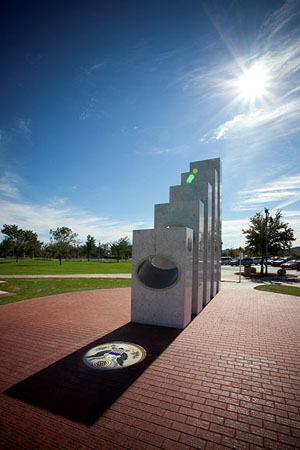 Anthem Veterans Memorial
Sun Alignment on Nov 11th
[photo: Anthem Veterans Memorial Committee and Mike Spinelli]
The Anthem Veterans Memorial in Anthem, AZ was dedicated on November 11, 2011 at 11am (11-11-11 11:11:11) to honor the service and sacrifice of the United States armed forces and to provide a place of honor and reflection for veterans, their family and friends. Veterans gather here annually on November 11th to watch a solar alignment at 11:11am when the sun precisely illuminates The Great Seal of the United States. The memorial was designed by Renee Palmer-Jones, and constructed under the guidance of Project Engineer Jim Martin and construction expert Steve Rusch.